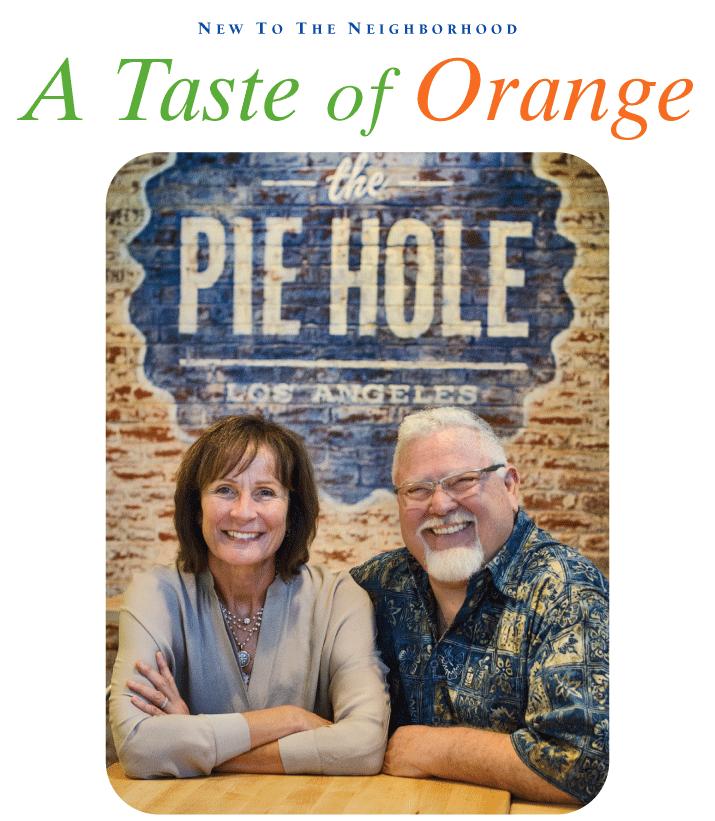 Rick and Madeliene Anaya have become the first franchisees of the family-owned Pie Hole originating in Los Angeles. The Orange location of The Pie Hole occupies the former Old Towne Grinder restaurant on North Glassell.
The Pie Hole
Attracting customers is as easy as pie for Rick and Madeliene Anaya, proprietors of the newly opened, The Pie Hole, at 177 North Glassell.
Located at the former Old Towne Grinder restaurant, The Pie Hole presents fresh-baked sweet pie by the slice, plus individual savory pies like Shepherd's Pie, Sausage Rolls, Veggie Curry and Mac 'n' Cheese. Comfort cuisine is the operative word at The Pie Hole, where Chicken 'n' Cornbread comes out piping hot fresh out of the oven.
For breakfast, pies include the delicious Mushroom, Feta, Spinach & Egg Hand Pie, the Swiss & Leek Quiche and the Pork Chorizo, Cheddar & Hash Brown Hand Pie. The Pie Hole is open at 7 am to catch the breakfast crowd, says Rick.
"On the weekends, we close at midnight. There's something for everybody just about any time of day on the menu. This is a welcoming atmosphere where you can see the pies being made and the dough being rolled. The savory pies are made completely in house. Our organic coffee is really good, too. We get our coffee from a certified organization of South American women who grow and harvest it."
The enterprising couple is the first to become franchisees of the family-owned Pie Hole, which opened five years ago to rave reviews in Los Angeles and Pasadena. The concept was created by mother-and-son duo Becky Grasley and Matthew Heffner, his wife, Lindsay, and close personal friend Sean Brennan.
Having previously owned an international educational company with language schools in London, Germany and Canada, Rick had just retired before starting to look for something new to take on.
"I wanted more time to play with my grandkids and to make some pies," he says. "When we met the family who founded The Pie Hole, we made them the offer to buy the rights of first refusal in Orange County. The owners have been fantastic to work with. We are thinking about opening other locations in Orange County, but for now we are focused on doing a really good job at our restaurant here in Old Towne."
After purchasing the former Old Towne Grinder restaurant outright, the couple completely remodeled the kitchen and front area, also adding awnings and outside seating. The tables are crafted of maple butcher block, while the counter is clad in repurposed wood from Washington. The concrete floors have been sanded and polished to a beautiful shine.
"This is a historic building, and we want the community to be proud of our location," says Rick. "We feel very strongly about preserving the historical value and beauty of an old building."
The Pie Hole
177 North Glassell St, Old Towne Orange, CA 92866 / 657-236-4100