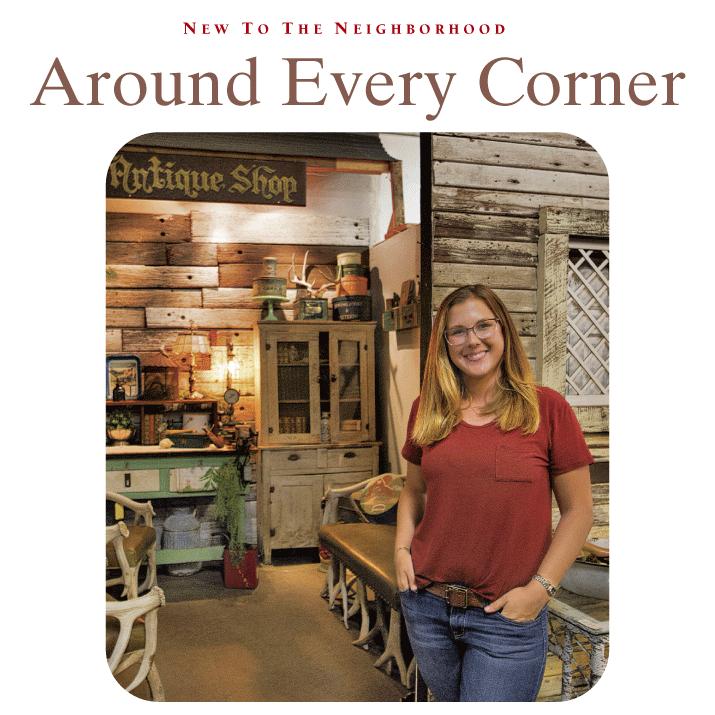 Robin Crump, proprietor of the recently opened Butterflies and Bourbon, fulfilled her longtime dream of running her own space inside her favorite antiques destination – Country Roads Antiques & Gardens in Old Towne.
Butterflies & Bourbon
Robin Crump's longtime dream of having a booth at Country Roads Antiques & Gardens has finally taken flight in the form of Butterflies and Bourbon, opened this February at the landmark antique mall in Old Towne.
A registered nurse at Hoag Hospital, Robin describes her style as a combination of tomboy and girlie. The theme is reflected in the many rustic pieces she acquires at garage and estate sales—everything from workbenches, hutches and wooden crates to mechanics tools, typewriters and toolboxes. There's even a five-piece furniture set made of elk antlers, plus steampunk lamps she and her father create out of pipes, old water gauges and Edison bulbs.
"It's a lot of tomboy things with a girlie spin," says Robin. "I'll take an old garage workbench, for instance, and convert it into a colorful garden bench for girls. I also have these very girlie brass lamps with Caprice lampshades. I love bourbon; I raise butterflies. It's a reflection of my personality."
A Long Beach resident, Robin discovered her love for butterflies and antiques when caretaking for an Alzheimer's patient in Old Towne, whose backyard was filled with wild butterflies. While strolling through town, she also marveled at the many antique shops, particularly Country Roads. After she and her husband, Chris, affordably furnished their first house with garage sale finds, she realized she had a talent for collecting. Every time she'd visit Country Roads, she'd casually ask owner Sue Jackson about booth space.
"I happened to be lucky enough to grab a spot in February," says Robin. "I practically jumped out of my chair when they said they had a booth available for me. I'm so proud to be at Country Roads. Every time I walk into the store it feels like home. I really have my husband to thank, because he is the main support system for all of this."
Everything that has transpired since feels like destiny. Robin was amazed, for example, to find out that she actually lives just down the street from Sue in Long Beach. "Sue's whole family lives within a stone's throw from us. We all laughed about it when we found out how close we are."
When she's not working at Hoag three days a week, Robin is either in the store at her booth, or searching for discoveries at garage and estate sales. She enjoys hunting for specific items for friends and clients.
"The hunt is the best part, especially when I get to stage things for people. It's an artist's dream."
Butterflies and Bourbon at Country Roads Antiques & Gardens
204 West Chapman Ave, Orange CA 92866 / (714) 532-3041