1888 Center - Sep/Oct 17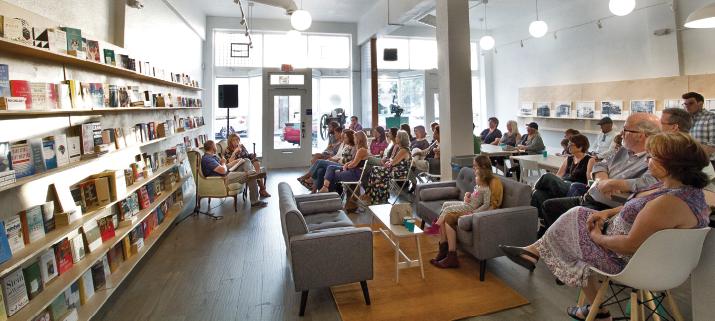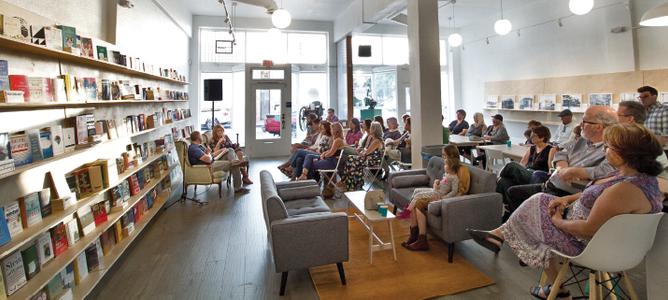 The 1888 Center will host a variety of literary and arts-themed events. One of its grand opening events in July, shown here, featured a discussion with Samantha Dunn, the executive director of Coast Magazine. The program was recorded live for 1888's weekly podcast, "The How The Why."
1888 Center
Twenty years ago, Kevin Staniec's parents brought him to Orange to check out Chapman University. The then-teenager was instantly smitten with the school and its surrounding area. "It was my first time seeing Old Towne, and I fell in love with it," he recalls.
Now the Chapman alum heads up the 1888 Center, a cultural and literary arts center that opened its doors this past July in Old Towne. "It almost feels to me like we were meant to be there," he says of the new site.
Staniec founded the cultural center in 2015. The group hosted a variety of literary and arts programs in Orange County libraries, bookstores and homes, but it lacked a permanent space. Staniec has now found that in a place that combines a bookstore, café, gallery and multi-use performance space. Housed in a 1925 building, the venue includes Contra Coffee & Tea, as well as Orange Home Grown, which runs the Orange Home Grown Farmers & Artisans Market.
Staniec, an Old Towne resident himself, envisions 1888 (named for the year Orange incorporated) as a hub for community and cultural gatherings such as author readings, writing programs, art and history exhibits, musical performances, and events that celebrate the city's cultural heritage. Whatever the art form, it's ultimately about storytelling of some sort, says Staniec—stories "of our past, present and future." The center, he adds, is all about "collaboration, creativity and community."
Award-winning novelist Ryan Gattis, Staniec's friend and fellow Chapman alum, says 1888 will be a much-needed draw for authors on book tours through Southern California, sending the message that Orange County "is not a place to be ignored."
Another attraction is the innovative blends served up by Contra Coffee & Tea. The business is the brainchild of Paul Del Mundo and Julie Nguyen, who create nitro-infused beverages with names like Dirty Horchata, Cocoa-Nut Coffee and Lil' Fizz Orange Soda. Just as with beer, their drinks come out of a tap. The two started Contra in 2015, selling their drinks out of a van serving as a mobile taproom.
Contra has gained a devoted following for its creative concoctions, and, like the staff at 1888, Del Mundo and Nguyen are thrilled to now have a physical location for their venture.
"It's a dream come true," says Del Mundo.
1888 Center
115 North Orange St, Orange CA 92866
---
Published in the
Sep/Oct 17
edition of the Old Towne Orange Plaza Review Article Written by Paul Sterman, photos provided by Arthur Pham
View More Articles