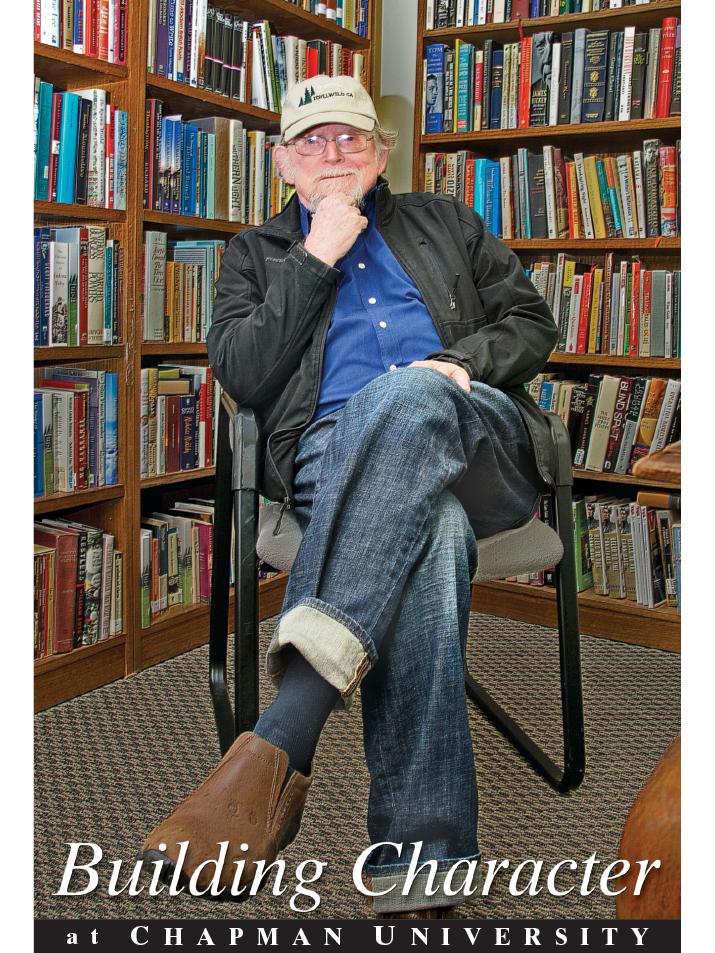 Richard Bausch
Read Richard Bausch's work and you almost feel like an eavesdropper. As the characters in his short stories and novels navigate the intensely personal scenarios in which he enmeshes them, you might feel compelled to give them some privacy—yet the well-crafted stories keep you reading. That is a good thing, because along the way, you'll likely have many aha moments, as Bausch takes you to the essential truths that often evade us as we go about the business of life.
It is his lyrical presentation of these truths through the memorable characters that find themselves up against life's untidiness that have garnered Bausch, a professor of English and Creative Writing in Chapman University's English Department, many awards during his five-decade career. These honors include two National Magazine Awards, the Award of the American Academy of Arts and Letters, The 2004 PEN/Malamud Award for Excellence in the Short Story, The Dayton Literary Peace Prize for his novel Peace and the 2013 $30,000 Rea Award for the Short Story.
Award-Winning Author
Author of 12 novels and eight collections of short stories, Bausch has published in a wide variety of magazines, including The Atlantic Monthly, Harper's and The New Yorker. His novels include Rebel Powers, Good Evening Mr. and Mrs. America, and All the Ships at Sea, The Last Good Time, which was made into a feature-length motion picture, and the 2014 novel, Before, During, After. His work is also presented through WordTheatre®, which features renowned actors reading critically acclaimed short stories for audiences.
Like many successful writers, Bausch will tell you that inspiration comes from work. "As the poet says, 'I was searching for my rhyme, and suddenly I had my meaning.' It's like that, a process of discovery. The experience of writing is more about feeling than thinking. T.S. Eliot said the less conscious, the better. He didn't trust the process if it didn't surprise him. Robert Frost also said, 'No surprise for the writer, no surprise for the reader.' When you arrive at a place in something you're reading that gives you a shock of recognition about something you've always known but have never seen expressed like that, I guarantee you that the writer was as surprised writing it as you are when you read it."
Creative Writing Workshop
It is writing secrets such as these that Bausch enjoys teaching to his students at Chapman University, including those who have the privilege of taking his free annual Creative Writing Workshop held each spring semester.
"I enjoy teaching talented, yet inexperienced writers who come with misconceptions about how it all works," says Bausch, who earned his Bachelor of Arts from George Mason University, where he taught the same workshop from 1995 to 2005, as well as a Master of Fine Arts from the University of Iowa. "One way I work to disabuse students of preconceptions is to have them do something that surprises them, which is to imitate well-known authors. Imitation is the best way to learn. For the writing student, the key is the doing, not discussing. When you imitate a piece of writing, you're learning how to say something in a way that's memorable. It's the same concept as art students sitting in front of museum masterpieces trying to reproduce the paintings."
Dr. Joanna Levin is an associate professor and Chair of the Department of English at Chapman University. She comments on Bausch's abilities as a writer and teacher. "In addition to being brilliant and an extremely accomplished writer, Richard is a wonderful storyteller, both on and off the written page," she says. "First and foremost, he is a generous teacher and colleague. He cares deeply about his students and their successes. Students marvel at his vast experience in the literary world, his inspirational instruction and the detailed feedback he provides."
Jenny Howard just about gave up on her dream of becoming a published author when she decided to apply to Bausch's workshop. "I was on the verge of studying to become a physical therapist when I got into the 2013 workshop. Richard encouraged me to keep going, including applying to the MFA program at Chapman, where I earned my Master of Fine Arts in creative writing in May 2015,"says Howard, whose short story, "Bird, Mother, Son," appeared in the Saturday Evening Post last August.
"On the first day of class, Richard gives out his cellphone number and tells you to call if you need help with your writing," says Howard. "His knowledge of the classics is impeccable, and he is compassionate and observant, which makes him the great writer and teacher that he is."
Discovering Writing
Bausch was born in Fort Benning, Georgia, but spent his formative years in Maryland and Virginia. After serving in the Air Force from 1966 to 1969, for a time he toured as a guitarist in a rock band and then decided to go to college to study music. When he walked into the school bookstore, however, his world shifted.
"I was surprised to see that you got college credit for reading the contemporary authors I enjoyed like Faulkner, Fitzgerald and Tolstoy, because I thought it was all about older works like Beowulf and the writings of Milton," he says. At the time, Bausch also began wondering if he was a writer himself. "I walked around for a while with the suspicion that I might be a writer," he says.
"At the time in our culture, there was a sentiment afoot that writing was a highbrow activity reserved for only a select few, which is one reason it took me some time to come to the conclusion that I was indeed a writer."
Bausch is married to writer and Chapman English professor, Lisa Cupolo, with whom he has a 9-year-old daughter, Lila. He also has five other children from a previous marriage and the unique distinction of having a twin brother, Robert Bausch, who is also a writer. "It's the best advantage to have, because Bobby understands all the way down to the bone what it is to be a writer," says Bausch. "He is also a very talented novelist and great fun to be around."
Whereas his brother began writing at the age of 15, Bausch started writing in earnest at 23. "I wrote just about all of the time and entered a contest with one of my short stories that got me accepted into a creative writing class at Northern Virginia Community College," he says. "Not much older than me, my teacher was the first person to tell me I was a writer. My first novel, Real Presence, was published in 1980 when I was 34."
This is Bausch's fourth year holding the workshop at Chapman, where he joined the faculty in September 2012. During the classes, he shares with students the decades of lessons he's learned regarding writing, including the inevitability and necessity of rewriting, the fact that it's never too late to start writing and that doubt plagues all writers.
"Many authors have told me, including my friend, Joyce Carol Oats, that every time they sit down to write, they wonder if they can pull it off," says Bausch. "They know the key is to push through the doubt and write anyway, which is what I share with my students."
These universal truths about writing most certainly give encouragement and inspiration to every writer who has the good fortune of crossing paths with Bausch.