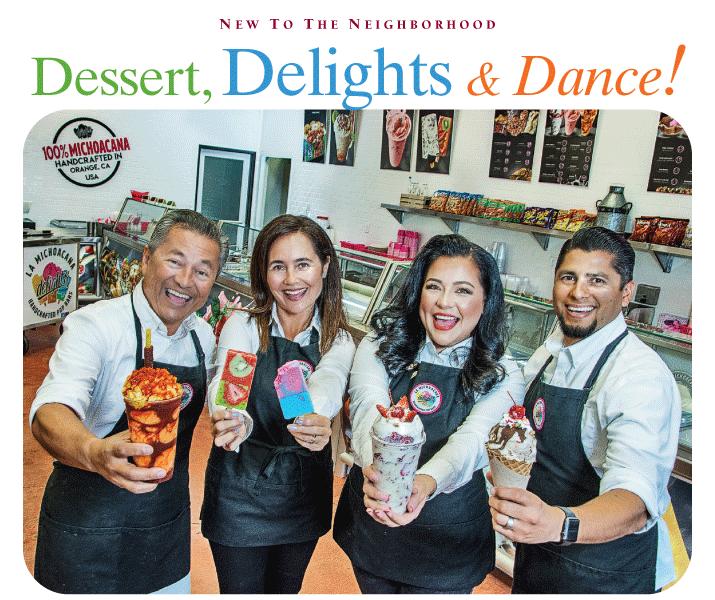 It's difficult, perhaps even impossible, to say "no" to ice cream or other sweet treats. The recently launched businesses, La Michoacána Delights, are wonderful places to enjoy frosty desserts and other delicious snacks. If ice cream has a possible downside, it's the calories. As luck would have it, Justine Grover has a fun way to work them off—flamenco dancing! Her studio, Naranjita Flamenco, is a great place to get your body movin'.
La Michoacána Delights
Like many successful start-ups, the idea for La Michoacána Delights was developed at the dinner table, but in this case the inspiration came from much farther away.
Raul and Norma Maldonado were sharing a meal with Raul's nephew, Ricardo Maldonado, and his wife, Janet, a little more than two years ago. All four have family ties to Michoacán, a state in western Mexico known as the world's largest producer of avocados. It's also home to Tocumbo, a small town where nearly every family is involved in one of the many businesses making natural ice cream. Vice News once called the tight-knit community "the land of frozen desserts."
"We were reminiscing about some of the traditions and the things we remember as kids—the ice cream and paletas—and remembering the nostalgia of that," recalls Janet.
So, it was a natural for the two couples to launch a storefront in Orange that sells paletas, or ice pops, made with fresh fruit such as strawberries, bananas and watermelon. One of the 55 paletas on the menu is chongos, with caramelized cheese curd, sugar and cinnamon. It's a popular dessert for those craving something sweet.
Other Michoacán-inspired treats include Mangonada, a sherbet-type of ice cream with mango and chamoy; and Tostilocos, featuring Doritos chips with cucumber, jicama, pork rinds, Japanese-style nuts and hot sauce.
"We've had a lot of customers come in and reminisce about their experiences with the desserts," Janet says. "They remember having them as kids and enjoying them with their families."
La Michoacána Delights, which opened in June, also serves smoothies, milk shakes, fruit cups and fruit trays. Prices range up to $8.49. Paletas, the store's single most popular item, are $2.79 apiece.
In addition to being a family business, it's also a team effort with all four pitching in—whether it's working the front counter, preparing the food or working with suppliers, which range from the nearby Stater Bros. supermarket to the giant distributor Sysco. Passion fruits come from local sources that import them from Mexico and South America.
"Since opening, we've heard a lot that our place is a unique and welcoming experience," says Norma. "There are other stores that offer similar products, but what we serve is made on-site and it's definitely premium and quality."
La Michoacána Delights
868 North Tustin St., Orange CA 92867 / 714-202-5457