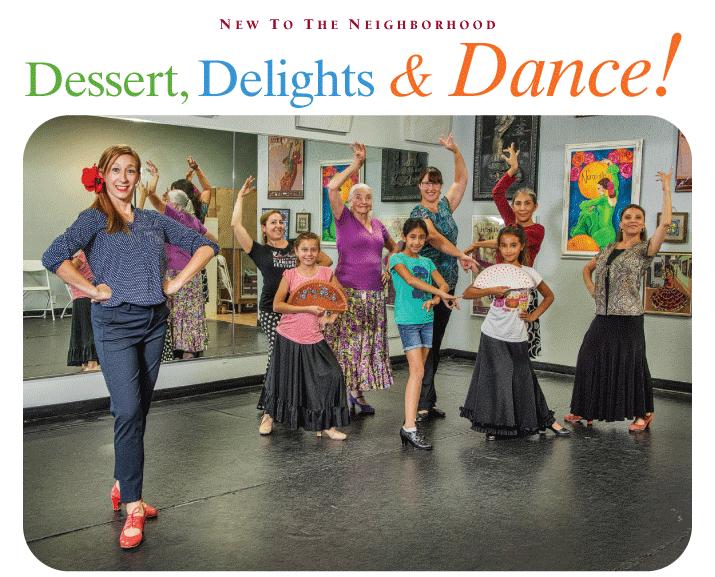 Justine Grover (left) has been flamenco dancing since she was in the third grade. Today, her Naranjita Flamenco dance studio has students of all ages including, (from left), Sharon Bonnin, Julianne Rocke, Elisabeth Fruth, Jaslene Ortiz, Catherine Gaw, Stephanie Payne, Olivia Rassenti and Alina Coman.
Naranjita Flamenco
When she was a child, Justine Grover took all of the seemingly requisite music lessons—piano, guitar, drums. And then came flamenco, after she watched her mom take lessons.
"It's a very strong dance," says Grover. "It's not bouncy and happy. It's very earthy, serious, dramatic and theatrical—and loud. As a kid, I was drawn to how loud it was."
To be sure, flamenco is not the most popular form of dance.
"It's kind of a small community," admits Lisa Garcia, Grover's friend who was introduced to flamenco in 1998 and has been dancing ever since.
How small? There are probably fewer than 20 professional flamenco dancers in Orange County, about the same number as in Los Angeles County. But flamenco—a passionate and seductive dance style that dates back to the 1770s in southern Spain—has a fervent following.
Performances at venues such as Irvine's Barclay Theatre and The Fountain Theatre in Los Angeles always draw a crowd. As do the shows Grover and others stage in a more intimate setting, at Tapas Flavors of Spain in Mission Viejo, every Friday at 8 pm.
"Just like jazz, there's a whole language to flamenco," says Grover. "Once you know the chord structure and progressions, it can be played with. There's an improvisation element and language between the guitarist, singer and dancers. And once you understand how flamenco works, you can perform with anybody at any time."
That language is what Grover and other instructors are teaching at her Orange studio. Flamenco classes are available almost every day of the week, and students range from kids to age 80. Grover, who has a 2-year-old daughter, is planning to start a "mommy and me" class.
"Anybody, any size can dance," says Grover, who spent a year in Spain learning all she could about flamenco before opening her dance studio in 2012.
"We have heavy-set people who do very well. It's not like ballet where you have to be light and tiny. Heaviness actually makes you a better dancer. It makes you more grounded, which is what you're supposed to project."
And it's great exercise. An hour of flamenco dancing burns about 290 calories, according to Healthy Living magazine.
"It's a beautiful art form that's strong at the same time," says Garcia. "You are getting this amazing workout, and you're challenging your mind and body to coordinate together in ways that are different from anything else.
"Like other art forms, you don't really appreciate it until you've tried it."
Naranjita Flamenco
301 East Katella Ave., Orange CA 92867 / 714-400-2939