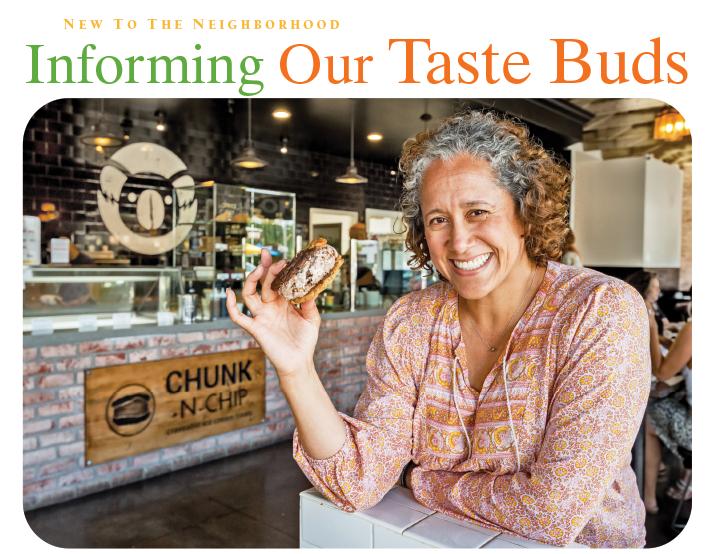 Old Towne Orange's new ice cream spot features flavors perfect for every season. Chunk-N-Chip founder, Claudia Gonzalez, says her team has an inspiration board in the kitchen they use for brainstorming seasonal and novelty offerings.
Chunk-N-Chip
If you've been craving a trendy treat, you're in luck. The ice cream shop Chunk-N-Chip is now open, located inside of The Aussie Bean.
Chunk-N-Chip specializes in Craft Ice Cream Sammiches, made of ice cream between two fresh cookies. Chunk-N-Chip's journey began when founder Claudia Gonzalez brought chocolate chip cookies made from her sister Monica's recipe to her work potlucks. Her coworkers asked for the recipe, and soon after Gonzalez was selling her cookies on the side. Business was strong, and by 2010 Gonzalez was offering her Ice Cream Sammiches out of a food truck. Chunk-N-Chip expanded to a catering service and later a storefront in Downtown Santa Ana's 4th Street Market.
The Old Towne location just celebrated its grand opening in July, but Gonzalez had eyed the area for a while. When the opportunity to partner with The Aussie Bean came along, she felt like it was the right choice for her company.
"The owner Gavin Wilkinson thought our brand was really great and asked us to take over the ice cream shop he was planning to put in the store," she says. "The beauty is we complement each other's menus."
Aside from the Ice Cream Sammiches, Chunk-N-Chip specializes in unique flavor pairings. Ice cream options including donut bacon brittle, white chocolate honeycomb and apple cobbler populate the menu, and customers can choose from cookies like matcha with black sesame seeds, apple cider and brioche.
"I love pairing tastes that complement one another but aren't traditionally paired up," says Gonzalez. "My team spends a good deal of time doing research on what's trending."
While developing product combinations is a large part of her role, Gonzalez says that helping the staff develop into leaders and brand ambassadors is her favorite task.
"We tell our staff that they're coming in to scoop ice cream, but they'll learn a lot of skill sets they can apply to any part of their lives," she says. "We train our employees to do more than fill out paperwork and form product. They learn how to think on their own two feet to become resourceful and hospitable with the customers."
Cecilia Munoz, a Chunk-N-Chip employee, finds that the dessert shop has provided her with much more than the ability to help customers find their favorite flavors.
"Claudia is definitely a great role model who is always giving us advice that will help us for our futures," she says. "She's really passionate about her shop and cares for her employees."
With a great team of employees and a menu fit to satisfy every taste bud, Chunk-N-Chip is ready to be a source of date night and cheat day happiness in Old Towne
Chunk-N-Chip
112 East Maple Ave., Orange CA 92866 / 714-450-6800