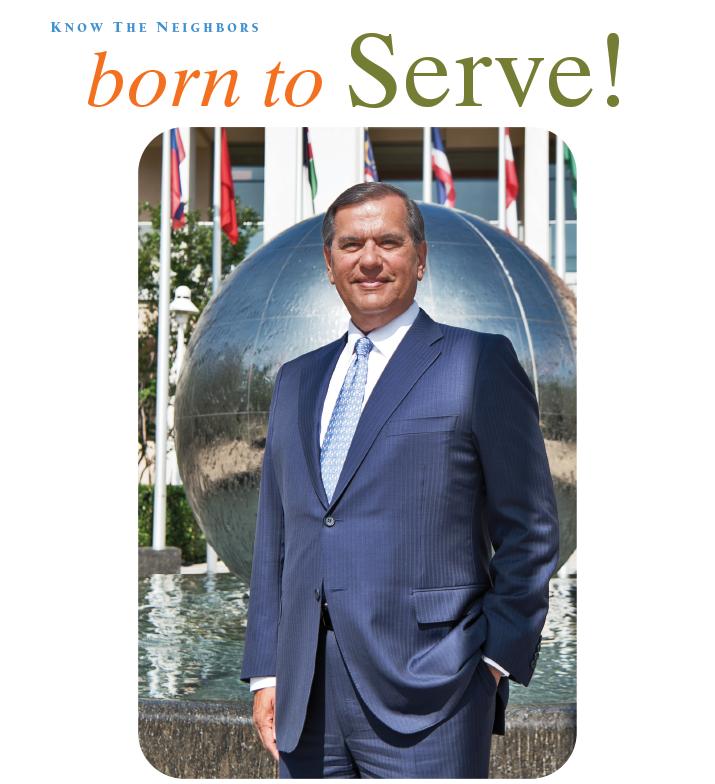 "As I've watched Orange evolve, I love that this community has never lost its sense of values—strong community, family, youth activities," says Gaddi Vasquez, at Chapman University's George L. Argyros Global Citizens Plaza. "When you put all of that together, it equates to a great quality of life."
- - - -
Gaddi Vasquez
Born into a family of migrant farmworkers, Gaddi Vasquez lacked the pedigree that would traditionally indicate future success.
His family lived in a one-bedroom trailer with no electricity or running water in Watsonville, California. When Vasquez was in the second grade, his father moved the family into a small upstairs apartment at the back of a house in Orange on Cypress Street a few blocks from The Plaza.
"We were by no stretch of the imagination affluent," Vasquez recalls, "yet at the same time, I felt totally fulfilled. In addition to great parents, I had a great community that facilitated so many opportunities for me to be able to expand my horizons."
That community included the owners of a local Mobil gas station, Schwinn bicycle shop and other small businesses who served as mentors. It also included members of American Legion Post 132, where a young Vasquez started on his path to becoming state champion in the annual Oratorical Contest presented by the veterans' service organization.
"Embedded in all of that was a sense of purpose and determination by my mother and father," says Vasquez, who with his bachelor's in public service management from the University of Redlands became the first member of his extended family to earn a college degree. "It opened up doors and opportunities that I might not have otherwise had."
Vasquez traveled a path that included being an Orange police officer, Orange County supervisor, director of the Peace Corps—the first after 9/11—and ambassador to the United Nations Agencies for Food and Agriculture.
"Gaddi is probably as close to a natural-born leader as anyone I've ever known," says William Steiner, who served with Vasquez on the Board of Supervisors in the early 1990s. "He never forgot his roots. One day he would be speaking at the highest levels of government, and the next he'd be doing a program for a service club in Orange, or he'd be giving the commencement speech at one of the local schools."
After retiring earlier this year from his latest stint as senior vice president of government affairs for Edison International and Southern California Edison, Vasquez is still determining what's next.
"There are a lot of things yet to be accomplished," he says. "I still have a lot of runway left."