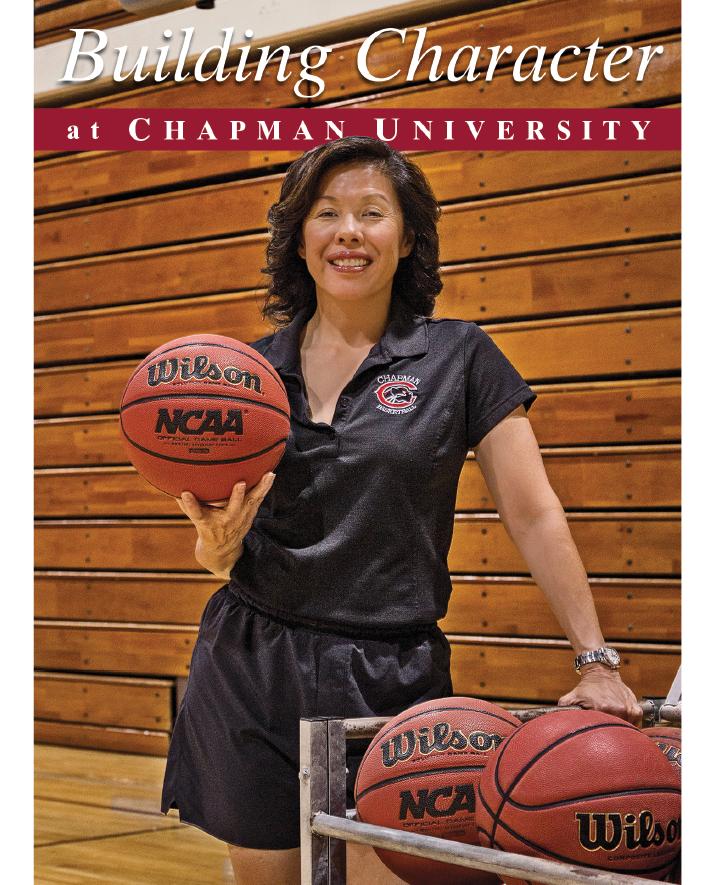 Coach Carol Jue
When coworkers heard Andrea Villanueva speaking about the coaching she receives from Carol Jue, Chapman University's Women's Head Basketball Coach, they asked if Jue was her life coach.
"I laughed so hard, because she kind of is," says Villanueva, who played basketball for Jue for four years when she attended Chapman University as a political science major and business minor from 2011-2015. "Coach Carol is one of the first people I go to when I need advice, to vent, a recommendation (because she literally knows everyone), or just to go eat some really good food."
Playing basketball for Jue transformed Villanueva's life.
"Coach Carol is the type of person who makes a BIG impact on your life," says Villanueva. "She's tough and pushes you to reach your highest potential. She brought out a side of me that I didn't know existed. I became more vocal under her guidance, and the way she taught me to lead has helped me in many aspects of my life. At the same time, she's dedicated and caring."
For Jue, Chapman's all-time winningest women's basketball coach with more than 300 wins, Villanueva's experience embodies what she strives to accomplish with her players.
Teaching Life Lessons
"Although I'm competitive and love to win and grateful we do win, it's not about winning—it's about striving to win," says Jue, who has coached Chapman's women's basketball since 2003, winning more than 70 percent of the games with a current record of 306-126. Under her leadership and guidance, the Panthers are considered among the most elite basketball programs in the West Region. Since joining the SCIAC in the 2012-13 season, the team has qualified for the SCIAC Tournament every season.
"It's not just about basketball—it's about life in general," says Jue. "The girls discover that if they can mentally and physically get through practice and the games, they can excel at life. Teaching life lessons is what I love about coaching."
Jue also treasures the opportunity to be there for the girls on her team. "I've been privileged to mentor many of the girls, and in many ways act like a second mom for them. They ask to talk, and I'm glad to listen," says Jue, who has two sons and is married to Kevin.
"Coaching is a lot like parenting, and Coach Jue does a good job at both," says Chapman's longtime Men's Head Basketball Coach and Assistant Athletic Director Mike Bokosky, also Jue's friend and neighbor. "With players and children, you treat them the way you want them to become. You set attainable standards that you can't lower, or you lose their respect. Coach Jue is a well-rounded coach who plays both sides of the ball—offensive and defense. Her teams play hard for her, because they love and respect her. She's a fantastic communicator and has a charisma about her that players gravitate towards."
Liza Borja, owner of Pilates Encore in Orange, and Jue's Pilate's instructor and friend, comments on her dedication. "Carol gives her all in everything she does, whether it's for those at Chapman, the City of Orange, her basketball community or family and friends," she says. "If her players get hurt (even off season), she's by their side at the hospital, even overnight. Her students and their parents attend her games long after they've graduated. Even her adversaries (teams and players) have tremendous respect for her."
Terry Boesel, Director of Athletics for the Donald P. Kennedy Department of Intercollegiate Athletics at Chapman University, concurs.
"Coach Jue is tough and demanding, yet her players know she truly cares for them as people. The Women's Basketball alumni are still close to the program—a great indicator that their experience under Coach Jue was important to them."
U.S. Women's Basketball Sports Envoy to Taiwan
Jue, who is Chinese, was born in Hong Kong in the late 1960s. Her parents immigrated to the U.S. when she was three months old. "My parents fled communist China. When they arrived in America, though they wanted to make a comfortable living for the family, they also believed in helping people in need," she says. "I learned many great lessons from the strong foundation my parents created for me and my siblings. I wouldn't be the person I am today without them."
In addition to coaching hundreds of students at Chapman over the years and running sports clinics for local youth, Jue was chosen by the U.S. Department of State's Sports Diplomacy Office to be a U.S. Women's Basketball Sports Envoy in Taiwan this past summer. She participated with former Tennessee head coach and U.S. Women's Basketball Hall of Famer Holly Warlick.
The only Chinese-American head coach in the NCAA, Jue's career trajectory is atypical for an Asian woman. "I didn't take the common path of a professional, such as doctor or lawyer," says Jue, who originally thought she'd be an accountant and still occasionally assists her father, also a basketball fan, with the family garment industry business.
In Taiwan, Jue and Warlick participated in speaking engagements, as well as led basketball clinics and attended and spoke at the BLIA Cup tournament. The highlight for Jue, however, occurred when they visited a battered women's shelter. She drew from her knowledge teaching self-defense at Chapman when presenting to the women and children.
"I talked to them about self-protection, what basketball has done for me and about my life as someone coming from the same ethnic background," says Jue, who started playing basketball at 10 years old. "I let the kids at the shelter know that they can also play sports, and that it's a great outlet. They don't have to study all the time. I also talked to them about being a woman in sports and about being married. Though many of the children were shy when we arrived, at the end they didn't want us to leave."
The experience was life-changing and confirming for Jue. "I am so fortunate to have been given the opportunity to be a coach at Chapman," she says. "The trip was a great confirmation of how this is so much bigger than basketball."