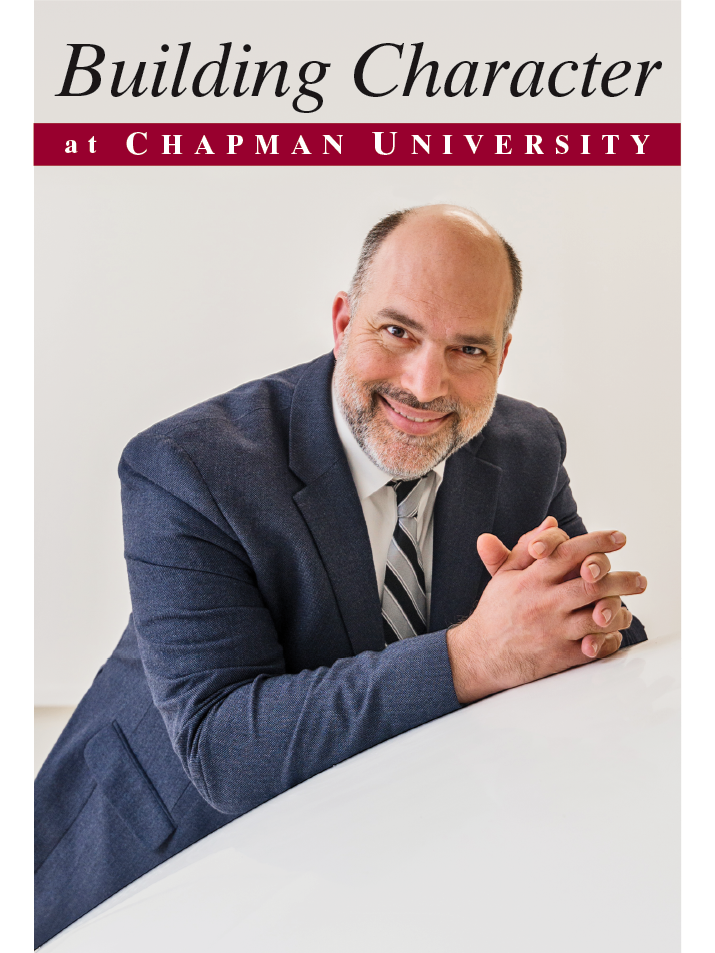 Amir Raz, PhD
Multi-talented people often experience a conundrum. With a wide variety of skills and interests, they may find it difficult to narrow down their choices in professions. While in middle school in his native Israel, Amir Raz found himself drawn to music and magic. During his teen years, he even played the trumpet with the Israel Philharmonic Orchestra; nowadays, only on special occasions.
"In a family executive decision, it was decided that it would be a better choice for me to go into the sciences, instead of music," says Raz, who today is Chapman University's Director of the Institute for Interdisciplinary Brain and Behavioral Sciences (Brain Institute). Along the way, he has also remained involved in the worlds of magic and music.
Raz came to the United States in 1985, where he earned a bachelor's degree in computer science from Fairleigh Dickinson University in New Jersey in 1988, following that with a master's degree (1997) and PhD (2000), both in Brain Science, from Hebrew University of Jerusalem in Israel. He returned to the U.S. and did post-doctoral training at Cornell's Sackler Institute for Developmental Psychobiology, Department of Psychiatry.
"My interest in better understanding the brain started with computer science and applied mathematics and then moved into artificial intelligence," says Raz. "Studying how we can predict outcomes with computers, computational models and software that emulates, simulates or captures human behavior is a fascinating topic for me that cuts across multiple disciplines."
Cognitive Neuroscience
An eminent cognitive neuroscientist who has received several prestigious awards in the field of brain science, Raz is considered a world leader in the area of attention and consciousness, including free will.
After graduating with his PhD, Raz began his career in the U.S. at Cornell University, then Columbia University, and later moved from New York to Quebec, Canada, joining McGill University, where he continues to actively research and lead projects. This responsibility includes heading up the Cognitive Neuroscience Laboratory and the Clinical Neuroscience and Applied Cognition Laboratory at the Institute for Community and Family Psychiatry.
"Amir has done groundbreaking work on issues such as the placebo effect and deception," says Chapman University President Daniele Struppa, who hired Raz to oversee the creation and operation of the Brain Institute. "More specifically, Amir is interested in what are called 'automatic' processes that require little attention and become automatic (such as driving), and how such processes could be brought back to voluntary control. He is essentially a behavioral scientist interested in how brain and behavior are connected."
Struppa originally recruited Raz to head up the development of the Brain Center after a suggestion from Yakir Aharonov, Chapman's distinguished quantum physicist and recipient of the 2010 National Medal of Science.
"Yakir told me that there was an opportunity to hire a major brain expert who could do for brain science at Chapman what he (Yakir) had done for quantum physics," says Struppa. "Yakir is a very rigorous person and does not pay compliments too easily, so I was intrigued. I began a series of discussions with Amir regarding what he could accomplish at Chapman, and I became convinced he was the right person to bring on board, so we began planning the creation of what is now the Brain Institute."
Launched in 2019, The Brain Institute comprises a network of interdisciplinary specialists and researchers from various fields, including neurology, neurobiology, psychiatry, psychology, behavioral economics, cognitive science and anthropology.
"Disneyland" for the Brain
"The Brain Institute is like Disneyland for the brain," says Raz. "We have a wide variety of high-tech tools, such as brain scanners. There's a sleep lab, where altered states of consciousness—including dreams—are studied. And we are one of very few Brain Institutes in the world to have a float pod. Known as a sensory deprivation chamber in the 1950s, this contraption consists of a giant tub filled with a tremendous amount of dissolved Epsom salt, giving rise to buoyancy. A person gets in and floats. If we close the lid, we get an environment devoid of sound and light. It has been claimed to create altered states of consciousness, including enhanced creativity and reduction in stress, without the use of drugs."
The Institute will also be studying hypnosis and meditation, adds Raz. "What happens to the brain when people meditate and go into hypnotic trances? How much can we train the brain with methods such as neurofeedback? These are questions being studied at the Brain Institute."
Another area in which the Institute is doing quite a bit of work is in Neurophilosophy of free will. This project is being spearheaded by Raz's colleague, Uri Maoz. The Institute received a research grant exceeding $7 million dollars in 2019 to study how the human brain enables conscious control of intentions, decisions and actions.
"The idea of free will is not new," says Raz. "Philosophers have discussed the topic for thousands of years, asking questions such as, do we really have free will, and how do we define it, let alone measure it? Furthermore, do animals have free will? And, is it possible that our sense of agency and volition is just an illusion?"
Janeen Hill is Founding Dean of the Crean College of Health and Behavioral Sciences at Chapman University. She comments on Raz's contributions to Chapman.
"Given that Amir's research explores how autonomic processes may be controlled voluntarily, and he seeks tounderstand the neural correlates of healthy and abnormal brain computations, clinically, his findings will result in a better understanding of therapeutic interventions for patients suffering from psychopathologies," says Hill. "Amir is a wonderful colleague, generous with his time, and an engaging teacher and lecturer. He breaks down complex ideas and makes them understandable to the lay audience."
Marriage of Science and Magic
Raz, who is married with four children, became interested in magic as a youngster. "Like many things in my life, it was half interest and half serendipity," he says. "I read on the sides of cereal boxes how to do magic tricks. Then I went to the local library to read books about magic. Local libraries then changed into regional, national and specialty private collections. I joined magic circles, attended conferences and befriended professional magicians. A few years ago, I took a sabbatical year at UCLA and spent a good number of my evenings in the library of the famed Magic Castle in Los Angeles, an exclusive private nightclub and a Mecca for magicians from all over the globe. There I discussed with other magicians how science and magic intersect. I always 'apprentice' with fellow magicians and occasionally invent my own tricks.
"There's a direct connection between illusions and free will, because some tricks give you an idea how to explore free will scientifically," continues Raz. "At the Brain Institute, among other things, we're trying to understand what happens in the human brain when people go through magical experiences—how the brain changes its wiring and affects neural computations."
Struppa says he wasn't surprised when he discovered that Raz is also a professional magician. "Amir's interest in attention (and control of attention), deception and placebos all fit well with what professional magicians do," he says. "When Amir started at Chapman, he came to visit me and put a copy of the Orange County Register on the table. He grabbed a deck of cards I had sitting around my office and asked if I'd like to play a game.
"I love magic, so I agreed, freely choosing a card from the deck and memorizing it. Then he directed my attention to the classified section in the newspaper, where I saw an ad that said: 'Dear Daniele, I look forward to working with you, and the card you chose is the nine of clubs,' which it was! The page of the newspaper, and the nine of clubs, are framed and hanging in my office. Even now, every time he comes to my office, he shows me a magic trick. He is the most enjoyable guy you can imagine."