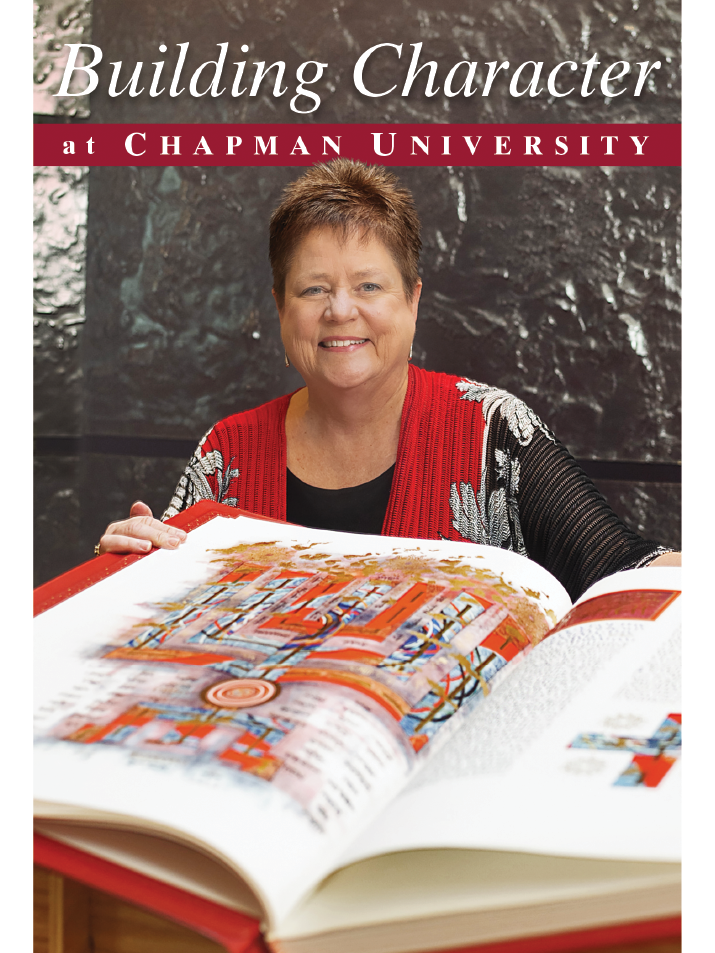 Nancy Brink, M.Div.
The many students and parishioners who have benefited from Rev. Nancy Brink's counsel over the years can thank a failed acting tryout. Intent on being a Broadway actress, at the beginning of her freshman year, she tried out for the one full tuition acting scholarship offered by Texas Christian University. She didn't get it.
"When I came in second for the scholarship, in the odd hubris of the age of 18, I walked away from acting," says The Donna (Ford) and Fahmy Attallah Endowed Director of Church Relations for Chapman University. "I look back now and laugh at the fact that I didn't take any theater courses while in college, despite taking every speech and acting class available in high school."
Instead of acting, Brink, the daughter of a minister, ended up graduating with a degree in religious studies and then attended seminary at Vanderbilt University, where she earned a Master of Divinity (M.Div.).
Parish Ministry

For 30 years, Brink was a parish minister for her own congregations in Sioux City, Iowa, South Bend, Indiana and Omaha, Nebraska. Her denomination is the Christian Church (Disciples of Christ), the same denomination that founded Chapman University.
"I enjoyed being a parish minister," says Brink. "I loved the planning and leading worship, and the pastoral care, including calling on the sick and elderly. I'm not a therapist, but pastoral care offers support and helps people connect with spiritual resources. It's very fulfilling work, because you get incredibly close to people during important times, such as births and baptisms, weddings, and even funerals."
Brink, who joined Chapman in January 2009, has found that same sort of satisfaction as the University's Director of Church Relations.
"Students come to me to discuss their futures," says Brink. "It may be that the career they thought they wanted to do since childhood isn't what they thought it would be, or they're trying to figure out what it is they really want to do. Sometimes through conversation they may discover they're trying to live up to someone else expectations, rather than doing what they really want to do. During our talks, I encourage their own internal process of discernment by asking them questions and encouraging them to reflect out loud. We all have internal wisdom that gets bogged down at times, and we may need help hearing the voice within."
Support for Students Experiencing Loss
Brink also provides support for students in turmoil over the loss of a loved one, including a parent or grandparent.
"Six weeks after I started college, my mother was diagnosed with breast cancer. She died a year-and-half later when I was 20 and still an undergraduate," says Brink. "I found during that time that many of my friends couldn't relate and wanted me to get over mourning quickly. The people most helpful during that time were the religious studies faculty."
On several occasions since joining Chapman, Brink has organized informal support groups for students who have lost a parent or parent figure. "We joke that it's the only club at Chapman you don't want to get an invitation to, but it does help those involved to know that others are going through similar difficulties," she says.
Rev. Gail Stearns is The Irvin C. and Edy Chapman Dean of the Wallace All Faiths Chapel and Associate Professor of Religious Studies and Peace Studies at Chapman University. She comments on Brink's contributions to the wellbeing of students and staff.
"Nancy is deeply caring and a good listener as a chaplain, and a delight to be around. She is also wonderful at reminding us communally of our connection and heritage with the Christian Church (Disciples of Christ), and particularly the values of inclusivity and welcome that permeate Chapman University."
Rev. Cisa Payuyo, Associate Director of Church Relations at Chapman University, agrees. "Nancy has the biggest heart, the biggest laugh and the keenest ears of anyone I know. She knows how to use her privilege to speak up and stand with people who have been marginalized. For instance, she is a beacon of light to the LGBT community across the Chapman campus. Her Bible study on 'Reading the Bible Through Queer Eyes' has changed lives and given hope by showing that you can be gay and loved by God."
Labyrinth and The Saint John's Bible
In addition to offering solace and guidance, Brink has brought several other spiritual elements to campus. These include a labyrinth and The Saint John's Bible. The former is an actual labyrinth she had constructed that they set up in the Fish Interfaith Center on Mondays during semesters.
"I became interested in labyrinths about 20 years ago and got credentialed in labyrinth group facilitation to use them as spiritual tools," says Brink. "I raised the money to commission the creation of a large canvas labyrinth for Chapman. It weighs 106 pounds and comes in three pieces that we Velcro together. People come and walk the path on their own, and I help students learn ways to use the labyrinth for their own growth. There is something about walking a very complicated path meditatively that quiets the mind and heart. Every other month, we invite students, faculty and staff and the community to a program we call Sound Healing. The space is filled with the resonant sounds of singing bowls, gongs and other instruments while people meditate or walk the labyrinth.
Another project Brink has spearheaded and continues to raise money for is the purchase of the full-sized, museum quality lithographic reproduction of The Saint John's Bible. The original was commissioned by the monks of Saint John's Abbey and Saint John's University. A team of 22 artists spent 13 years making this first hand-written Bible since the invention of the printing press. Made in medieval fashion on calfskin vellum using quills made from feathers, this Bible offers many inspiring illuminations that help people reflect on scripture in our 21st century context.
Known as The Saint John's Bible Heritage Edition, there are 299 seven-volume reproductions that have been made. Chapman owns the first five volumes of the 101st printing and will soon purchase the remaining two. The large volumes travel to classrooms, are used in Bible studies, and are available to community groups who want to see it.
Founders Day and Rev. Dr. William Barber
The office of Church Relations also hosts an annual Founders Day every March, when they invite leading scholars in Bible, theology and church, notes Brink. "The Rev. Dr. William Barber, leader of the revived Poor People's Campaign, a man many are calling this generation's Martin Luther King, Jr., will be speaking and teaching during Chapman's 37th Annual Founders Day on Saturday, March 14," she says. "This promises to be a historic day at the university, much like when MLK came to Chapman in 1961. Barber will receive an honorary doctorate from the university."
Considering all the fulfilling and exciting events and occurrences going on at Chapman's Office of Church Relations, Brink says she doesn't regret giving up acting. "What I'm doing now is wonderful work," she says. "Although, I go to theater every chance I get."
The Founders Day event has been cancelled for 2020, due to the Coronavirus. For more information, go to www.chapman.edu/Founders-Day.