Orange May Parade - Mar / Apr 20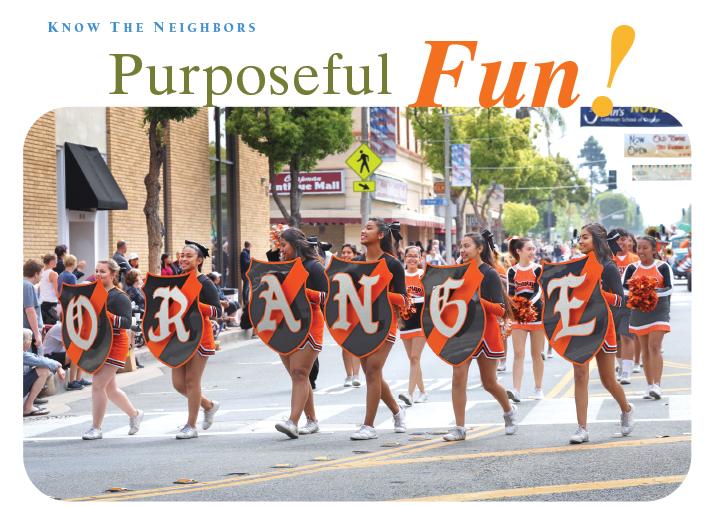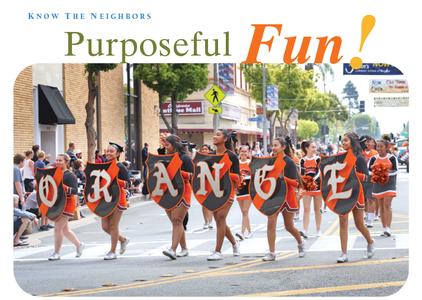 Orange pride will be on full display during the Orange May Parade. Among last year's entries was the Orange High School Cheer Squad. "The parade covers the whole spectrum of the community," says Elizabeth Holloman, the parade coordinator.
- - - -
Orange May Parade
Everyone loves a parade—especially a hometown procession that brings the community together. That was the idea behind the Orange May Parade, which the Orange Chamber of Commerce brought back to historic Old Towne Orange last year for the first time since the early 1990s.
Organizers are getting ready to do it all again, with the first of 80-plus entries stepping off at 10 am Saturday, May 2.
"It's our chance to showcase nonprofits, schools and all of the people in the city who make a difference. This is their parade," says Al Ricci, owner of Ricci Realty and chairman of the board at the Orange Chamber of Commerce.
The Orange May Parade truly is an all-encompassing community event, with local entities such as The R.J. Noble Company, Ricci Realty and Chapman University stepping up as sponsors. Participants include school marching bands, Polynesian dance students, Shriners driving mini cars, plus other school, nonprofit and church groups; and thousands of parade-goers lining the route cheering everyone on.
"That's exactly what Orange is all about—always working together," says Elizabeth Holloman, the parade coordinator. "The connections and relationships that people have with each other is what makes this city so incredibly powerful and such a great place to live."
This year's theme is "Growing Our Founders' Vision." It not only celebrates the agricultural harvest but also recalls the original concept of the parade, which ran from 1933-1991.
Because of the long hiatus, one of last year's biggest challenges was simply getting the word out, but that's less of an issue this time around, Holloman says. "Almost 95 percent of last year's sponsors are doing it again, and some are increasing their donations because they really enjoyed the parade and saw its value."
After covering parade costs, excess funds will be distributed to charities in Orange. One of the partner nonprofits is HomeAid Orange County, which has a nearly 90 percent success rate in moving families from homelessness into their next housing option.
Combined with the Orange International Street Fair on Labor Day weekend, Orange has a pair of popular community events that bookend the summer, with both events benefitting local nonprofits, says Ricci.
For Holloman, organizing the parade is a year-round effort that shifts to a full-time job from early January until the last entry reaches the end of the parade route.
"There are a lot of moving parts, and everything has to move together," she says. "It takes a lot of people working together to make it happen."
Orange May Parade
Where: Old Towne Orange
When: 10 am, May 2 Information (including video highlights from the 2019 parade)