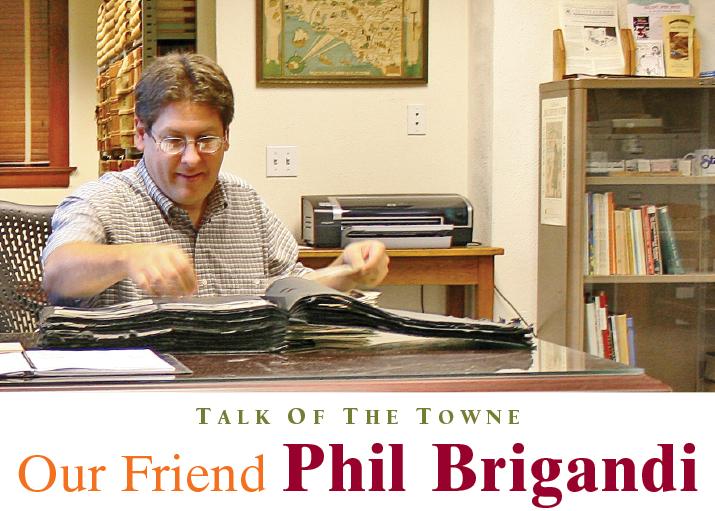 Chris Brigandi recalls how he found his brother Phil engrossed in the encyclopedia when they were kids.
"I asked what he was researching, and Phil told me he was just learning," says Chris of his older sibling, who passed away on December 12, 2019 at the age of 60. "That was Phil. He loved knowledge, and he loved history—especially history of Orange, where he was born and lived most of his life."
Considered Orange's historian and a former columnist with the Old Towne Orange Plaza Review, Brigandi spent more than four decades chronicling the rich history of Orange and Orange County, as well as parts of California. Phil, who served as the Orange County archivist for five years, wrote more than 40 history books and countless articles, creating a rich database of historical information.
"We grew up on Hamilton Ave. in the City of Orange, right down the street from Handy Elementary School," notes Chris. "Dad was a probation officer, and mom stayed at home." Phil attended local schools, including graduating from Orange High School in 1977. He earned a degree in history from California State University, Fullerton in 1982.
"My brother really loved the City of Orange," says Chris. "In many ways, he was an old soul. From a young age, he connected with old-timers. Their stories pulled him back to earlier eras."
Listening to old-timer's stories and recording their history was a pastime of Phil's that led to a vast body of historical information. "Phil started recording oral histories when he was a teen in the mid-1970s," says Chris. "He'd sit with old-timers for hours and listen and ask questions. With Phil, it was always, tell me more. He was also a stickler for accuracy."
Stephanie George is an archives and museum consultant and on the board of the Orange County Historical Society and curator of the Society's archives. She and Phil knew each other for many years as members of the society and were close friends.
"Phil was incredibly committed to writing and preserving the stories of Orange County and Southern California," says Stephanie. "This may sound trite, but he was the epitome of a Boy Scout. Phil was everything that the Boy Scouts talk about fostering in young men. He was trustworthy, upright and honest and always made good on his promises."
In his younger years, Phil was a Boy Scout, attaining Eagle status. As an adult, he remained an active volunteer, working every summer at the Schoepe Scout Reservation at Lost Valley as a counselor.
Orange County historian Chris Jepsen is a friend and colleague of Phil's and considers him a mentor. "If you're lucky, you get one or two people in a generation like Phil, who can carry on the historical work of a community, and build on it and preserve it," says Jepsen, President of the Orange County Historical Society and Assistant Archivist at the Orange County Archives for the last 16 years. Phil hired Jepsen for the job at the archives, and he worked under him for five years.
"Phil did everything he could to preserve history, including saving newspaper clippings," says Jepsen. "When old newspaper offices were scheduled to be torn down, he went into the buildings and removed historical materials before the bulldozers came in. He leaves behind an enormous legacy in his body of work."
According to Jepsen and those who knew him, he was a modest man who lived a modest life. Except for email and manning a history website, he shunned electronics. When he went hiking —a favorite pastime—he used a real compass. He never owned a cellphone.
"Phil always considered himself an Orange kid at heart, just studying local history," says Jepsen. "However, his knowledge base and his reach grew exponentially over time. I believe that if he had lived another 20 years, the next step would have been as our state historian."
Stephanie was always impressed with what she refers to as Phil's encyclopedic knowledge of local and California history. "Phil knew so much about Southern California and state history, I would often be gob smacked," she says. "On a regular basis, we went on day trips into surrounding areas. One day, we drove out to Joshua tree. When it was time to return home, Phil decided to take the back roads and use the freeways as little as possible. The whole way home, he did a running narration of what we were passing. I felt like I was on a tour bus."
She also enjoyed Phil's sense of humor. "When we were working on a project for the Historical Society's Centennial year celebration in 2019, Phil and I went at least once a week to our archives at the Heritage Museum of Orange County. He'd find something amusing in our collection, and giggles ensued. He regaled me with stories of our society's early history, mostly concentrating on some of the more colorful members. As Phil said on his website, he was always looking to tell the story, and he was a master at doing so. I am so lucky to have been a part of that story. Phil had an incredibly generous heart."
Adds his brother Chris, "Phil found a purpose and passion at a young age, and he loved what he did. He stayed true to himself and was a kind and loving human being. His good work was far-reaching and beneficial to many. He is deeply missed."
The Orange County Historical Society is maintaining Phil's So Cal Historyland website.
Visit here: www.ochistoryland.com