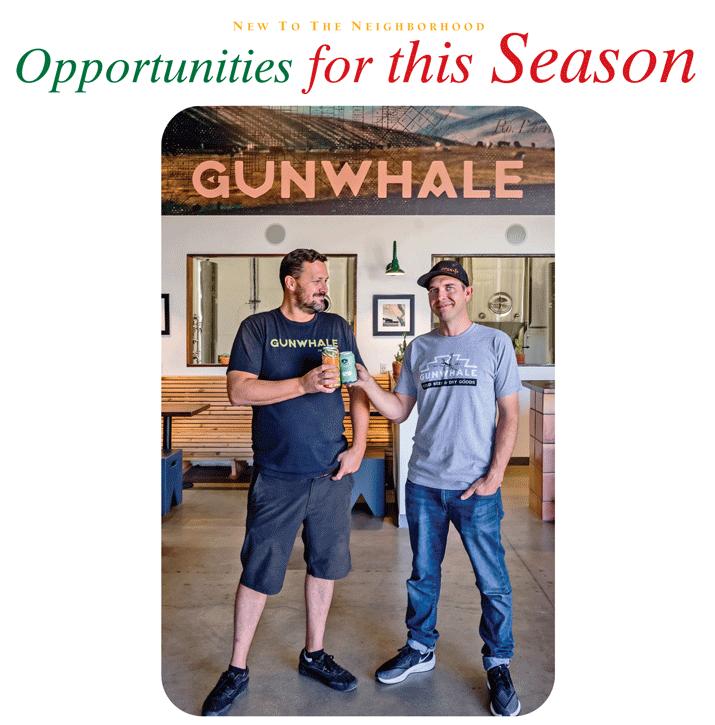 From beginnings to official breweries, Gunwhale Ales trio Justin Miller (left), JT Wallace (right) and Bobby Fitzgerald combined their strengths to create the successful taproom. With Miller's culinary background, Wallace's experience in manufacturing and Fitzgerald's skills in marketing and design, Gunwhale grew quickly and easily.
Gunwhale Ales
With a focus on local flavors and ingredients, new brewery Gunwhale Ales, a taproom, is harkening back to Orange County's citrus roots. Gunwhale's flagship location is in Costa Mesa. The new Orange location allows for the company to increase production and distribution of the expanding product line.
Gunwhale Ales was founded back in 2016, when friends Bobby Fitzgerald, Justin Miller and JT Wallace were determined to turn their beer-making hobby into a full business.
"We had a passion for beer and home brewing, and we were at the point in our careers where we wanted to do something that was fun," says Miller.
The plans for their business started coming together, and soon the trio decided they wanted to develop a brewery highlighting two of Orange County's key aspects: its coastline and its citrus namesake.
"We saw some opportunities to do some things that local breweries weren't doing yet, and we thought we could build around that," says Fitzgerald. "We wanted to merge those two aspects. That's how we have our dual focus of the farmhouse beers, which are more about seasonality and are culinary-driven."
With a spotlight on farmhouse beers, Gunwhale's menu is populated by local ingredients reflected in their taproom offerings. The founders developed their styles based on original beers made by farmers who used only what they had around them.
"To us, an authentic representation of what beer would be is being local and driven by the items that are here," says Fitzgerald. "In farmhouse brewing, farmers would have used ingredients they themselves grew. We also try to use whole, locally grown ingredients, like citrus or stone fruit or herbs. The farmers used whole peaches right from the farm, so we use peaches. For the yeast in our beer, we sometimes use commercial strains, but we also like the idea of using native yeast, which is airborne or on the fruit of local trees."
When making their products, the owners at Gunwhale Ales take a culinary approach and examine the general experience when drinking beer.
"We think about savoriness or spiciness and the general mouth feel—considering it from a sensory perspective," says Fitzgerald.
With the Orange expansion, the company will open a new taproom in the community and offer farmhouse beers to more Orange County residents, as well as increase brewing production. The new facility will allow for up to 12,000 barrels per year.
"We'll be able to meet the demand that we have built in Orange County and farther beyond," says Fitzgerald.
The Orange location also provides Gunwhale Ales with the opportunity to stay authentic to the county's history, giving customers a reminder of the past heritages in the area. The founders also want to highlight the current residents, developing a community for them and staying a part of their lives.
"We are very excited to see what Orange has in store for us," says Miller. "We want people to know that our new space is a place for people to get together and actually have old-school conversations."
With seasonal beers, year-round ales and mixed fermentation offerings, Gunwhale Ales is a holistic experience with items for all. "It's a great place to experience something local," says Fitzgerald.
Gunwhale Ales
1501 West Orangewood Ave, Orange CA 92868 / 949-239-9074