Bella Donna's Sweets - Nov / Dec 19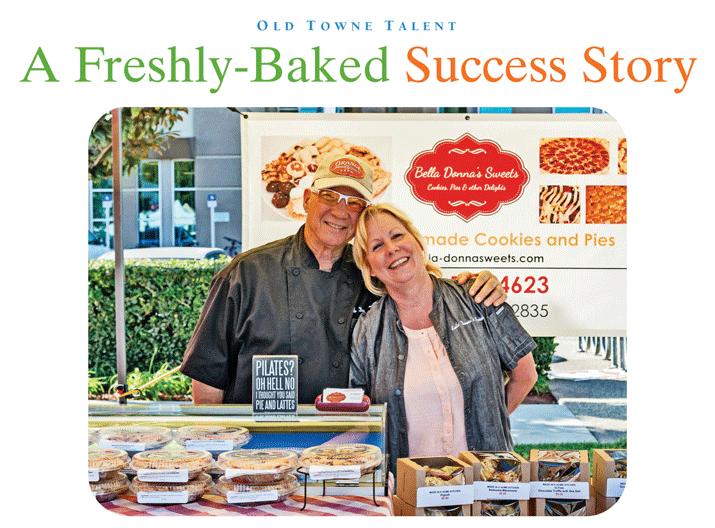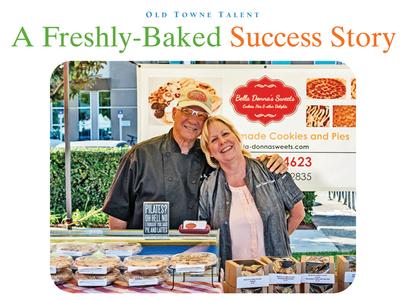 Visit Donna and Dave Mastren at their Fullerton home, and it's probably best to check your diet at the front door. From there, it's easy to catch the smell of fresh-baked pies or cookies coming from the kitchen.
And it's not just a few pies or a few cookies—we're talking dozens of pies and hundreds of cookies. Every week, practically year-round.
The reason for all those delicious desserts? Bella Donna's Sweets has lots of fans who want the mixed-berry pies, almond-cherry thumbprints, chocolate truffles and pretty much anything else Donna pulls out of her oven.
"I would always bake platters of cookies for the neighbors, and that's really how this all started," she says.
About eight years ago, one of those neighbors took a holiday cookie tray aboard a flight bound for Seattle and was offered $300 for it. Upon return, she said, "Donna, you've got to start selling these."
"My job situation had changed, and I thought, 'I'll start doing what I love,'" Donna says.
So, she went to the San Francisco Baking Institute and, among other things, learned how to start baking on a bigger scale and how to turn her passion into a successful home-based business.
Despite the name, Bella Donna's Sweets is not a one-person operation. Dave, her husband of 33 years, does much of the shopping and is in charge of making the pie dough and peeling and slicing the apples and peaches, along with preparing many of the other ingredients.
"When she's ready, she puts it all together," he says. "She rolls out the dough, makes the filling, then does all the baking. Donna makes the magic happen."
Dave is not out of his element in a kitchen. During his career, he worked in or owned restaurants for more than 15 years, including Naples Rib Joint in Long Beach, where he met Donna in 1981. Later, his other jobs included working as the director of a software company.
He also went to the San Francisco Baking Institute, learning how to make bread.
As for Donna, she previously worked for an architectural design company, but when it closed in 2011, she was out of a job.
"That was part of the motivation to start doing this," she says.
While Donna makes all the basic cookies, like chocolate chip and sugar, she's perhaps best known for creating specialty treats, including Sicilian fig cookies and pizzelles. They sell for $15-$20 per pound, which equals about 20 cookies.
Her biscotti is especially popular, and the aforementioned chocolate truffle is made with sea salt.
"It's actually gluten-free, which gets people excited," she says.
As for the pies, apple and mixed berry—featuring a blackberry, blueberry, raspberry combination —are in the lineup year-round. Peach, rhubarb and other selections, like pecan, bourbon-pecan and chocolate-pecan, are seasonal.
Prices are $9 for a 6-inch, and $20 for the larger 9.5-inch pies. Specialty creations like the olallieberry, which isn't as readily available, are $12 for a 6-inch pie.
Shortly after launching Bella Donna's Sweets, the Mastrens set up a table at the Orange Home Grown Farmers & Artisans Market, in front of GrampyPat's artisan sourdough bread booth. They've been a fixture ever since.
Business is largely by word-of-mouth. "People contact us out of the blue and say, 'I need two pies and some cookies,'" says Dave. "I even went to the dentist today and got two orders."
Making pies and cookies has become a full-time job for Donna, who spends about 40 hours a week in the kitchen. But during November and December, to handle all the additional orders for the holidays, she's easily preparing, baking and cleaning up 60-plus hours a week.
The slow period is only the first couple weeks in January.
"It's when everyone is on a diet," she says. "But after that, I'm busy throughout the year."
Bella Donna's Sweets
714-501-4623 / www.bella-donnasweets.com