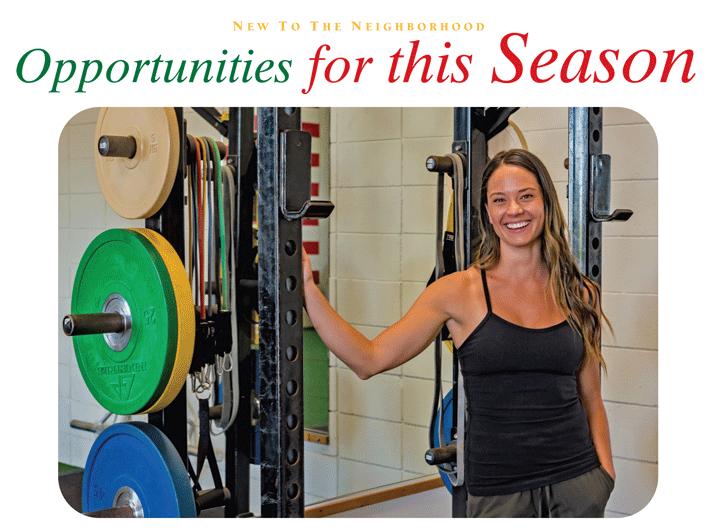 Since she was young, Anchored Performance owner Jenna Tidball always had a passion for fitness. She got her first gym membership at 12 years old, and eventually earned her Bachelors in Kinesiology and Exercise Science from California State University, Fullerton.
- - - -
Anchored Performance
For Jenna Tidball, physical fitness is just one piece of the puzzle. She specializes in teaching human movement, but her passion lies in helping people achieve overall health by catering to their needs on an individual basis.
"I work with a wide variety of people, which has allowed me to develop a very eclectic approach to coaching," she says. "It's not just about working out; its helping people achieve health and happiness in every aspect of their lives."
Tidball recently opened Anchored Performance, a gym in Orange focusing on personal one-on-one training. Before she was able to open her own gym, Tidball worked as a trainer at a commercial gym, where she met the clients who would inspire and eventually encourage her to start her own practice.
"Opening Anchored Performance was all about creating a safe space for my beginner, novice and elite clients to perform at their highest levels," she says "This goes much further than just working out. Life is hard, and I want to be a constant in their lives."
For her clients, Tidball's balance between support and accountability is what draws them in. Anchored Performance member Sandra McFetridge works with Tidball on weight training, as well as mobility and strength pairing.
"Jenna is special in that she is a ray of sunshine. Every time you walk in, she's all smiles and upbeat," says McFetridge. "However, she will still hold you accountable to form and your goals."
McFetridge's whole family works with Tidball, and McFetridge says she personalizes plans for every member.
"She appeals to all ages and all genders, whether you're looking to improve your sports performance or the quality of your life while aging with grace," she says.
"There have been many fights in our house over who gets to work out with Jenna at what time."
Tidball's experience in athletic training goes back to her time at California State University, Fullerton, where she studied kinesiology and did internships with different coaches and athletes. Tidball enjoys watching clients grow comfortable in the gym, and she says Anchored Performance provides exactly that for old and new customers.
"I like helping people find their potential in and out of the gym by finding their balance and living life to the fullest," she says. "We're a very welcoming community. Don't be afraid to reach out to us!"
Anchored Performance
745 West Katella Ave., Unit C, Orange CA 92867 / 714-388-6561