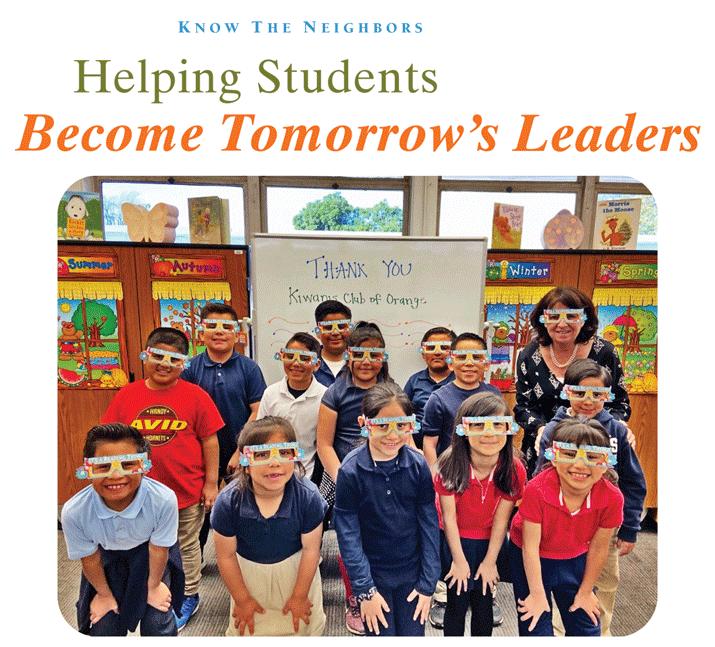 A donation by Kiwanis Club of Orange was instrumental in launching the "Read Like a Detective" initiative at Handy Elementary School. Reading Resource Teacher Tracy McMillen says most of the students "demonstrated a renewed interest in reading" thanks to the program.
- - - -
Kiwanis Club of Orange
Community service and leadership are hallmarks of the Kiwanis Club of Orange, which celebrated its 65th anniversary in 2019. So, it's no surprise that these are the primary qualifications for its scholarship program. "We're looking for students who have contributed their time and not just focused on grades," says April Alvarez, the Schools Committee Chairwoman. "Our main goal is to recognize student leaders who volunteer in their communities."
Kiwanis Club of Orange members mentor and serve side-by-side with students who join local high school Key Clubs at service projects and fundraising activities throughout the year. Efforts have included yard work at El Modena High School's Nature Center, running game and food booths at elementary school events, and feeding kids who participate in GRIP Soccer Camps for high-risk students during spring break.
Although applicants are not required to be Key Club members, Alvarez says that membership is a consideration during submission evaluation.
Each scholarship does make a difference, she adds. "It won't pay their way through college, but it's a little extra for them. It's also a connection to the community, letting them know that others care about their future."
Since 2006, scholarship funding has been provided through the Linda Graff and Dale Watt memorial funds and supplemented by Kiwanis fundraising efforts. Each winner receives a minimum of $500, but the amount could be as much as $2,000 for students with higher education expenses.
In addition to student scholarships, Kiwanis Club of Orange provides education enrichment grants to OUSD Title 1 elementary schools. These grants have supported a variety of school-based programs, including science camps, field trips and providing dictionaries and other books to classrooms.
For Cambridge Elementary fourth graders learning about California history, Kiwanis provides funding to publish 14-page hardbound books about the state's Spanish missions, written and illustrated by the students.
"It gets the kids excited about writing, which hopefully in the future will help them as they go through high school and college," says Nicole Webber, a fourth-grade teacher at Cambridge who has partnered with the nonprofit for four years on the project. "If they didn't fund it, we would be doing something very different. We rely on Kiwanis very heavily for this."