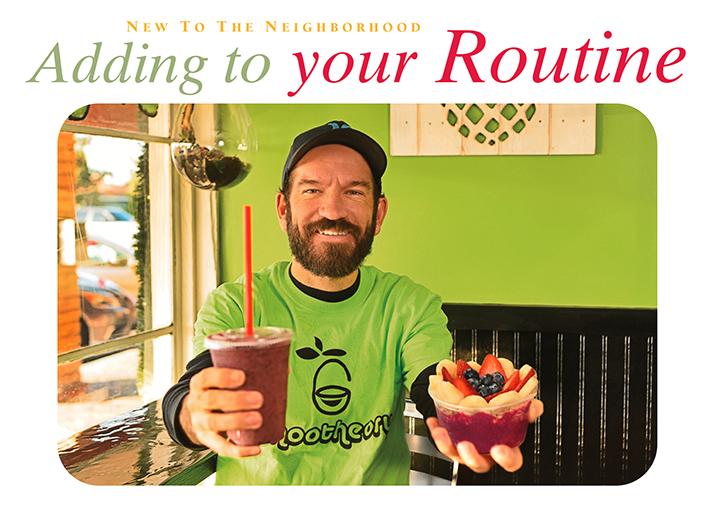 Andre Dzuirman holds out two Smootheory classics, including an açaí bowl and a smoothie. When he's not trying out new recipes, Dzuirman says he's an avid reader and loves going through self-improvement books.
Smootheory
With the cooler weather coming to a peak and comfort food offerings at an all-time high, head over to Smootheory for some healthier choices. After opening in September, the business has a variety of set smoothies and açaí bowls, as well as customizable options.
"We were running a barbecue sandwich shop here before, and I wanted to do something healthy for people," says Smootheory owner Andre Dziurman. "There are so many options in the Orange area, so I want people to know we're here."
The restaurant industry runs in Dziurman's family, as his grandparents started and ran Pancho's Mexican Restaurant, as well as Dogs BBQ and Deli, the storefront that is now Smootheory. His mother still works at Pancho's, and that business owns the center where Smootheory is located.
The shift from barbecue to smoothies came from Dziurman's personal health journey, as he was put on dialysis seven years ago. After his treatment, he decided to make the switch and work towards healthy eating.
"My experience made me realize that what I put in my body is very important," he says. "I feel like this is a way to put out health information and healthy resources for people."
Although Dziurman is a veteran in the food industry, the transition from sandwiches to smoothies brought on new and interesting challenges. Before the eatery's opening, he worked on developing the menu and says he tried more than 100 different smoothies.
"This has probably been the hardest thing I've ever done, but it's a challenge that offers opportunity for me to grow," he says. "It allows for creativity in a different way."
Customers can choose from both smoothies and açaí bowls. Classics like banana and blueberry populate the menu, but there are also more unique alternatives, including pitaya and kale, as well as açaí and agave. Dziurman recommends the "Chocolotta," a smoothie with chocolate almond milk, bananas, blueberries and agave.
"We've been telling people to add peanut butter to the Chocolotta, and it becomes a peanut butter chocolate drink," he says. "It's a healthy option that still tastes sweet like candy."
With superfood smoothie chains popping up all over Orange, Megan Badgwell, who helped Dziurman with the decoration and Smootheory's development, says that the location's family history and the easy menu will be bonuses for customers.
"People in Orange should give Smootheory a try," says Badgwell. "It's a local family business aimed to make you happy and healthy. There are good vibes and positive energy."
Smootheory
129 East Collins Ave, Orange CA 92866 / 714-363-3418