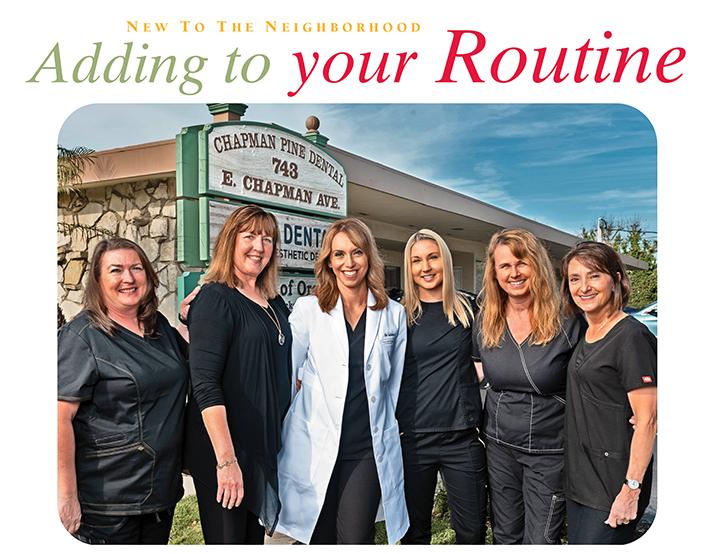 Meet Dr. Maryam Jackson and her team at Smiles of Orange. Pictured (from left) are Debbie (dental assistant), Karen (office manager), Dr. Jackson, Kasie (registered dental assistant), Dana (dental hygienist) and Karen (dental hygienist). In addition to seeing patients, Dr. Jackson runs an online blog featuring information on the dos and don'ts of dentistry devices.
- - - -
Smiles of Orange
Last October, Smiles of Orange, located down the street from the Orange Public Library, opened to help residents take care of their pearly whites. The location has been a dental office for the past 40 years, but Dr. Maryam Jackson bought the practice last year.
"I've been practicing dentistry for 13 years, and I love the patient interaction," says Jackson. "We try to take care of people as if they're our own family."
Jackson studied biological studies at the University of California, Irvine and originally was a pre-med student. However, after an internship at the university medical center's emergency room, she decided it wasn't the right fit.
"I found a local dentist who offered some shadowing hours for me, and I just loved it," she says. "I took my entrance exam to dental school, and the rest is history."
At Smiles of Orange, all employees put patients first and place a strong emphasis on their care. The office serves people from young children to older patients in their nineties.
"We don't overbook our schedule, and we get to know our patients individually and cater our dentistry to their needs," says Jackson. "I love how I get to see everyone at least every three to six months, and I get to know them as people and their families. That's my favorite part."
In addition to routine check-ups and teeth cleaning services, Smiles of Orange offers cosmetic dentistry, including veneers and whitening. The practice also offers non-surgical gum procedures and sleep apnea therapy.
Smiles of Orange also has a focus on natural alternatives. Unlike other practices, Jackson says hers is unique because of the material she uses for fillings.
"With most filling material, the white fillings are actually made out of plastic," she says. "Those contain chemicals that can be toxic, so I use all ceramic fillings, and they're actually much healthier."
Jackson says that her team also works with a network of local specialists able to help patients with any additional services. Overall, she's excited to keep things in the Old Towne Orange area.
We've been in the community for a while, and I've been taking care of people in Orange for a really long time," she says.
Between the comfortable work environment and the personalized patient care, Office Manager Karen Chitwood says that Smiles of Orange has a great team balance and is committed to the community.
"It's so nice to work with a team committed to patient health and wellbeing," she says. "We keep people smiling!"
Smiles of Orange
743 East Chapman Ave, Orange CA 92866 / 714-970-4480