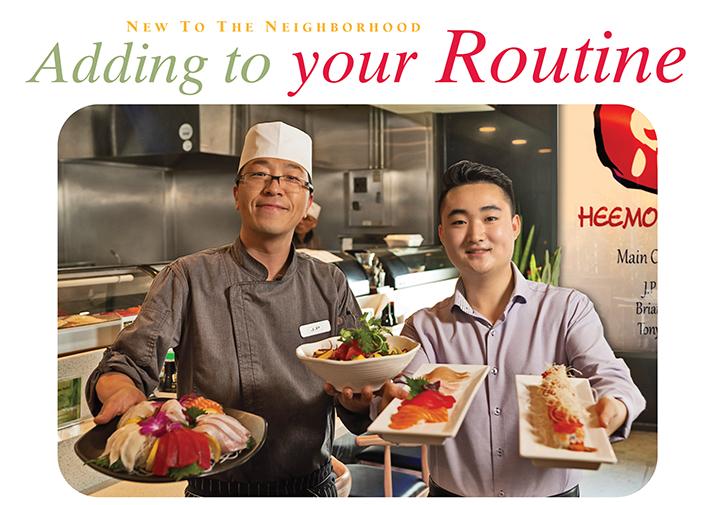 Heemo Sushi head chef Jeong Pil Son (left) and manager Brian Yoon present a variety of their fresh entrees. Pictured (from left) are their Chef Special Sashimi Platter, Poki Salad, assorted sushi and Heemo Roll. They source their salmon from a well-known farm in Scotland called Bakkafrost, providing the closest you can get to wild, free-range salmon.
- - - -
Heemo Sushi
Get your appetite ready, because Orange's newest all-you-can-eat sushi restaurant, Heemo Sushi, recently opened on Katella Ave. The new eatery features three chefs with a combination of 50 years of sushi experience.
"All the chefs who started this place have always worked at other sushi restaurants, so it was their dream to open up their own spot," says manager Brian Yoon. "They found a good location and saved up, and last year they were given the opportunity to start." Heemo Sushi's menu is filled with a variety of options, including teriyaki boxes, udon, and of course, a vast list of traditional and signature sushi rolls. Customer favorites include the special Heemo Sushi roll, filled with spicy tuna and shrimp tempura, as well as the salmon sashimi.
"We get all of our salmon from a well-known farm in Scotland called Bakkafrost. It is the closest that anyone will be able to find to wild, free-range salmon," says Yoon. "The chefs are more focused on pushing out a good product, rather than trying to flip a profit on it."
Head Chef Jeong Pil Son is in charge of everything fish-related at the restaurant, including ordering all the fish for the week, making sure the quality is up to their standards, and correctly preparing and serving the sushi. Before working for sushi restaurants in California, Son worked as a chef in South Korea for 11 years.
"We are the only all-you-can-eat sushi restaurant in Orange County that is able to consistently serve only the best quality of fish and shellfish to our customers," says Son.
Additionally, Heemo Sushi does something unheard of in the ayce sushi industry. "We allow customers to choose how much rice they would like in their sushi," says Yoon. "This is almost unheard of, because the more rice in sushi, the less fish the customer eats, giving restaurants a higher profit. We, on the other hand, are more than happy to allow our customers to choose how much rice they want, so they are able to enjoy and try everything on our menu, rather than getting filled up on rice after a couple of pieces."
In addition to providing customers with flavorful food and fresh fish, Heemo Sushi also gives its patrons a great dining experience.
"The environment that the employees are able to make for the customers is great and unique," says Yoon. "We always welcome new customers and first-time sushi eaters to show them the best ways to eat sushi."
Although the chefs' true passions lie in their culinary creations, the restaurant's customers have quickly become a new beloved element of the job for them.
"My favorite part of working here is seeing the smiles on people's faces as they try our food," says Son. "This reminds me why I became a sushi chef in the first place."
After opening in August, the Heemo Sushi team is excited to continue expanding the menu in the coming year, as well as serving alcohol after acquiring their new liquor license. Overall, they aim to introduce the Orange community to their fresh take on sushi.
"We want to tell the people of Orange that we are thankful for the warm welcome we have received since we've opened our doors," says Son. "We also want them to know that we are here to stay and will continue to grow and provide the best quality of food and service that we can."
Heemo Sushi
1632 East Katella Ave, #A, Orange CA 92866 / 714-997-9953