Thomas Turk, PhD - Mar / Apr 19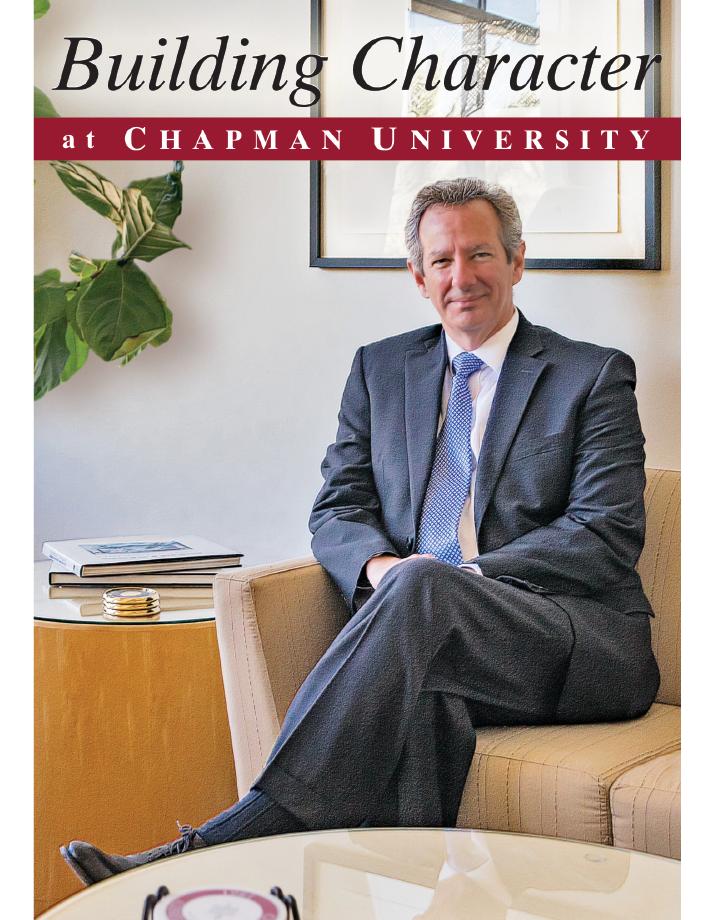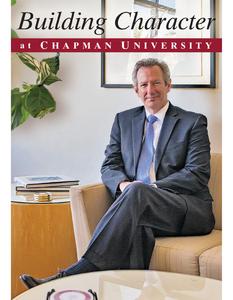 Thomas Turk, PhD
Given the fact that Thomas Turk's work is based on attention to details, he finds it ironic that he didn't have a plan when he chose his college major.
"Like many 18-year-olds, I didn't give much thought to picking my major," says Chapman University's Dean of The George L. Argyros School of Business & Economics. "I chose finance with no idea what I'd be doing for a living after I graduated."
It didn't take Turk long to hone in on his interests and talents. He soon earned a Bachelor of Science at Santa Clara University, followed by a PhD in Strategic Management from the University of California, Irvine. After graduation, following five years of working at Texas A&M University, Turk joined the faculty at Chapman University.
"I originally became connected with Chapman while finishing my PhD," says Turk, who was born and raised in the Los Angeles area. "I taught marketing at the university for a year and really enjoyed the warm style and close interaction between faculty and students. At the time, Jim Doti was dean of the business school."
Though Turk enjoyed working at A&M, he wanted to return to California and live in a more active business community. "In 1991, Jim had just become president, so I sent him a congratulatory note," says Turk. "One thing led to another, and I ended up returning and joining the faculty in 1992."
Phenomenal Growth at Chapman
During his time at Chapman, Turk has enjoyed a bird's-eye view of the school's trajectory from a sleepy college to an internationally recognized university.
"Chapman has seen incredible growth," says Turk, who became Dean of the Argyros School of Business & Economics in 2017. "When I arrived in 1992, there were 15 faculty members in the business school. This year we have 78. The number of students has more than tripled since 1999. I believe this is because of Jim Doti's leadership, amplified by the current President Daniele Struppa."
Chapman recently ranked number 5 in Best Regional Universities West by U.S. News & World Report. Argyros is also one of few business schools to be accredited. Additionally, over the last five years, Chapman faculty members have doubled the amount of published work in academic journals. Google Scholar now reports that Chapman research has been cited approximately 133,000 times.
Turk has spent his time at Chapman's George L. Argyros School of Business & Economics, named in honor of local real estate investor George L. Argyros, a Chapman alumnus and former U.S. Ambassador to Spain.
"The school of business was founded in 1974, but was named in honor of George Argyros 20 years ago in 1999," says Turk. "The Argyros family's generosity has allowed Chapman to offer students a high-quality education, including hiring nationally known faculty, such as noble prize recipients. We also invite more than 100 business professionals at the top of their professions to speak to students at the school each year."
This has led to attracting high-caliber students, most of whom land jobs soon after graduating from the business school. "The average annual salary for a position after graduating is $54,000," says Turk.
Center for Entrepreneurship
Early in his Chapman career, Turk made his mark at the Leatherby Center for Entrepreneurship & Business Ethics. Endowed by Ralph W. Leatherby in 1995, the Center focuses on teaching entrepreneurial success through education, collaboration and research. The innovative program gives students, alumni, entrepreneurs, inventors and investors the opportunity to connect and collaborate.
"At the Argyros School, students learn that entrepreneurial activity is inherently ethical, because it involves creating value for others and serving other people," says Turk. "That's why being an effective leader is a morally significant vocation."
Turk and his colleagues have found that many of today's students are interested in business or entrepreneurship, even if they aren't majoring in the topic. For that reason, in fall 2014, they began offering a Minor in Entrepreneurship, which currently has 185 students.
"No matter your major, there's a good chance you would benefit from classes that could help you leverage your expertise to get a business off the ground," says Turk. "We're working on ramping up our collection of classes for non-business majors."
Current Initiatives
Turk is also overseeing a focus on real estate to create a Master's of Science in Real Estate. "I've been working with professionals in the real estate industry to get support for our initiative, so that we can launch the degree program in about 18 months," says Turk. "We have a Founding Board for the business school helping to shape the program and curriculum."
This includes the president of the board, Chapman alumnus Alex Hayden. He is Executive Vice President for CBRE, a large commercial real estate services and investment firm. He and Turk met when Hayden attended Chapman in the early 1990s.
"Since Tom became Dean, we've been working together on the Real Estate initiative," says Hayden. "Tom has a great relationship with students and the faculty and is a master at creating consensus. He has successfully created alignment amongst the faculty, Chancellor and President Struppa to obtain internal approval for the Real Estate initiative. This will help align the Argyros School of Business to co-experience growth and increased rankings in the years to come."
Focus on Teaching
In addition to spreading the word about the strong points of the Argyros School and its students and making the curriculum as world-class as possible, Turk also enjoys teaching management courses. He especially likes to incorporate his experience working in the public sector as a business consultant on strategic planning, strategic change and executive compensation issues for clients such as Ford Motor Company, Time Warner Communications and Toyota.
"I really enjoy teaching, especially mid-career MBA students," says Turk. "It's fun to discuss potential solutions to real world problems they've found themselves involved in on the job."
Stacey Moynahan is Assistant Dean of Undergraduate Programs and Career Services in the Argyros School. She was a student of Turk's in Chapman's Executive MBA program from 2012-2014. "Tom is the consummate professor—incredibly knowledgeable, rigorous, hilarious, and he ensures that learning has real life applicability," she says. "As a Dean and tenured faculty member, he brings strategic expertise to the Argyros School's recruiting processes and career placement efforts. He's constantly thinking about the school's position in the educational realm and how we can better share our message."
Turk's colleague for 20 years, Candace Ybarra, is Associate Dean for Academic Programs and an Associate Professor of Strategic Management in the Argyros School. She adds, "As Dean, Tom has an open door policy and is good about listening to the faculty and incorporating their ideas. He's also dedicated to ensuring that the University and the Argyros School of Business get deserved recognition."
For Turk, who has lived in Yorba Linda with his wife, Jackie, for 25 years, Chapman's rise to prominence sometimes seems surreal. "I've had a front row seat to the evolution of the University. Sometimes I look around at all of the new buildings and the high-caliber faculty and students, and I'm just amazed."