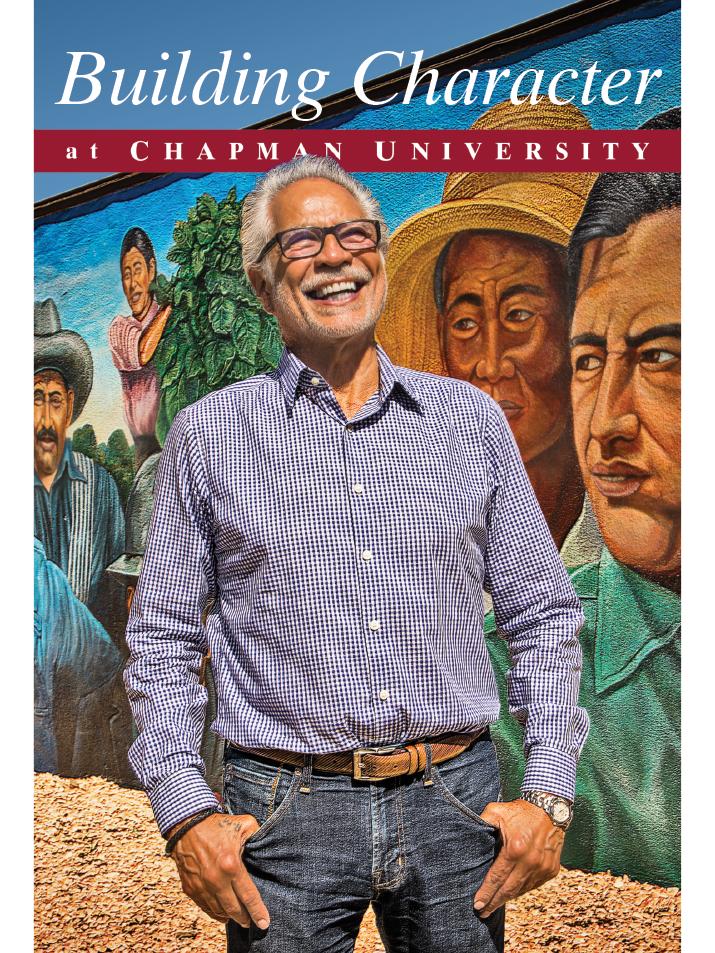 Ruebén Martinez
In 2012, as Katerina Sorrell waited at Chapman University to meet with a dean regarding possibly giving up on her dream to earn her graduate degree, Ruebén Martinez sensed her despair and encouraged her.
"Dr. Martinez didn't know me, but he saw I was feeling down," says Sorrell, who today works as a school counselor at Nicholas Junior High School in Fullerton. "He empowered me by saying that everything would be fine if I just kept going."
Sorrell took Martinez's advice and succeeded, graduating with her masters. Today, the counselor and psychotherapist encourages and guides high-risk, low-income students, who struggle with the same issues she did growing up. From Ecuador, Sorrell's parents worked multiple odd jobs that resulted in her living a nomadic lifestyle that didn't include formal schooling. It took Sorrell 15 years in the higher educational system to earn her degree, but thanks to Martinez's counsel, she continued until she reached her goal.
Such is the broad reach of Martinez, a Presidential Fellow of Chapman University and a member of the University's College of Educational Studies. The bibliophile, who ran a bookstore out of his Santa Ana barbershop for decades and co-founded the Latino Book and Family Festival, today continues to strive to teach the Latino population the value of education and its priceless doorway to the world.
Barbershop Bookstore
Well-known throughout the Hispanic community, Martinez ran a barbershop for years in Santa Ana. In the early 1990s, his passion for reading inspired him to open the bookstore, Librería Martínez Books and Art Gallery, in the barbershop. The location quickly became a neighborhood gathering spot that hosted cultural events and community activities, including book signings with leading Latino authors, such as Carlos Fuentes and Sandra Cisneros.
In 2016, the bookstore was renamed the Centro Comunitario de Educació. It now serves as a pre-kindergarten through adult learning center run by Chapman University's College of Educational Studies. The purpose of the Center, which is on Broadway in Santa Ana, is to promote literacy and education for the Santa Ana community and its surroundings.
"Through his many efforts to promote education and reading, Ruebén has made a powerful and lasting contribution to the community," says Mark Bartholio, who teaches English at Valley High School in Santa Ana. "He brought several well-known authors and artists to speak to students at the high school, which made a powerful and lasting impression. He's a real friend of the Santa Ana Unified School District."
For his many contributions, Martinez has received several awards, including the prestigious MacAurthur Fellowship in 2004 for his support of underserved populations, and most recently the L.A. Times Festival of Books presented him with the Innovator's Award, which recognizes individuals and organizations doing cutting edge work with books.
Humble Beginnings
A first generation Mexican-American, Martinez was born and raised in Miami, Arizona. His parents both worked in the copper mines and assumed that he would follow in their footsteps, but he saw the devastating effects such work had on their health and decided that he didn't want the same life for himself.
"After I graduated from high school, I went to California with two friends. When we got to Long Beach and I saw the beautiful ocean with its greens, blues and silvers, and the blue sky and sand that looked like sugar, I knew I'd never go back."
Martinez originally worked at the Bethlehem Steel plant in East Los Angeles, while attending Santa Ana College at night. He also married and began raising a family, and in 1973 started cutting hair for a living. By the early 1990s, he'd introduced a bookstore into his barbershop. "A friend and I built a bookshelf and I ordered some books to put in it," says Martinez. "I started selling a few books a month, but within a few months, I needed another bookshelf."
The Makings of a Bibliophile
Martinez's love affair with books began in elementary school, where he learned the magic and power of reading when his fifth grade teacher, Mrs. Brubaker, saw him staring at a book and told him to take it home over the weekend to read. He's been a bibliophile ever since.
"I think of life as a constant adventure, and one of the main reasons for that is all of the reading I do," says Martinez, who estimates that he reads about three million words a year, including a wide variety of books and four newspapers. "To me, books are the treasures of the world. They take me to places I've never been and make me have thoughts and feelings that I've never had before. Their magical words push and pull you and make you stop and think. I enjoy the double pleasure of reading in English and Spanish. I've found that English gives you direction, while Spanish gives you passion."
About eight years ago, Martinez decided to retire from being a barber and accepted the position at Chapman to serve as a liaison between Latino students and the university.
"Chapman has some of the best teachers in the world, as well as visionary leadership and incredible students," he says. "We have a first generation program for Latino students here that provides opportunities and financial assistance. In many cases, there are scholarships available. I also explain to students that loans provide a chance to get an education, and an education means freedom for the family. For most of the kids, their parents never went to college, so they are the first in the family to attend. It makes me happy to show them that it is possible to get an education, which will result in a better and happier life overall."
Community Outreach
In addition to his work at Chapman, Martinez regularly reaches out to at-risk kids in the public school system to talk about the importance of getting an education. This includes informing parents of the importance of ensuring that they take their children's educations seriously. He recently spoke at Sorrell's school as part of the launch of the School Smarts Parent Engagement Program, which aims to encourage meaningful and diverse parent involvement in children's schooling.
"I don't listen to excuses from parents when it comes to not taking their children's educations seriously. Both fathers and mothers need to be involved and support education," says Martinez, who raised four children and today has 10 grandchildren and eight great-grandchildren.
Martinez always impresses on students the importance of not being afraid to fail. "I don't care how many times you fall. You join the hall of fame of failers. Get back up and try again. You only go through life once, so never mind about success—go for greatness. I also encourage students to not be afraid to ask for help, because when you do, angels fall from sky to help you."
Sorrell would have to agree, as it was Martinez who fell from the sky to help her continue on with schooling so that she could help others.
"I'm so grateful to Ruebén for reaching out to me, and I just love his enthusiasm," she says. "He's a treasure, who empowers people to succeed with higher education. You only meet a small handful of people in your life who shine like a giant star—Reuben is one of them. He's a tremendous asset to the community, and I always say that I want to be just like him when I grow up."