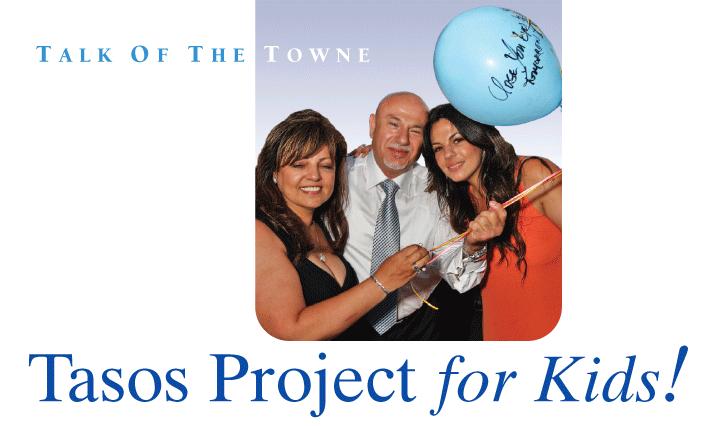 There's no question that cancer wreaks havoc for those stricken with the disease, but one aspect often overlooked is how it turns kids' lives upside down. When their son succumbed to leukemia and passed away in January 2013 at the age of 34, Steve and Agatha Tsirtsis, who own Citrus City Grille in the Plaza, soon saw how the loss devastated their grandchildren, Tasos's children.
"Our family was heartbroken and his three children were lost in grief, but his spirit and generous heart gave us strength to carry on," says Agatha, who along with Steve decided to honor their son's memory by starting the organization Tasos Project for Kids Foundation and Scholarship Program.
Tasos Project raises funds to help children who have lost a parent to cancer or whose parent is struggling with the disease. "We try to bring support and joy to the children's gloomy lives and show them that others care and like to help," says Agatha.
The organization strives to put smiles on kid's faces by raising funds to send them to the movies, Christian camps, amusement parks and on mini vacations. Parents struggling to care for their children while battling cancer are also given a wide variety of assistance, from gift cards for groceries, to clothing, to housing necessities and money for car repairs. The program also includes a music scholarship, as Tasos was a musician.
Melissa Gallardo is office manager for Citrus City Grille and assists with Tasos Project events. "The organization really helps people going through the hard times brought on by cancer. Often all of the attention goes to the cancer patient, which is very helpful, but sometimes people forget about the kids," says Melissa, who is a cancer patient herself. "When children's spirits are low and they feel frustrated and sad, it really helps to give them a chance to go to a music or summer camp. The fact is that cancer is also expensive, so these gifts are often the only chance kids have of getting some relief and an improved quality of life."
Angie is a single mom with two sons, who has been fighting cancer. She is deeply grateful for the support she's gotten from the organization. "As a single mom, Tasos Project for Kids has helped me provide for my boys, Noah and Nathan, in ways I wouldn't otherwise be able to," she says. "The foundation is a pure grace from God."
According to Agatha, Tasos Project is a small but passionate group dedicated to making a difference in the lives of children affected by a parent's cancer. They are currently seeking volunteers with experience in fundraising to help the organization grow.
Tasos Project is also holding their 4th Annual Auction Gala Event in partnership with Adelphia Christian Classical Academy to raise funds for the memorial foundation and scholarship program. The event, which will include an evening of dining, music and entertainment, will be held Sunday, June 5th from 5 to 9 pm at the Citrus City Grille in Corona, 2765 Lakeshore Dr., 92883.Tickets are $60 per guest. For information/reservations, visit www.tasosprojectforkids.org or call 951-277-2888.