Sheila Walstead - May / Jun 16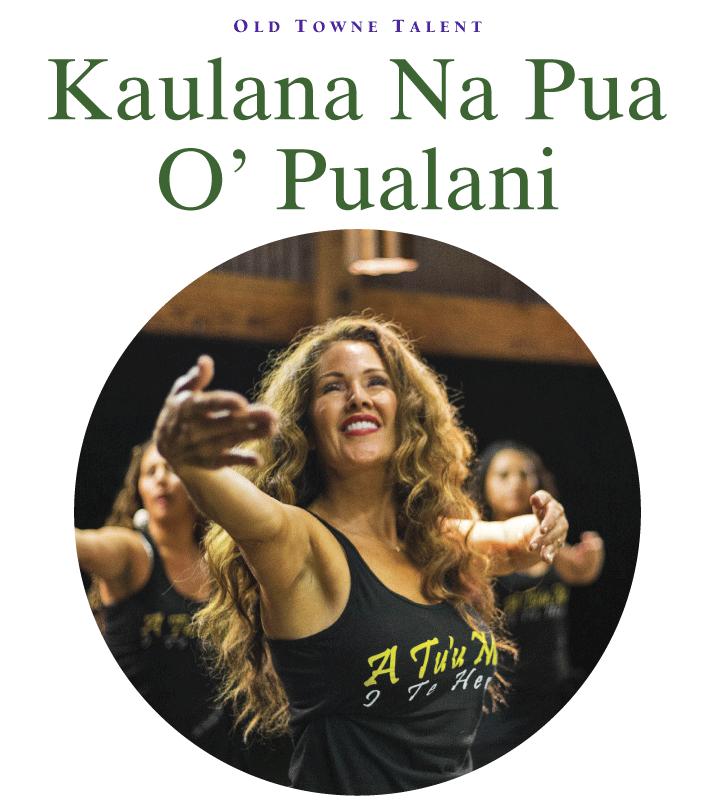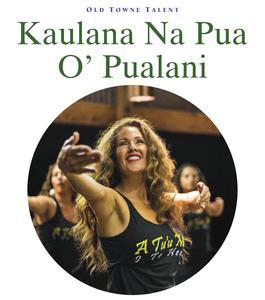 In addition to weekly Polynesian dance classes at her studio, Sheila Walstead likes to bring her Keiki students (young children) to perform at charitable events around Orange County.
Sheila Walstead knows a thing or two about bringing culture to Old Towne. As a Polynesian dance instructor, Walstead is using her studio to teach residents of all ages the way of the Tahitians and Hawaiians.
Growing up in Orange with a Polynesian dancer for a mother, Walstead learned to love dancing at an early age. She began classes at 6 and soon progressed into joining entertainment and competition dance groups in Orange County. When she was twice chosen to perform at the Heiva I Tahiti, an exclusive competition in Tahiti, she decided to make it a career. "What I love about Polynesian dancing is you can be any shape, any size, any age, any ethnicity; it just takes a heart," she says.
After her second Heiva I Tahiti, she began teaching classes with a group in South County. Two years later, she started holding her own classes out of a garage, and her husband convinced her to branch out on her own. "He said, 'Dancing is your passion, and you have so much to offer. I think if you build it, they will come.' "
After Chuck helped with the "build it" part by creating a studio in their Old Towne home's backyard, the students did indeed come in droves. Through word of mouth, two classes quickly became three, and now Walstead's studio teaches nine classes weekly, including Hula, Tahitian, Maori and Samoan to students from her Keiki (children as young as 5 years old) to her Kupuna (mature adult students, some of whom are in their 70s).
"You feel the camaraderie when you're dancing with Sheila. She dances from her heart," says Yvonne Aguirre, one of Walstead's Kupuna students, who has taken classes for four years and formed many friendships as a result.
While creating her studio, Walstead and her four best friends, who call themselves "The Fab Five," realized the need for a local professional group. Together with Kehaulani Amber Rio, Hinari'i (Holly) Makoma, Terava Brandy Lemon and Tereva Jessica Day, they created A Tu'u Mai I Te Here. The group's name is Tahitian for "free," which is their way of conveying that they are free to do what makes them happy.
"Generally, once you dance with one group, you can't dance for anyone else," says Walstead. "We have an open policy. If you want to dance for another group, you can." The group trains professionally and performs at a variety of events, from small backyard parties to large corporate events.
Meanwhile, Kaulana Na Pua O' Pualani continues to grow. Walstead's classes became so large that she opened a second location at Celebration Studio in Tustin last January. Larger classes now meet in the studio, while Walstead teaches small classes and private lessons in her backyard. Orange resident Jennifer O'Day has enjoyed taking Hula classes at Kaulana Na Pua O' Pualani and enrolled her daughters, Olivia and Bailey. "My girls are not the kind to perform, but dancing gives them the confidence to not be shy," says O'Day. "I'm not a performer either, but being around these amazing women gives me confidence and positive energy."
While Walstead mostly focuses on Tahitian dance, she also relies on the assistance of Wailana Rhonda Stutz, the studio's main hula teacher. With her knowledge of the history of hula, Walstead says she and Stutz are "the perfect team." She also recently added Chief Tama Greg Potjes, who acts as the studio's main MC, musician and drummer. With his help, they will soon add drumming classes to the roster.
Every year, the classes come together for a Ho'ike, an annual recital. This year's will take place on August 27th. Walstead will attend and cry with pride, as she always does.
"Dancing is an opportunity to grow and learn," she says. "It's exciting to see a brand new student perform with confidence. It's especially exciting for my Kupunas—some of whom had this on their bucket lists. How cool is that?