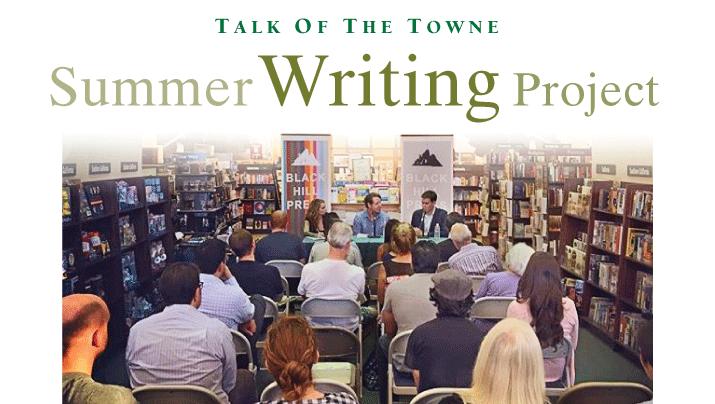 For the third summer in a row, 1888 and JukePop are teaming up to look for America's next great author. The Summer Writing Project provides aspiring authors with an opportunity to write novellas (a distinctive, often overlooked literary form that offers the focus of a short story and the scope of a novel) and submit these stories one chapter at a time for immediate feedback from readers.
Both 1888 and JukePop advocate writing and support reading. 1888 was named for the year Orange was incorporated and is a local literary nonprofit that aims to build and strengthen community "one story at a time." 1888 recently published a set of dime novels—short paperback books from the late 1800s and early 1900s—to help preserve their history and to continue to show off the strengths of the novella form. JukePop uses the power of the internet and the creativity of authors to publish stories one chapter at a time, shaped by the feedback authors receive from online readers.
"The great part of the Summer Writing Project was being able to workshop a project in a supportive environment of artists and consumers like JukePop, into a product that was attractive with a forward-thinking publisher like 1888," says Shaunn Grulkowski, whose novella, Retcontinuum, was published in 2014.
This summer, starting on June 1st and going through the end of August, The Summer Writing Project invites authors to share their stories online, where they will receive comments and suggestions from readers all over the world.
Last year the project gathered a cyber-crowd of more than 350,000 authors and readers—more than three times as many as in 2014. This year, the community is expected to grow to more than half a million, bringing even more exposure to contributing writers.
Dean Moses, one of the top three authors at the end of the 2015 Summer Writing Project, says, "When I entered, I was initially struck by the fact my work was getting read. Not only that, fellow authors offered fostering advice. I used what I learned from 1888 Center and fellow authors, and to my delight my novella, A Stalled Ox, was published."
Submissions for novella chapters will begin on June 1st and will continue through the end of the month. On July 5th, the top 25 authors and their novellas will be announced, and they will be featured on an episode of 1888's literary podcast, "The How The Why." Throughout the rest of July and August, there will be educational lectures and panels. Many of these will be held with participating bookstores, libraries and universities to bring more benefits to the local community. These will be aimed at supporting the top 25 authors with their manuscripts, as well as helping the entire SWP community and any other local writers and literature lovers.
On August 1, the winner of the project will be announced, and their completed novella, with professional artwork and editing, will be published by the end of the summer.
Allison Spector, who had her novella Let's Stalk Rex Jupiter! published from the 2015 Summer Writing Project, says, "SWP was an awesome experience that gave me a much needed push to complete a full length work. It allowed me to craft a story with real time feedback and play off of my audience as the contest progressed."
For more information on the Summer Writing Project, and to join in as a writer or reader in June, visit
www.1888.center/swp
.