Leighton Hubbel - Jul / Aug 13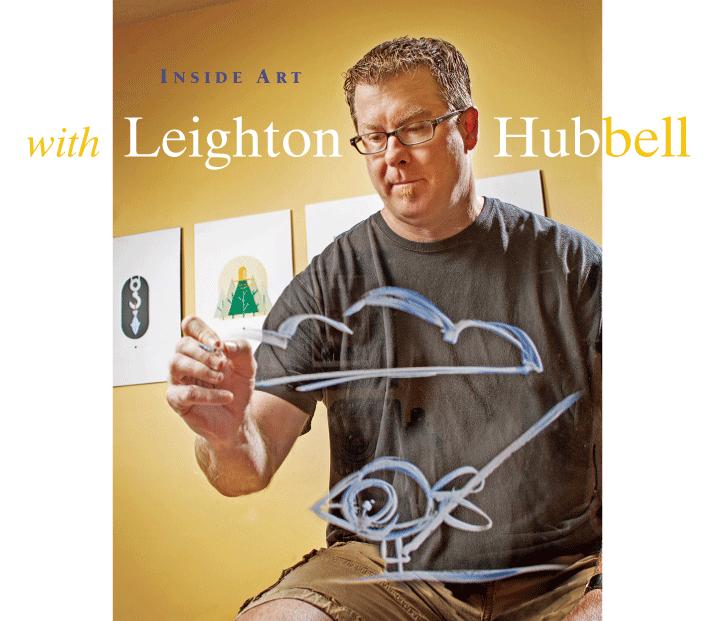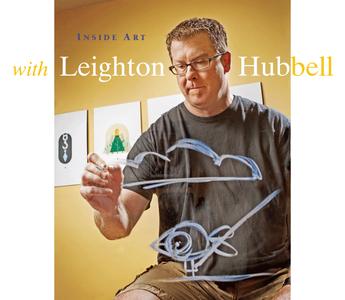 Leighton Hubbel
In 2001 in the wake of the dotcom bust, Leighton Hubbell had the good fortune to be laid off from his job at a large branding agency. Within a short time, the award winning illustrative designer found himself setting up shop at home.
"We were two weeks into buying our house in Orange, and my daughter was barely 9-months-old," says Hubbell, who at the time had worked in design since 1993 for a wide variety of companies, including international corporations representing brands such as Pepsi Cola and Motorola. "Then out of the blue, a former client called my home office to say she was working on a new venture and wanted me to meet the owner about doing some design work."
Hubbell landed the job, which proved lucrative enough for him to outfit his home office. "One moment I was dead in the water without a computer, and the next I was depositing a substantial check and buying equipment," he says. "Things got rolling from there, and I haven't looked back."
As creative director of his one-person design shop based just outside Old Towne, Hubbell does everything from creating logos, corporate identity systems, promotions and packaging design to branding, illustration, print, web design and television work. He is probably the most well-known for his logos and icons, an area of his design work that developed over the years in response to market demand.
The Making of a Logo
"Back when I worked for advertising agencies, I ran across horrid logos, and I couldn't always do anything about it, because they weren't my clients," he says. "Now, considering that a logo is a visual calling card for a company, I feel it's my obligation, when necessary, to lead my own clients to a whole new look. Today, logo design, which is a specialized, unique skill, is a big part of my business, and it's experiencing a renaissance thanks to the use of logos and icons in technology such as mobile phone devices."
Creating a logo is an organic process for Hubbell. "I don't just make a logo," he says. "I do a lot of thinking, planning and research, including examining the trends and what competitors are doing and talking to the clients in order to understand what they want. Each logo is completely customized and done in a style that best fits the client."
Untappd Badge Icons
Icons, which are symbols used for purposes such as making statements or identifying or announcing products, are also a mainstay for Hubbell nowadays, especially with the advent of social networks. The icons pictured on page 2 of the Plaza Review were commissioned by Untappd, a social network similar to Foursquare that allows users to share and explore the world of beer with friends and people all over the globe.
After creating an account and profile at untappd.com, users check in with information such as where they are drinking beer, what they like about certain beers, when they try out a new beer, attend a beer festival or celebrate a special occasion with beer. When they complete various activities through the network, users earn badges, which feature the icons. Hubbell came up with the design concept for the icons and created many of them. (They are now being created in-house.)
Born to Illustrate
Coming from a family of artists, including a paternal great grandfather who was a painter and a maternal great grandfather who was a label illustrator for a fruit packing company, Hubbell showed an interest in art from a young age.
"I was always drawing and experimenting with art mediums," says Hubbell, who took art classes throughout his childhood. "When I was in first grade, my mother gave me modeling clay. I responded by duplicating some of her ceramic work, which amazed her. By the time I was in junior high school, I knew that I wanted to go into design or commercial art."
Hubbell attended art school out of high school studying graphics, advertising and typography. He studied at The Art Institute of Colorado from 1987 to 1989 and then the prestigious Art Center College of Design in Pasadena, where he graduated with a Bachelor's in 1993.
Professional photographer Will Hare, who is based in Old Towne and took the photo of Hubbell that appears here, first met the designer at Art Center, where he attended as a photography student.
"Leighton and I did a project together, and we hit it off right away," says Hare. After graduation, the two lost track of each other until 1997 when they found that they both lived in the Old Towne area and soon became good friends. Hare's history with Hubbell gives him a bird's eye view of the artist's career.
"Leighton has always put pencil to paper, and it is his ability to draw that lends itself nicely to his work, especially logo design," says Hare. "He's a genuine person with a sense of humor and sensibility, and as he's matured over the years as a person and an artist and become comfortable with himself, he's found his voice, and that voice comes through in his work."
For more information about Leighton Hubbell and his work, visit LeightonHubbell.com.