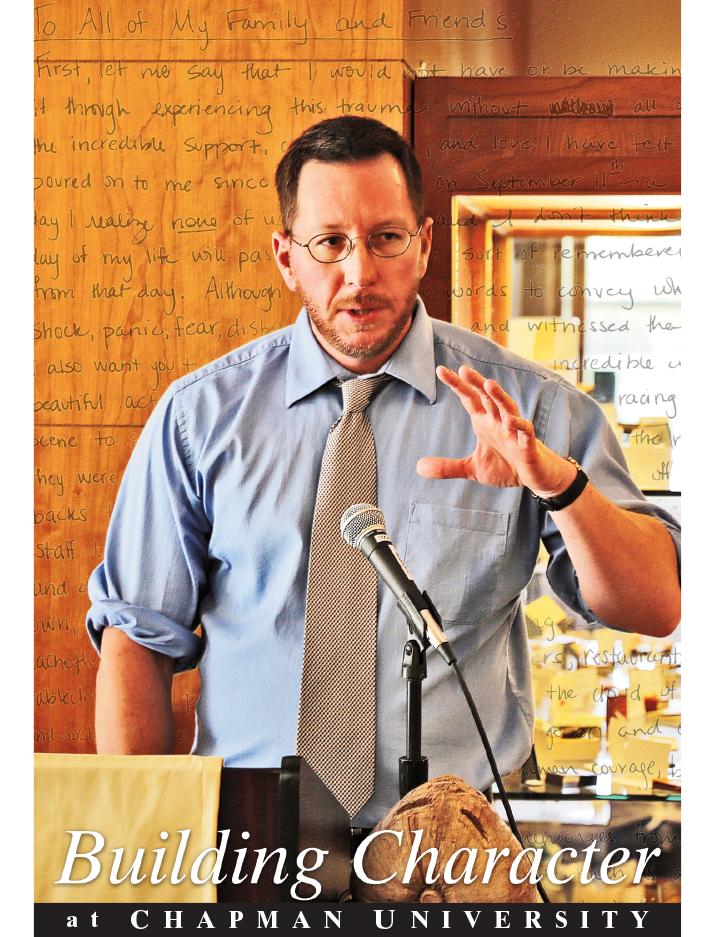 Andrew Carroll
When Andrew Carroll's family home burned down a few days before Christmas in 1989, the loss of irreplaceable keepsakes resulted in a cousin, who heard about the fire, sending Carroll a letter that would profoundly change the course of his life.
Dated April 21, 1945 and written by Jim Jordan to his wife, the letter chronicled the soldier's visit to the recently liberated Nazi concentration camp, Buchenwald. He wrote: "When we first walked in we saw all these creatures that were supposed to be men. They were dressed in black and white suits, heads shaved and starving to death…First we saw a German monument that stated 51,600 died in this camp in three years. They were proud of it."
Carroll offered to return the letter, which went on to describe further atrocities at the camp, including a torture chamber and experimental room where the Nazis used humans as Guinea pigs, but was told to keep it because it would just be thrown away.
Preserving History
"When my cousin told me that the haunting and graphic letter would probably be tossed, that was a huge moment for me," says Carroll, a writer and historian and Founding Director of the Center for American War Letters at Chapman University. "I had in my hands an eyewitness account to a monumental time in history that needed to be remembered, and I wondered how many more such letters had been lost."
Carroll began collecting personal war letters, eventually memorializing some of them in books; most notably the bestseller, War Letters: Extraordinary Correspondence from American Wars. On Veterans Day 1998, he launched what was then called the Legacy Project, to collect and preserve war letters. Dear Abby shared his request for war letters in her column and hundreds began arriving at his home, where he stored them until the need for a permanent location became clear. The challenge was locating a repository where the letters would be cared for, archived and shared with the public.
Chapman University Perfect Home
Carroll was introduced to Chapman University in 2008, when John Benitz, Co-Chair for the University's Department of Theatre, read an article about Carroll's work in National Geographic and contacted him. Carroll had already been working on a dramatic adaptation of the letters, but Benitz gave him the opportunity to bring it to life and workshop the script with a group of skilled actors at Chapman. Since then, If All the Sky Were Paper has appeared at theaters across the United States, including the Kennedy Center in Washington DC. So impressed was Carroll with Chapman and the community of Orange that on Veterans Day 2013 he donated the letters, which now number more than 100,000, to the university.
Unlikely Historian
Prior to receiving that fateful letter from his cousin, Carroll, who grew up in Washington DC and now lives there and in Orange, had little interest in history. He earned an English degree from Columbia University and intended to go into film production. The life detour the letters took Carroll on surprised him.
"For people like me who haven't experienced it firsthand, war can feel like an abstract concept. Yet when you read the letters, you get a sense of the vast emotional impact war made on their lives and the exponential repercussions," he says. "The letters illustrate love and faith and the immense sacrifices made by brave individuals. They are often poignant, such as those written by fathers to newborns they never met. In some cases, those letters were the only thing the children had from their fathers."
It is this personalization of war that compelled Carroll to continue on the war letter journey. "When I open the letters that people so generously share, I receive an incredible gift," he says. "Even though each letter echoes similar sentiments, there are constant fresh and extraordinary perspectives. Some letters might seem mundane, but then you'll read a line that says, 'I know I'm not supposed to tell you this, but I have to get it off my chest.' Some are short, while others are long, like the 53-page, minute-by-minute account of the bombing of Pearl Harbor written by a sailor inside a ship at the naval base and the 14-page account by a woman who had been at Ground Zero in Manhattan and almost killed, on September 11, 2001."
Emails about more recent conflicts, which Carroll stresses are just as important as handwritten letters, also resonate, like this one from a marine in Iraq:
"…we have had our hands full around Fallujah. It would seem as if the final reckoning is coming. The city has been on a consistent downhill spiral since we were ordered out in April. Its siren call for extremists and criminals has only increased steadily and the instability and violence that radiates out of the town has expanded exponentially. If there is another city in the world that contains more terrorists, I would be surprised…"
Some of the letters are humorous, which Carroll believes is shared to let family members know that their loved ones are okay, yet at the same time the levity makes the letters even more touching. There are "Dear John" letters, as well as last letters home. Just when Carroll thinks he's seen it all, he'll discover something new, like the service member who didn't like writing letters home, so he removed the center of each letter with a pair of scissors and warned his parents that the "censors" might cut it up.
One-of-a-Kind Collection
What makes the Center for American War Letters unique is that the collection spans every conflict in US history, from handwritten missives from the Revolutionary War through emails from Iraq and Afghanistan. Chapman's Dean of Leatherby Libraries, Charlene Baldwin, notes that the university's aim is to "become the nation's largest and most preeminent archive of personal wartime correspondences. Primary materials, like the letters, are the critical components that distinguish a great library within a great university, and the resources of the Center for American War Letters Archive are a critical part of that mission," she says. "At the same time, the letters are a powerful collective memory of the American people, and the humanity described and shared in the letters tells us a lot about ourselves."
In keeping with Carroll's wishes, the university is preserving, digitizing, organizing and archiving the letters in an environmentally controlled space that is fully accessible to students, researchers and the community.
If All the Sky Were Paper
When Benitz began assisting Carroll with the development of the current version of the play, which Carroll wrote, he worked toward steering the narrator's (Carroll's) voice to a more personal place. "Andy is very complex and not easily satisfied with what he's experiencing on the face of things, so he's constantly on a journey," says Benitz, who directs the play, which continues to be well received.
"What appeals to the audience is not just the letters by themselves, but that they dig so deep into primal experiences with which we all connect, such as seeking an understanding of the impulses that drive men to harm one another, the painful experiences of losing loved ones and the remarkable redemptive qualities amidst the horrors of war," says Benitz. "This is a human story with universal appeal that transcends time. When you strip away the names and salutations, we're all trying to figure out how to be the best we can be—in some cases during very difficult times."
For more information about the project, go to www.WarLetters.us, or contact Andrew Carroll directly at [email protected].