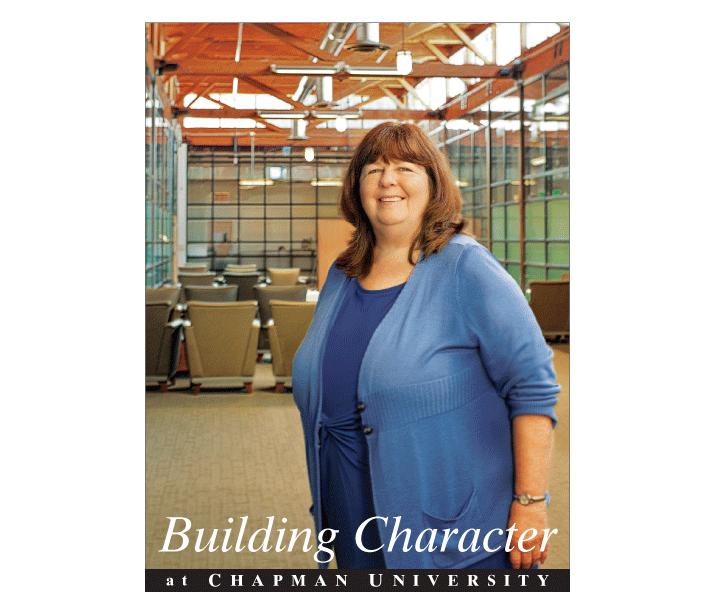 Susan Jester, LMFT
When it comes to career choice, it's not often that an unremarkable childhood can be considered a benefit, but for Susan Jester, it is. Chapman University's Associate Director of the Frances L. Smith Community Clinic finds that her pleasant, yet uneventful early years laid a solid foundation for her work as a licensed marriage and family therapist.
"As childhoods go, mine would be classified as typical," says Jester, who grew up in the 1950s and 1960s in Buena Park playing outdoors in the orange groves and living with both parents and two younger brothers. "Now that I'm older and have practiced as a therapist, I realize how fortunate I was for my upbringing. I can also see how my perspective helps me help others."
In our technology-driven, real-time world with its propensity to fractured family relationships, just about everyone longs to cling to something stable. The way Jester sees it, therapists provide people with an emotional life raft that in some cases may be their only safe haven.
"Life is difficult. We live in a busy world with unsettling societal problems like financial instability and substance abuse," says Jester, who graduated from Chapman in 1991 and joined the clinic in 1992, also opening an Old Towne private practice in 1995. "Many clients lack extended family support, which is where a therapist comes in. We provide a nonjudgmental ear so they can sound things out and explore their options."
This quest to provide patients with a safe haven is at the core of the Frances L. Smith Community Clinic that Jester has helped direct over the last 20 years. The nonprofit facility, which opened in 1965 to assist those affected by the Vietnam War, administers mental health services to individuals in the community on a sliding scale basis. The center is a part of the University's nationally-accredited Marriage and Family Therapy Program and provides a training and research environment for graduate students in the MFT master's program.
"The clinic is a win-win for the students and community," says Jester of the program, which is one of the few of its kind in Southern California. "All students in the final year of their graduate program are required to have a one-year practicum," she says. "The students get excellent training and the patients receive top-quality care."
As associate director of the center, Jester is responsible for the overall management of the graduate students and acts as a clinical supervisor and advisor to some of them.
"It's a privilege to have Susan as my advisor," says MFT trainee Selma Longoria. "It's really enhanced my experience to be under her supervision. She's highly approachable and provides great mentoring and guidance. She truly enjoys helping students so they can help patients."
Once out in the workforce, Jester's students see even more clearly the value of her influence.
"Susan is always available to answer questions and gets to know your strengths and weaknesses, imparting her wisdom through gentle instruction," says 2008 graduate Jackie Turner, a LMFT with her own practice in Old Towne. "Susan's influence and the program helped prepare me for my first job. My boss was really impressed with my knowledge and experience."
The clinic's director Dr. Naveen Jonathan, LMFT agrees that Jester's presence in the center is invaluable. "Susan is compassionate and empathetic and deeply cares about educating qualified students. She offers advice when students are stuck on cases and walks them through crisis situations."
Janeen Hill, Senior Associate Dean of Schmid College of Science and Technology and Crean School of Health & Life Science adds, "Susan is extremely dedicated to the MFT students and their education as the next generation of marriage and family therapists and to the clinic's mission of providing affordable therapy."
While keeping a private practice in addition to advising students takes a substantial amount of time, Jester enjoys the diversity and likes to keep her skills up in the area of individual and couples therapy.
"I have a lot of respect for my patients, who are dealing with real life issues," she says. "Some of my clients have seen me on and off for years, and I care about them. I also find it rewarding to work with those who experienced difficult childhoods, such as abuse. It's satisfying to watch them break long negative family patterns with their own children."
Ever since Jester can remember, she has enjoyed watching the behavior of others and talking to them about their troubles. "I was fascinated by what my classmates would do, and I was also an avid reader, particularly enjoying autobiographies," she says.
Jester first became interested in psychology in college when she read Swiss psychologist Carl Jung's partial autobiographical book Memories, Dreams, Reflections. It was several years before she pursued a career in mental health. After graduating from California State University Fullerton in 1978, Jester worked for a computer company during the 1980s. "It was a good learning experience that taught me a great deal about business, which has helped in the clinic," she says.
While she enjoyed the computer industry, Jester much prefers working with people. No doubt many students and patients are glad she made the career change.
Crean Hall
Located at 501 West Palm in Old Towne, Crean Hall houses Chapman University's Psychology Department and School of Physical Therapy. Formerly known as the Western Cordage Building, the 1923 28,000-square-foot structure experienced years of decline until Chapman performed a $5 million total restoration and adaptive reuse, opening the building in 2007.
The Frances L. Smith Community Clinic is located in Crean Hall and is open to the public. The center consists of eight counseling rooms and state-of-the-art equipment used for training purposes. Call (714) 997-6746 for more information.