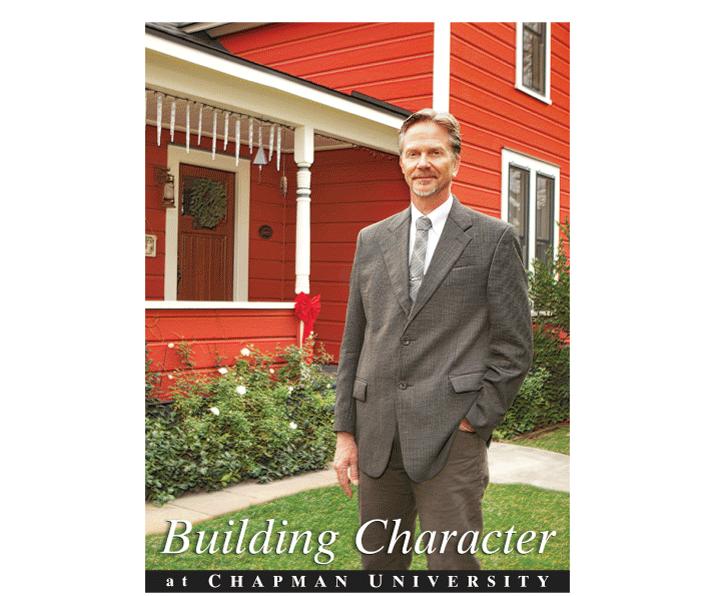 Kris Eric Olsen
When Kris Olsen traveled to Norway in 2006 to trace his roots, Chapman University's Vice President of Campus Planning & Operations discovered a surprising parallel. As he walked the streets of Kristiansand with his Norwegian cousin, his relative pointed out prominent buildings and residences constructed in the mid-1800s, informing him that his great-great grandfather Osmund Olsen had been the master builder.
"Finding out that my great-great grandfather held the equivalent of my job as a modern day planner and builder was an extraordinary experience," says Olsen, who directs the building and renovation of Chapman University properties. "It was a nice surprise to find that I had planning in my blood. As a kid, I often played with Legos, and in high school I took elective mechanical drawing and drafting classes, always wondering where I got the interest."
Fast forward to today and take a look around the Chapman campus and you quickly see Olsen's mark. Since he joined the university in 2001, he has orchestrated more than 100 building and renovation projects, including the restoration of various historic structures and the construction of many new buildings, such as the $20.5 million Lastinger Athletic Complex, the 4-story Leatherby Libraries and the film school's $42 million, 76,000-square-foot, state-of-the-art Marion Knott Studios. Recently he managed an expansion of Argyros Forum and is in the planning stages for several large projects breaking ground within the next 14 months, including a Filmmakers' Village and a 1,100 seat Center for the Arts.
For Olsen, possessing the skills to take on such an array of challenging building projects comes from a varied career that started with working for Disney in the late 1970s and early 1980s. "I was a draftsman and then designer for Epcot's Imagination Pavilion and Spaceship Earth," he says. Though he enjoyed the project, which was Walt Disney's final brainchild, Olsen grew weary of working at a drafting table all day in a building with no windows. "I thought there has to be something more," he recalls. "I took note that about once a week the project manager would come in to check on things. He'd have a suntan and have just come back from meeting with the city or from the construction site. I thought-that's the job I want."
After the Epcot project, Olsen took a year off to "live dangerously," trying various experiences as they arose. He worked for ABC Sports as an assistant photographer for the 1984 Summer Olympics, lived in Hawaii and was a ski instructor in Big Bear. "That year allowed me to try various experiences so I wouldn't have any what-ifs later-at the same time solidifying the fact that I wanted to be in building development," he says.
After his year of exploration, Olsen became project manager for the nonprofit World Vision at their Pasadena campus where he worked until the late 1980s. He met his wife Lori there, and they married in 1987. By the early 1990s, Olsen had a young family and found project management work in the hotel industry more lucrative. For 12 years, he developed everything from roadside motels to 5-star hotels. The work was satisfying but required a great deal of travel, so he interviewed for Chapman's planning and construction management position in 2001. "I was intrigued by the idea of staying in one place and working on the historic renovation of old buildings and new projects designed to last 100 years," says Olsen, who landed the position.
Gary Brahm is Chancellor for Chapman's Brandman University and was executive vice president and chief operating officer in 2001 when he hired Olsen. "Kris is an extraordinary guy with honesty and integrity and obviously an incredible project manager able to juggle a tremendous amount of complex projects at varying stages," says Brahm. "He has an artistic ability and sensibility to Old Towne standards."
Local architect Susan Secoy of Secoy Architects Inc. is based in Old Towne at the Icehouse and comments on Olsen's work. "I respect Kris's professionalism and his concern with design details. He is well-informed about historic preservation and has done a very good job on restoration work such as the Western Cordage Building," she says, referring to the historic adaptive re-use of the 1923 building now called Crean Hall located at 501 West Palm.
When it comes to new construction and preservation work, Olsen also keeps lines of communication open with the community, says Old Towne resident Bob Hitchcock, former president of the Old Towne Preservation Association (OTPA). "Kris made Chapman a good neighbor by taking our concerns seriously. When we had issues with the height of the university's upcoming performing arts center, he worked with the architects for a solution, which involves building underground."
One of the best parts of Olsen's job is the historic restorations. "I really enjoy restoring historical buildings to their original conditions as closely as feasible," he says. "It's extremely satisfying to give them a new lease on life so perhaps they may live another 100+ years." No doubt Great-Great Grandpa Olsen would be pleased.
Chapman Residential Restorations
In addition to constructing new buildings, Chapman has restored over a dozen historic homes on the perimeter of the school, including a 1905 Folk Victorian Farmhouse. Originally owned by Milo and Rosa Stutsman, the house was restored in 2010 and now serves as home to Chapman University's Vice President of Campus Planning & Operations Kris Olsen and his wife, Lori.
"Like many of the homes Chapman has restored, the house was in pretty rough shape, but the structure had good bones and plenty of original features with which to work," says Olsen. "The house came out great, and it's an honor to live in such a fabulous historic structure."
Other notable Chapman-restored residential properties include eleven bungalows and cottages on North Center and North Lemon streets. The latest project is a 1925 Craftsman at 238 West Palm that had been turned into a concrete business office and is being returned to its residential roots.