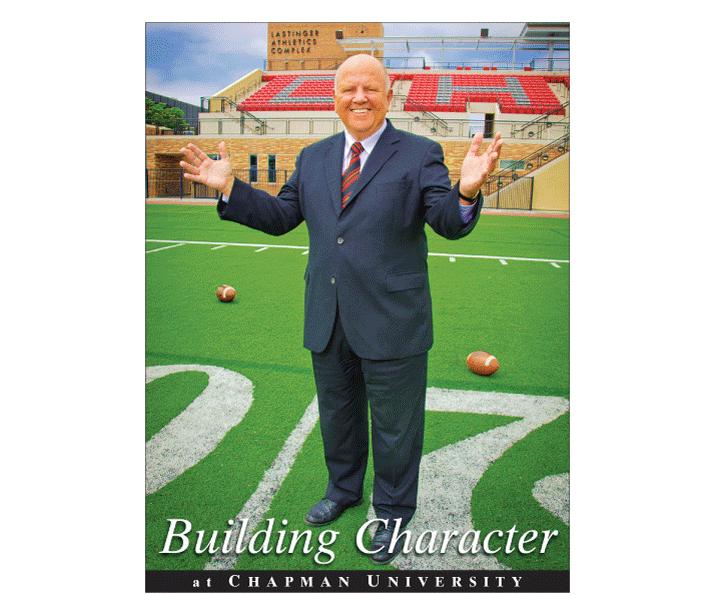 David Currey
When David Currey joined Chapman University as the school's Director of Athletics in 1990, the former football coach had officially retired from coaching. After 20 satisfying years coaching the football teams at Stanford University, Long Beach State, the University of Cincinnati and UCLA, Currey decided that the athletic directorship at Chapman–which had no football team at the time–would provide him with the opportunity to spend more time with his family. Currey was therefore surprised in 1994, when President James Doti called him into his office and said he wanted to start a Chapman football team.
"My first reply was, 'You're crazy,' " says Currey. "At that time in the early 1990s, many of the colleges in the area (Cal State Fullerton, Long Beach State, U of Pacific, Santa Clara, St. Mary's, etc.) were dropping college football, and President Doti wanted to start a team. I didn't know how Chapman, which didn't even have a goal post, could start a football team."
Despite his initial misgivings, Currey caught the pass and ran with the idea. "The response to forming a team was overwhelming," he says. "That first season, over 130 players turned out. At that time, Georgia Frontiere was a trustee, and the Rams were headquartered in Anaheim. We had so many players that we had to get shoulder pads from the Rams."
Today Chapman has Orange County's only NCAA four–year university football program. When Currey started, there were nine sports and 143 athletes. In comparison, today the school features 21 sports and over 550 athletes, including top–ranked teams in men's baseball, women's softball, tennis and basketball. The various teams participate in over 380 athletic events annually. This year, Chapman became the ninth member of the prestigious Southern California Intercollegiate Athletic Conference (SCIAC). Including intramurals and club sports, about one in four Chapman students participate in sports.
Though building a football team and well–rounded sports program at Chapman challenges Currey at times, he thrives amidst the leadership opportunities. "There's nothing more rewarding than offering a coach his first job and seeing him grow and mature," says Currey, whose department experiences little turnover.
Mike Bokosky is head coach of Chapman's basketball team and assistant athletic director. He has worked under Currey since 1992. "David is a people person and that shows through in his leadership," says Bokosy. "People gravitate towards him–he has charisma and makes everyone feel comfortable in any setting. He doesn't micromanage, and that attitude has guided us through the many changes we've experienced in the sports department."
Though Currey always likes the game, it's the chance to influence the lives of young athletes that he finds the most fulfilling. "As coaches we are similar to parents in many ways," says Currey, who has two children of his own, one of whom attended Chapman. "Athletics is a ministry to young people. I find it very rewarding to help them make decisions that will affect the rest of their lives."
Douglas Aiken was a baseball player and student worker in Chapman's athletic office while an undergraduate in the 1990s, and he is currently the school's sports information director.
"David has always been a bit of a father figure to me," says Aiken. "I have gone to him over the years for life advice, and on many occasions he has listened and been a huge supporter. He's a very caring boss. He's also committed to the Division III philosophy that emphasizes the student, and he has done a great job of hiring coaches who are committed to a satisfying student athlete experience."
Currey started playing football and baseball when he was eight years old and over the years learned how powerful a coach's influence can be. "My high school football coach, Ray Solari, always supported me and encouraged me to look into teaching or coaching," he says. "I was even more touched when I was 30 and he asked me to be the Godfather of his son."
Today, those who know Currey would agree that his "failure" to retire from coaching was a blessing.
Erin J. Lastinger Sports Complex
When Chapman University decided to start a football team in 1994, the decision ignited a dream to create a state–of–the–art sports complex. The wish finally came true in the summer of 2008 when the Lastinger Athletic Complex opened. Named after the center's main benefactor, former Chapman Student–Athlete Erin J. Lastinger, the $20.5 million complex includes the 2,000–seat Ernie Chapman Stadium and the Holly and David Wilson Field, the latter of which features a multi–use synthetic athletic surface. Beneath the stadium is a 900–space underground parking structure, and the center also houses the two–sided Raj Bathal Press Box and the Riach Stadium Terrace, which looks down on the 500–seat Frank E. and Mary O'Bryan Aquatics Stadium and the Zee Allred Olympic Pool. The complex also includes the Baldwin Family Pavilion containing coaches' offices, classrooms, the Phillip H. Case Athletics Director's Office and the Jamie Case–Babson strength facility.
For information on how you can attend this season's football games, visit ChapmanAthletics.com