Brian Lambros - Jul / Aug 13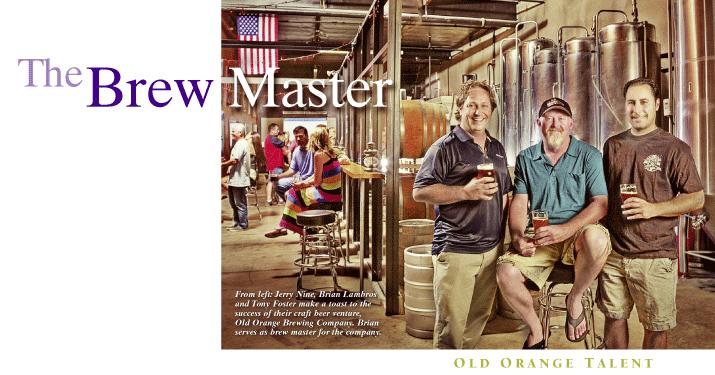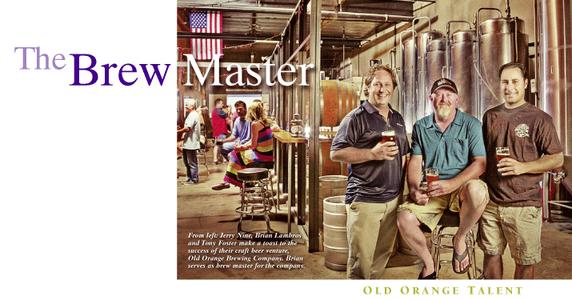 Serving in the Army for a combined 14 years, Brian Lambros never imagined he'd go from riding in a convoy in Iraq to brewing craft beer in his hometown of Orange. But that's exactly what's transpired for the 43-year-old retired sergeant who is now brewmaster and co-owner of Old Orange Brewing Company.
The beer-making venture began four years ago when Brian received an email from his friends back home asking if he'd like to become a partner in buying a brewery. Brian was serving in Iraq at the time, having previously spent a year-and-a-half in Afghanistan attached to various special operations teams. The idea of getting into the beer business after years serving in the military sounded appealing.
"I didn't know anything about brewing craft beer," he admits. "I stayed in touch with my friends from high school who had done home brewing for about six or seven years. They familiarized me with the process and how it all works. When you return to the States from serving overseas, it takes a little while to transition back, but I had the goal of trying to accomplish something with the beers."
Brian and his partners, Jerry Nine, Tony Foster and Mark Villa, all graduated from Orange High School in 1988. Together, they opened Old Orange Brewing Company in 2011, with the focus on creating recognizable styles of craft beer, such as blonde ales, red ales and IPAs. While varying combinations of hops, grains and yeast provide different styles of craft beer, consistency is key when producing beer for the marketplace, says Brian.
"These are beers that all of the partners and myself like to drink," he says. "I set up the recipes based on what I enjoy. The important thing is to make a consistent beer that people recognize. You have to be mindful of the availability of the type of hops you choose so that you provide the same quality beer to your market that they've come to expect."
Working seven days a week running the brewery, Brian does everything from cleaning the tanks to transferring beer into kegs and growlers. With names like Old Dummy, StreetFair and Cannonball IPA, the beer is distributed to restaurants and retail locations spanning Ventura to San Diego counties.
According to Brian, one of their most popular beers is an IPA called "Cussin' Jim," named after the infamous beekeeper who lived in Santiago Canyon. Served at Haven Gastropub, Linx Sausage, Smoqued BBQ and Café 149 in Old Towne, the brewery's roster of beers is also available in 22-oz. bottles (bombers) at local liquor stores, including World Liquor on Collins and Tustin, Palm Market on Palm just east of the Plaza, and at select Albertson's locations.
Visitors can also stop by the tasting room at Old Orange Brewing Company (1444 North Batavia), which is open on Fridays from 4 pm to 8 pm and Saturdays from 1 pm to 8 pm.
"There's plenty of seating in the tasting room, plus a round bar where people can sit and sample the beers," says Brian. "The space is very welcoming and nicely decorated with photos of old Orange dating back to 1890."
For Brian, the beer-brewing profession is a lot of hard work, but the rewards are tenfold.
"It's so nice to be back in Southern California with the great weather and great people," he says. "We're doing really well for only being around a short time. The hard work is starting to pay off now."
---
Published in the
Jul / Aug 13
edition of the Old Towne Orange Plaza Review Article Written by Karen Anderson, photos provided by Will Hare
View More Articles