Steve Soest - Nov / Dec 12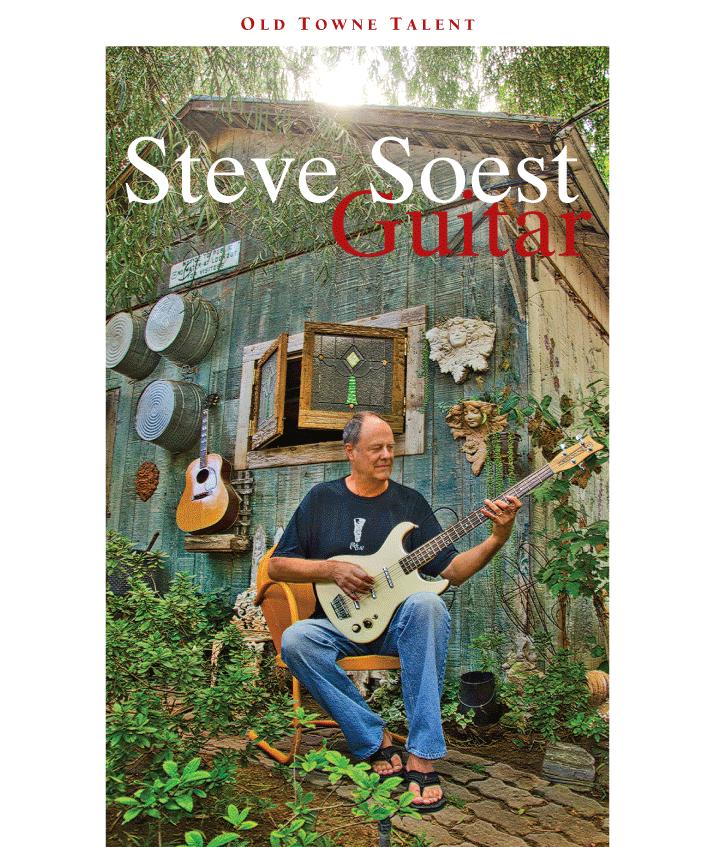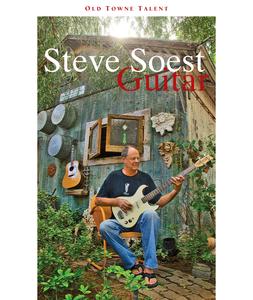 An expert in vintage guitars and guitar repair,
Old Towne Orange
resident Steve Soest plays a Danelectro bass in his backyard in front of a 100-year-old barn. Steve's star-studded client list has included the Rolling Stones, Eric Clapton, Stevie Ray Vaughn and Slash.
His past and present client list looks like a Who's Who of the Rock and Roll Hall of Fame – everyone from Eric Clapton, Stevie Ray Vaughn and Slash to John Fogerty, Buddy Guy, Van Halen, Steve Vai, Chuck Berry, Pink Floyd and the Rolling Stones.
But for Old Towne Orange resident Steve Soest, it's just another day at the office when a musician of prominence walks into his guitar repair shop here in Old Towne and asks him to work on an instrument.
For more than 40 years, Steve has been the go-to guy in Orange County and Southern California for repair, modification, restoration and construction of guitars and other fretted stringed instruments. He specializes in vintage guitars and became a sought-after resource for superstar musicians and bands that need expert workmanship for their treasured guitars. He's also a source for those seeking to acquire highly prized vintage and used instruments.
"In the early days, I would buy used guitars, clean them up and re-sell them," he says. "Then the vintage thing hit in the '70s and it became a rare commodity. I'd show up in a van with my instruments at the shows, and I soon started getting calls from bands when they were touring in the area. Some of them would even fly me across the country to deliver an amp or guitar to their hotel room."
Needless to say, Steve has a treasure trove of stories that would make any guitar enthusiast's head spin – like the time he was asked to authenticate the broken parts of Jimi Hendrix's famous Fender Stratocaster that Hendrix lit on fire and smashed on stage. For guitar collectors, it would be considered the Holy Grail of electric guitars.
"Two local Orange County guys, who were friends of mine, happened to be in the audience that night," Steve recounts. "One caught the strap and the other caught the body of the guitar. I authenticated it by examining the film footage frame by frame. Afterwards, it got sold at auction to [Microsoft mogul] Paul Allen."
An outside regional service center provider for Fender Guitar for 32 years, Steve still works closely with the Fender Custom Shop and Artist Relation program. He also provides factory-authorized service for Gibson and is a consultant and designer to major manufacturers. His shop, Soest Guitar, is Orange County's longest-running owner/operated independent guitar repair shop.
Steve says he's as busy today as he's ever been – whether playing gigs with the Michelle Mangione band, his surf band the Torquays, recording original music in the studio, producing music for other artists or hanging out in Old Towne at his favorite restaurants like Taco Adobe.
"I'm centrally located and there is a lot of music business here in Orange County," says Steve, an Orange native who lives in a 1912 craftsman bungalow that includes a 100-year-old barn and is on the National Historic Register.
"I do a lot of work for big clients. A lot of them I've known for 30 or 40 years. It's fun to hang out with them and tell stories."
When asked to share his favorite guitar story, Steve doesn't hesitate. He says he still can't believe that he was asked to authenticate the legendary "Race Olmstead" Fender Stratocaster, the long-lost famous prototype created by electric-guitar pioneer Leo Fender.
"We'd heard stories about it through the years. Leo gave it to this guy who made parts for him, and the guy hung it on a nail on the wall for years. After he passed away, his daughter brought it to me because they were liquidating his estate and she wanted to sell it. It was amazing. It's never a dull moment around here!"
For more information, visit SoestGuitar.com or call Steve at his shop at 714-538-0272.
Select to view Soest Guitar Celebrating 40 Years at the Top of the Guitar Industry article.
---
Published in the
Nov / Dec 12
edition of the Old Towne Orange Plaza Review Article Written by Karen Anderson, photos provided by Jeanine Hill
View More Articles