Larissa Morais - May / Jun 11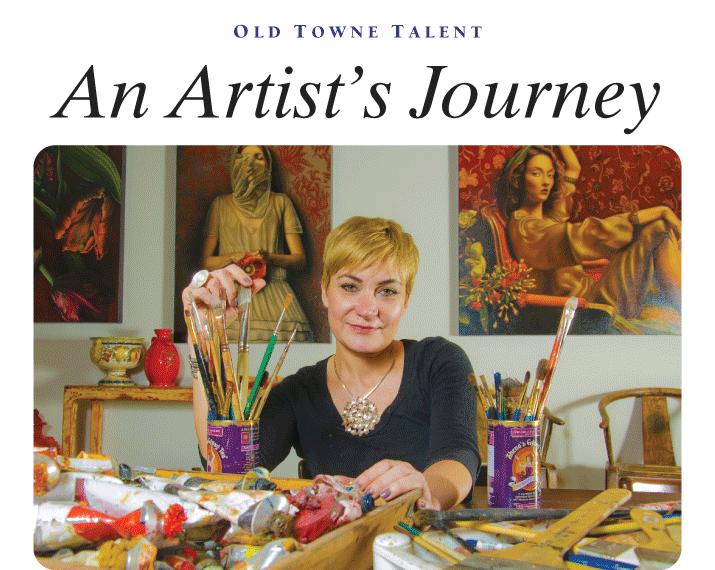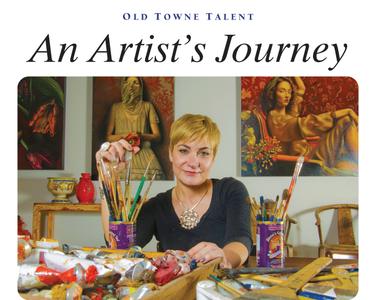 With her studio located just around the corner from her husband's restaurant in
Old Towne
, Larissa Morais creates dramatic oil paintings sought by collectors around the world. Some of her work is featured at
Francoli Gourmet
restaurant in
Old Towne
.
Anyone who's dined at Francoli Gourmet restaurant in Old Towne has probably gazed at the many stunning oil paintings on display, one of which depicts a peeling Orange in realistic detail.
The artist, Larissa Morais, also happens to be the wife of the restaurant's proprietor, Alberto. She says the restaurant's interior and color scheme was designed around her orange-peel painting.
Open to the public and located just around the corner from the restaurant, Larissa's studio includes a room in the back where she does her painting. The space provides her with an ideal setting in which to create her artwork.
"There is a skylight here in my studio, which offers the perfect light for painting," Larissa said. "I just love my space. I like it when people wander in by chance. Most of the times I'm here in the back room, working."
Born and raised in Moscow, Larissa graduated from the BFA, Moscow Theatrical Arts Institute, focusing on drawing, composition and painting. She moved to America about 18 years ago, joining her father, a Russian poet, who had relocated here. Initially, Larissa came to California to visit him and her family in 1993 and hadn't intended to stay, but a coup in Moscow made it difficult for her to return.
Specializing in oil, Larissa says that her style has evolved over the years, tending toward surrealism of late. Her subjects include figures, still lifes and close–ups of objects. Evoking an air of mystery, her figurative pieces showcase images of beautiful women in flowing gowns interacting with swans, jellyfish, butterflies or mythical creatures. Her still life portraits include studies of artichokes, orchids and pomegranates.
"I favor painting on canvas but lately I've discovered gesso board," Larissa said. "It has a very fine texture that I enjoy. I come from an academic background, so my main style is realism, but I do abstracts sometimes. My favorite part of the process comes after the preliminary work is done and I can get to the detail. It's meditative."
Through the years, Larissa has attracted collectors from around the world, including in Brazil and Russia. Her work has been featured at galleries in Palm Desert, West Hollywood, Laguna Beach and Carmel, to name a few. She has also been showcased in such publications as Architectural Digest, Style magazine and Florida Design magazine.
Relocating to Old Towne from their previous home in Newport Beach proved a good move for the couple. She says Old Towne's creative energy attracts eclectic, artistic people, inspiring her own creativity and individuality.
"I am at home here, and I feel like I belong," she said. "It's familiar to me and it reminds me of Europe, with the old buildings and the small town feeling. The Plaza also looks like Alberto's hometown in Italy. Somehow, Old Towne Orange feels just right for the both of us."
---
Published in the
May / Jun 11
edition of the Old Towne Orange Plaza Review Article Written by Karen Anderson, photos provided by Jeanine Hill
View More Articles