Tom Richard - Jul / Aug 09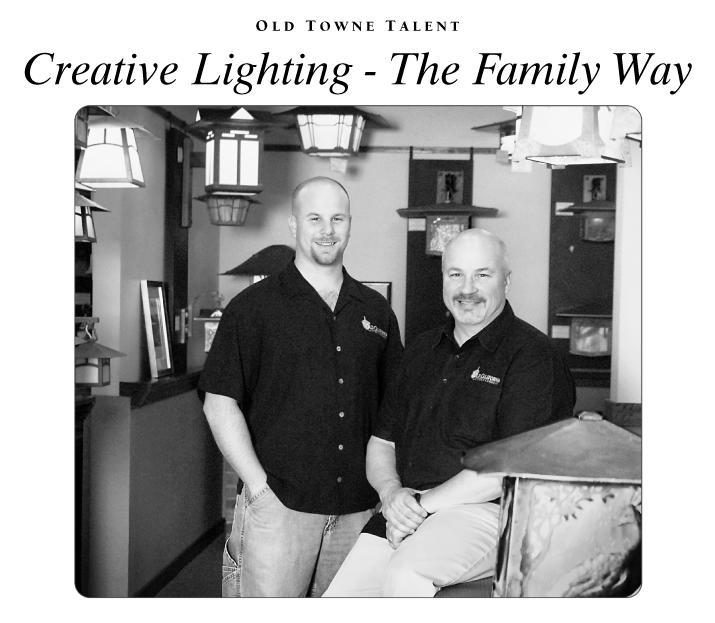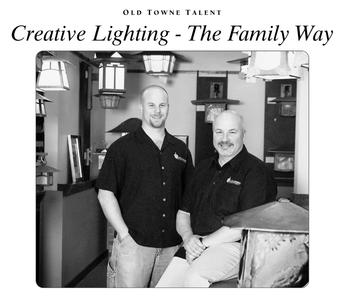 Tom Richard
(right) and his son Craig relax in their
Old California Lantern Company
showroom, which features beautiful examples of the family's handcrafted, solid-brass lighting fixtures, lamps and lanterns. Involved in the lighting business since 1971, Tom has created a premier lantern company that's "all in the family," as his wife and other son Nathan are also involved in the business.
History and architecture come to light at Old California Lantern Company , where Tom Richard and his family design and manufacture beautiful Arts and Crafts period lighting fixtures made of solid brass, high–quality art glass and hand–applied finishes.
Located at 975 North Enterprise Street in Orange, the facility includes an impressive showroom featuring hundreds of fixtures on display. Depicting handcrafted silhouette designs with patina finishes, the old–fashioned lanterns, lamps and lights cast a warm glow that illuminates the premises.
Involved in the lighting industry since 1971, Tom, president of the company, worked in Tucson, AZ, at a major lighting retailer until 1985 before relocating to Southern California to pursue manufacturing. He founded the Orange–based business in 1989, working with a roster of full–time employees including his sons Craig and Nathan, and wife Lesley.
"In the early years, it was a small venture," he recalled. "We were primarily doing commercial work for places like bank lobbies and restaurants including at Jack In The Box restaurants all over the country. We were basically fabricating designs requested by architects, but with my roots in decorative lighting, we decided we wanted to launch an actual product line in addition to doing custom work."
Knowing that historical light fixtures would appeal to homeowners, Tom decided to focus extensively on the craftsman–bungalow style. He researched old lighting catalogs from the 1900s, recreating vintage pieces and dreaming up designs of his own.
The "Made in America" brand add value and appeal to the products, he says.
"By the time I started Old California in 1996, most of the lighting industry had moved its manufacturing to China," he said. "I didn't want to do that. People who restore old homes tend to want fixtures made in America. They are very passionate about detail and craftsmanship."
Although "Old California" is in the name, Old California Lantern Company sells 85 percent of its product outside the state. With more than 1,200 items in its product line, the company also offers an "Old West" series called Sutter's Mill, featuring pioneer lighting, wagon wheel chandeliers, and hanging lights from wood yokes. The cowboy line is a big seller in the 11 Western states, says Tom.
Upholding the family legacy, Tom's son Craig joined the company 12 years ago, learning every aspect of the business from the ground up. Today he runs the factory, where tours are available to any customer who visits the showroom.
Craig's brother Nathan recently came on board and now heads the shipping department. Tom's wife Lesley handles all the financials.
"My wife Lesley has been here from day one," said Tom. "As a family, we don't usually talk shop outside of work, but we do get really excited when we launch a new product or design."
Speaking of new products, the company has recently introduced a line of solid–brass mailboxes made in the traditions of the Arts and Crafts movement. A new collection of craftsman–style portable lamps has also been unveiled, featuring single or double–arm designs, a full–range dimmer, and a functional, historical turn key on the socket. A line of Spanish–Colonial style products is also in the works.
For Tom, the process of creating and selling quality work has become a passion.
"I wanted to become a manufacturer because I was always fascinated with making things," he said. "I just love the process of creating something. Especially when it's so appreciated by a customer who absolutely has to have it."
Old California Lantern Company
975 North Enterprise Street
,
Orange
,
CA
92867
/
800-577-6679