An Eichler in Orange - Jul / Aug 11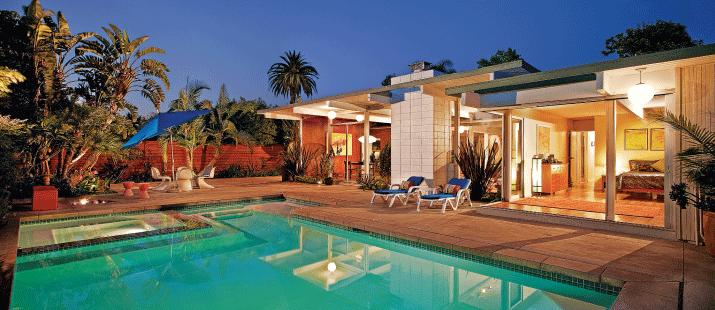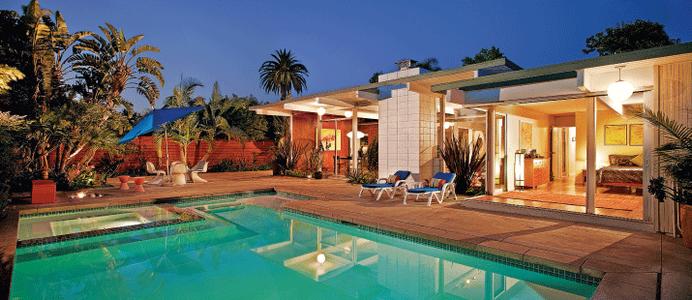 The Webbs added onto their bedroom several years ago, procuring the services of local architect Susan Secoy Jensen, AIA. The addition blends seamlessly with the home's original design, featuring a disappearing corner that blurs the boundary between interior and exterior space.
Deb and Jon Webb at the entry of their vintage Eichler home located in the Fairhaven tract. The home opens up to an atrium and features the mid–century–modern attributes of Eichler architecture from the 1960s.
Above the fireplace hangs a work by prominent artist Jonathan Borofsky titled, "Male/Female." The room opens up to the backyard, revealing one of Eichler's signature concepts of "bringing the outside in."
On display in the hallway, the Webb's collection of art glass takes center stage. Exposed post–and–beam construction, minimalist lines and open spaces are all characteristic of the iconic designs of Eichler homes.
Jon and Deb Webb lived in Old Towne for several years before they decided to upsize into a larger home, preferably one that would reflect their eclectic tastes. When they stumbled upon a vintage Eichler home in the Fairhaven tract in Orange, it was love at first sight.
Designed and built in the early 1960s in select areas of Southern California, Eichler homes got their start in the Bay Area beginning in 1947. Characterized by post–and–beam construction, single stories, straight lines, walls of glass and open floorplans, Joe Eichler's tract homes were, at the time, considered cutting edge amid the budding phenomenon of suburban tract homes.
Inspired by design principles of Frank Lloyd Wright, Eichler homes continue to attract devotees of modernist concepts and architecture, something that Jon and Deb can surely attest to.
"While it's true that Eichler homes don't appeal to everyone, those of us who love them understand what makes them special," Jon says.
Purchasing their house in 1986, the Webbs knew nothing about Eichler homes before they moved in. Although some Eichler homeowners would never consider tampering with the original design, the Webbs decided they needed some extra square footage, adding onto the bedroom seven years ago for an additional 150 feet.
Striving to maintain the integrity of the home's original design, the Webbs considered their remodel to be groundbreaking in 2004.
"When we remodeled, we didn't want to change the exterior or do anything drastic," Jon says. "Other families in the neighborhood have also done some really creative and interesting remodels consistent with the genre's original theme and intent."
Although the majority of Eichler homes exist in Northern California in places like Sunnyvale, Palo Alto, San Mateo and Walnut Creek, the company expanded into Southern California in the 1960s, creating enclaves in Granada Hills, Thousand Oaks and Orange.
All told, Orange boasts 350 of the 600 Eichler homes built in Southern California. Not as well known as their Northern California counterparts, Eichler homes in Orange are considered somewhat of a best–kept secret. The three tracts that exist in Orange include Fairhills, Fairmeadow and Fairhaven.
The Fairhills tract is located in East Orange south of Santiago Canyon Road, while the Fairmeadow tract stretches across Cambridge Street north of Taft Avenue. The Webb's neighborhood of Fairhaven is located in southeast Orange just a few miles east of the I–55 Freeway at the base of Lemon Heights.
With a small backyard, their 2,100–square–foot home features two flat roofs and open floor plans with atriums.
"When you open the front door, you are in an atrium," Jon explains. "The home feels larger than it actually is because you can see the entire house. The working areas are on one side and the gathering areas are on the other side, all open. The design is based on the principle of a Roman house. The bedrooms and baths also have an open atrium in the middle."
A native of Orange County, Jon attended law school at Golden Gate University in the Bay Area. He also previously worked for real estate developers throughout Orange County and Los Angeles. Today, he serves as president of a non–profit, affordable housing organization in Newport Beach.
A retired artist, Deb still dabbles in painting and creative pursuits. Avid art aficionados, the Webbs collect hand–blown glass pieces from local artists like Kent Kahlen and Caleb Sieman, plus other acclaimed glass artists like the DeLaTorre brothers.
Also on display in their home are the works of renowned artist, Sandow Birk. A personal friend of theirs, Birk is a Southern California artist hailed for his topical and controversial paintings. Other favorite artists include Jonathan Borofsky, known for his contemporary abstracts and minimalist styles.
Discovering that their home was ideal for entertaining, the Webbs enjoy throwing theme parties. Together, they conceive and plan their annual, in–home Halloween party, which has become the talk of their neighborhood because of such extravaganzas as a recent "TV Land" party for which they transformed the front of their home into a giant television screen. Inside, pyramids with televisions played old TV shows, while a "Laugh–In" room featured a go–go dancer with body paint in the tradition of Goldie Hawn. Guests dressed up as favorite TV characters.
"Two years ago, we did a mash–up that combined the circus with New Orleans Mardi Gras," Jon says. "We had a tent inside the house, a band and three bars. It was great fun."
As members of the "Eichler of Fairhaven" Facebook Group, the Webbs also regularly participate in progressive dinner parties in which neighbors travel from house to house to see what's going on among fellow Eichler homeowners.
"Virtually anybody in this neighborhood who is into mid–century modern architecture has a Shag print or black leather upholstery," observes Jon. "We have also been involved in home tours on several occasions. There were probably 5,000 people who came through our tract."
World travelers, the Webbs have spent time in the Caribbean, Western Europe and the South Pacific. Just last month, they vacationed in Playa del Carmen near Cancun. Closer to home, their Eichler neighborhood is a unique getaway unto itself, a slice of retro–California that stands the test of time.
"The real story on Eichler homes is the neighborhood itself," Jon says. "There are some really, really nice examples of Eichler homes in our tract."
The expansive and open living area showcases retro furnishings in keeping with the Eichler era. On the far wall, a painting by Jon's father, Frank, establishes the room's color palette. Floor–to–ceiling windows, geometric lines and atriums are featured.
---
Published in the
Jul / Aug 11
edition of the Old Towne Orange Plaza Review Article Written by Karen Anderson, photos provided by Will Hare
View More Articles