Richard T. Bryant - Nov/Dec 16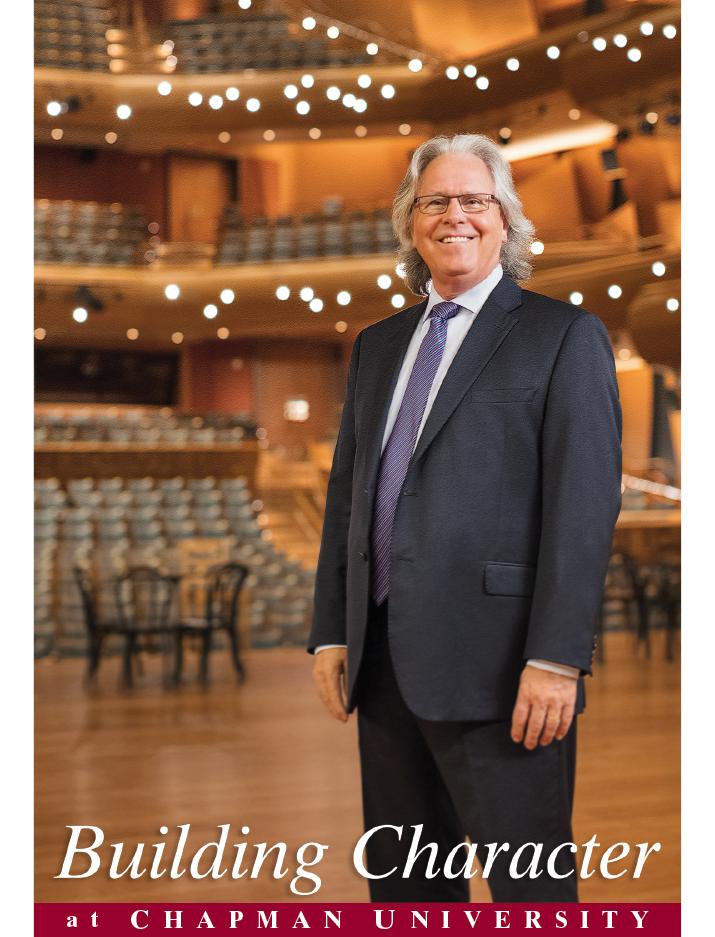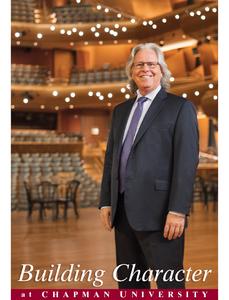 Richard T. Bryant
If you were to sum up the career of Richard T. Bryant, it would be as a facilitator of the arts. During his illustrious career that spans more than four decades, Chapman University's Executive Director of the Musco Center for the Arts has helped manage, promote, launch and transition numerous well-known performing arts organizations.
Bryant's many accomplishments include overseeing marketing and public relations for the New Jersey Performing Arts Center in Newark, serving as principal marketing consultant for the John F. Kennedy Center for the Performing Arts and helping to create launch plans for multiple venues, including Philadelphia's Kimmel Center, Mondavi Center at UC Davis and Stanford's Bing Concert Hall. From 1987 to 1996, he served as director of communications and marketing for the Orange County Performing Arts Center (now Segerstrom Center for the Arts).
Musco Center for the Arts
Most recently, Bryant joined Chapman University as interim and then permanent director of the Musco Center, and in so doing relates that he's come full circle. "After 20 years of being away from Orange County, I feel as if I've come home," says Bryant, who today lives in Old Towne.
Bryant came to Chapman in 2015 as interim director prior to the March 2016 opening of the school's Marybelle and Sebastian P. Musco Center for the Arts. By May of this year, Daniele Struppa, the school's then Chancellor and now President, announced Bryant's permanent appointment as Executive Director.
"It is not an overstatement to say that without Richard's leadership, we would not be where we are right now," said Struppa of Bryant's contributions to the grand opening of the state-of-the-art, 88,000-square-foot performing arts venue. "I am very grateful to him for what he has done so far, and I am excited for what the future holds for Chapman and for our spectacular Musco Center for the Arts."
Musical Beginnings
Bryant grew up in Lynchburg, Virginia with three brothers and a sister. "It was a relatively carefree, small-town existence," says Bryant, noting that he and his siblings spent summers barefoot. His first exposures to music occurred when he listened to his oldest brother play trumpet in the school's marching band and his own rock 'n' roll band. Bryant, 10 years his brother's junior, later followed suit by playing guitar in high school, including starting a band in his early teens.
After graduation, Bryant attended college at the University of Virginia, soon finding himself enamored with the performing arts. He earned a double major in English and theater, and his junior year worked on his first theater opening.
"I got a post at the university as an undergraduate to do the promotion for the 1974 opening of the school's new Culbreth Theater, which is still in existence today," says Bryant, who graduated in 1975.
After graduation, he went to work at Artpark, a New York State Park on the Niagara River Gorge with an indoor-outdoor amphitheater seating 8,000. At this summer arts festival, he met his wife, Mary, with whom he's been married for 39 years. He was at Artpark for three consecutive summers. During that time, he also began working at various prominent American theater companies, including Milwaukee Repertory Theater, Actors Theatre of Louisville and Washington DC's Arena Stage, where he was a founding member of the board and first president of the Helen Hayes Awards.
In 1987, Bryant landed in Orange County at the Segerstrom Center, where he was instrumental in promoting the facility's first season, and then stayed for nearly 10 years, marketing the Center's offerings, including symphonic music, opera, Broadway-style musicals, jazz and dance. He helped to establish the Imagination Celebration and served on the committee that formed Arts OC.
Segerstrom Center for the Arts
"So many influential individuals were involved in getting the Orange County Performing Arts Center off the ground, including Henry Segerstrom, William Lyon and Judy Morr, and the Center became enormously successful very fast," says Bryant. "In terms of the arts, that was an immense growth period for Orange County."
While at Segerstrom, Bryant met Dr. William Hall, Chapman University's Founding Dean and Artistic Director of the Musco Center, when Hall played at the Performing Arts Center with the William Hall Chorale. "I asked Richard if he had interest in being a consultant for the Musco Center, because I required assistance in the area of launching an arts center and marketing it, and Richard has vast experience in both arenas," says Hall. "He is an entrepreneur, who is very outgoing and talented at reaching out into the community, including to students. I'm very glad to have him onboard at the university."
When he arrived at Chapman, Bryant was immediately impressed with the Musco Center and all that the university had accomplished over the 20 years he'd been absent from Orange County. "The energy of the Musco Center and Chapman University in general is so positive and truly unique that I soon fell in love," says Bryant.
The Musco Center's grand opening, which occurred on March 19th of this year, was a resounding success. Opening night started with a black-tie gala and performances by opera legends Plácido Domingo, Deborah Voigt and Milena Kitic, as well as students and faculty from Chapman's College of Performing Arts and the LA Opera Orchestra conducted by Grammy winner John DeMain. A community event on April 2nd also drew large crowds.
Now that the Musco Center is up and running, Bryant is focused on ensuring that the facility achieves its four main purposes.
"First and foremost, the Musco Center is here to provide a world-class performance space for Chapman's College of Performing Arts students, who have top priority," says Bryant. "Second, it's vital that the center creates a sustainable relationship with area performing arts companies, so they can perform in the hall and become integrated into the university's teaching environment. (Strategic alliances already formed include with the Los Angeles Opera and the Philharmonic Society of Orange County.) In relation to this, the third purpose of the Musco Center is to bring in high caliber visiting artists and companies to perform and teach master classes."
Community Engagement
The fourth goal for the Musco Center is to create programs that relate deeply to the people in the surrounding communities. "A factor that attracted me to Chapman was the university's deep-seated desire to engage its nearby communities through culture and the performing arts," says Bryant, who in recent years has strived to work at the intersection of art and community development. To this end, he is currently Chairman of the National Consortium for Creative Placemaking, an organization aimed at making communities "more livable and prosperous through the arts," and as a result, better places to live in general.
According to Bryant, creative placemaking starts with building effective community partnerships. He has worked on projects that celebrate the community's art and culture, including most recently in Camden and Orange, New Jersey. Locally, he points to downtown Santa Ana as a community that is effectively working towards this same goal.
Whether he's promoting student or legendary performers, Bryant sees himself as an "enabler," dedicated to introducing the performing arts to the broader community.
"The performing arts are men's and women's best attempts to share with the audience what it feels like to be alive," says Bryant. "Those individuals who have God-given talents they've developed are able to perform or exhibit work that has the power to transform the viewer. My job is to introduce the audience and performers to one another and let the show begin so that they get to know one another."
For more information about The Musco Center for the Arts and upcoming events, consult www.muscocenter.org.