Reviewing the Plaza - Sep / Oct 11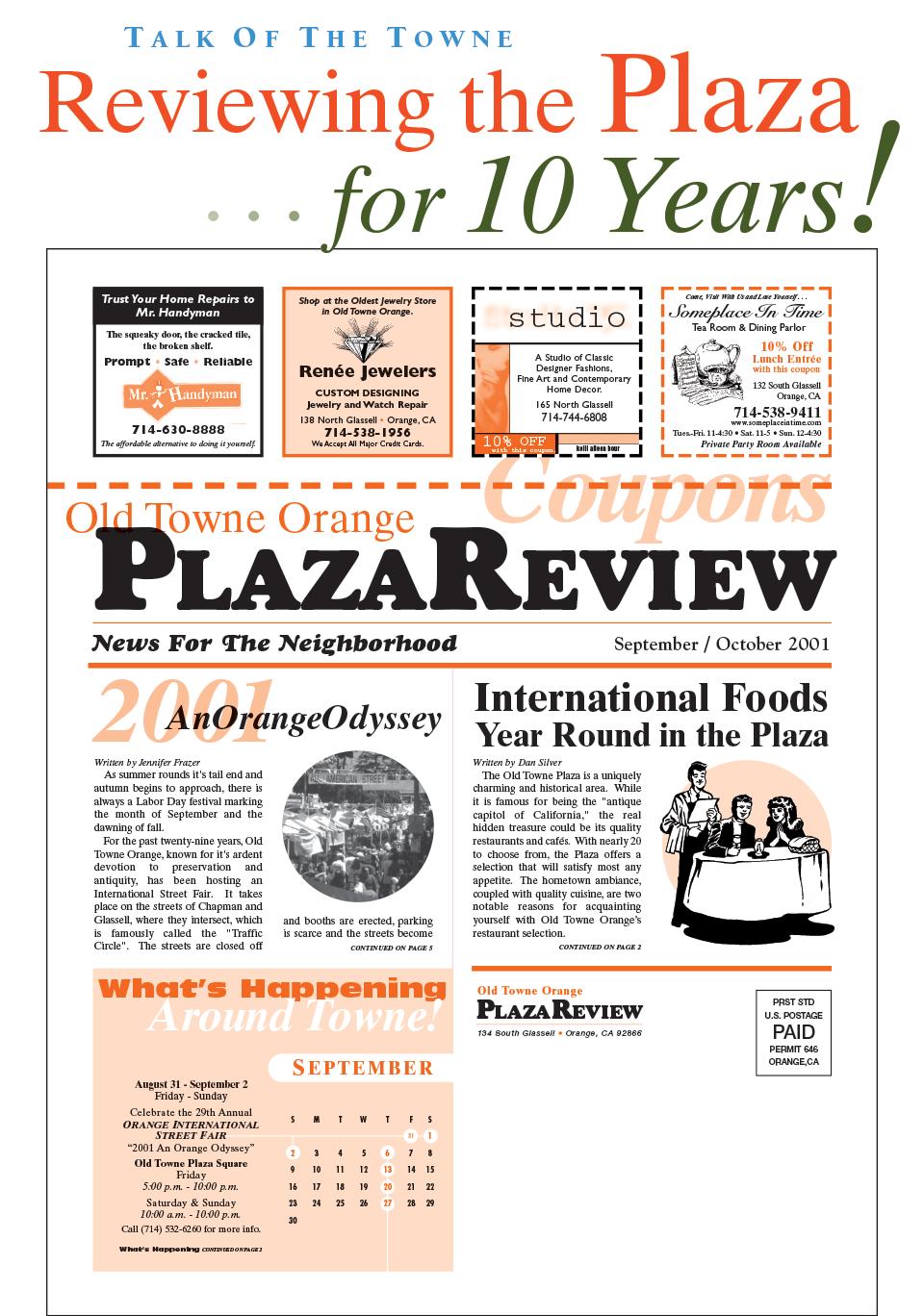 The premiere edition of the Old Towne Orange Plaza Review, published August 30, 2001, just twelve days prior to 9–11, a day that changed our world.
- - - -
Old Towne Orange Plaza Review
When Mike Escobedo published the first edition of the Old Towne Orange Plaza Review 10 years ago this month, he encouraged residents to be more aware of the businesses and special events in Old Towne. Over the last decade, what began as an eight–page community paper has evolved into a 32–page, full–color publication that reaches 30,000 and encapsulates the essence of one of Orange County's most popular destinations.
In addition to providing community and business information, today's Plaza Review also gives an in–depth view of other subjects of interest to readers, including articles on Chapman University and the popular "Property" column, which appears on the cover of each issue and features an Old Towne residence and its occupants.
The Plaza Review has its roots in directories that Escobedo created for the Plaza in the 1990s. "At the time, a directory for the area existed, but it was produced by a company based in Pasadena, and lacked an Old Towne identity," says Escobedo, a graphic designer who has a background in advertising communications. As an alternative to the existing directory, Escobedo published one from his Plaza office.
In 2001, Escobedo was approached by an Old Towne business owner who sought support in producing a company newsletter. They collaborated on two issues, but differences in opinion about the editorial direction of the paper and its distribution caused them to part ways. Escobedo created and released the third issue on his own and has published the Old Towne Orange Plaza Review on a bi–monthly basis ever since.
Escobedo's ties to Old Towne date back to 1989 when he moved his office into the Plaza. At the time, the area had a sleepy atmosphere with a heavy emphasis on antiques. He worked on advertising materials for a variety of industries until he was approached by a Plaza merchant to assist with marketing. This association led to the creation of the first Orange Pages Directory, which led to the inception of the Plaza Review. Since that time, the publication has continued to grow with the area, including the launch of an accompanying website earlier this year.
Take a look at the first issue of the Old Towne Orange Plaza Review, and you'll see seven advertisers, including Country Roads, Knox Insurance, Felix Continental Café, Renee Jewelers and Someplace in Time Tea Room (Now Paris in a Cup). The current paper has 60 advertisers. In the beginning, Escobedo produced the Plaza Review on his own. He is now happy to have the assistance of writers, photographers, a digital artist, a cartoonist and a web developer.
Douglas Westfall of the Paragon Agency is an Orange–based publisher of books (specialbooks.com) who has watched the Plaza Review's transformation over the years. "It has been a pleasure to see the Plaza Review grow from a modest publication to an eye–catching, full–color newspaper that meets the community's needs," he says.
The paper does such a good job of conveying the essence of Old Towne that out–of–the area parents of Chapman students call him to comment on the quality of the publication. "Parents who have dropped their children off at the school will read an issue and tell me that the Plaza Review gave them a comforting view of Orange and made them feel much better about their children attending school away from home," says Escobedo. "They will often ask for a subscription, and we gladly accommodate them."
Old Towne Orange Plaza Review
134 South Glassell St, Orange, CA 92866 / 714-771-6919
Select to view Jul/Aug 2011 "Coming Full Circle with OrangeReview.com" article.