J.P. McDermott - Sep/Oct 16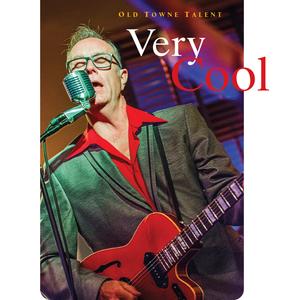 Rockabilly musician J.P. McDermott, shown here performing at the Streamliner Lounge, experienced one of the highlights of his career singing the National Anthem at an Orioles game.
To J.P. McDermott, it's not so much a question of where he gets to play music or who he's playing with, as long as he gets to play. The Washington D.C. transplant jams with a variety of musicians around Old Towne and Orange County, bringing the rockabilly sound to new and old fans alike.
McDermott started singing at the age of 8 in response to some encouragement from his mother. "I was singing along to the radio in the family station wagon when she stopped me and said, 'You can actually sing!' I've been singing ever since." Music became a big part of McDermott's life growing up. He sang and played guitar in bands and performed in school musicals.
After marrying and having children, he focused on his family and full-time job in risk management for a large bank. One night in 1999, however, he "got the bug" to start playing again and never looked back. After starting his band, J.P. McDermott and Western Bop, he found success playing 80 to 100 shows a year in various bars, festivals and venues around D.C. He also ventured to Lubbock, Texas, the hometown of music legend, Buddy Holly, to perform on what would have been Holly's 75th birthday. At the event, McDermott met the actual Peggy Sue, who inspired the iconic song.
In 2012, McDermott got an offer to change day jobs and relocate to Orange County. "Someone wants to pay me to move to California? I figured why not?" says McDermott. "We wanted to live someplace interesting and not too far from my office in Brea. All signs pointed to Orange."
On his first day in Orange, he read an article in the Plaza Review about Steve Soest, who owns Soest Guitar. Looking to meet fellow musicians, he contacted Soest on a whim. "He didn't even know me, but left a guitar so I could show my son," says Soest. "He was very cool right out of the gate, and I felt like I'd known him forever."
From there McDermott reached out and connected with other musicians in the area to play with J.P. McDermott and Western Bop. Rather than featuring a steady lineup, McDermott books shows he'd like to play and then finds good musicians to play alongside him. This finds him meeting and playing with a variety of musicians and friends.
McDermott focuses primarily on rockabilly music and covering songs from Buddy Holly, Roy Orbison, Johnny Cash, Elvis, The Beatles and more. "When people hear rockabilly, their thinking is often limited to summer 1956, but my focus is more expansive," says McDermott. "Those artists weren't trying to fit into a genre; they were just trying for hit songs. During my shows, I play all kinds of different songs. When you think about it, if Roy Orbison had been alive in this era, he probably would have covered Radiohead's 'Creep.'"
During his four years in Orange, McDermott has played in venues all over the county, including regular shows at The Streamliner Lounge in Orange and The Gypsy Den in Santa Ana. "Not many people do what J.P. does," says Soest. "I've never met anyone who can sing the songs he sings. It's in his blood." While he mostly sings covers, McDermott has several original songs that he sings as well, and he has recorded two albums with another record single on the way.
"I first heard J.P. perform at a Big Sandy & The Fly Rite Boys concert," says Orange resident Abby Maharaj, who sings in her band, Abby Girl & The Real Deal. "Big Sandy pulled him onstage, and he did a couple of lively rockabilly tunes with some Buddy Holly moves. You could tell he was experienced because of how at ease he seemed. He's great at picking the right songs to connect with the audience. I've heard both longtime fans and first time listeners say how much they like his voice."
While McDermott still occasionally plays on visits to D.C., he's found a new home in the Orange County music scene. "It's not hard to connect with this kind of music," he says. "When we play in bars, instead of taking off when they hear the music, people get an extra beer and stay around for a while."
Find McDermott playing at venues locally, including the Streamliner Lounge in Orange on October 8th and The Gypsy Den in Santa every second and fourth Saturday of the month. Fans can find information, videos and music downloads on his website, www.westernbop.com, but McDermott suggests seeing a live show, because as he says, "There's nothing like live music."