eXene - Jan / Feb 12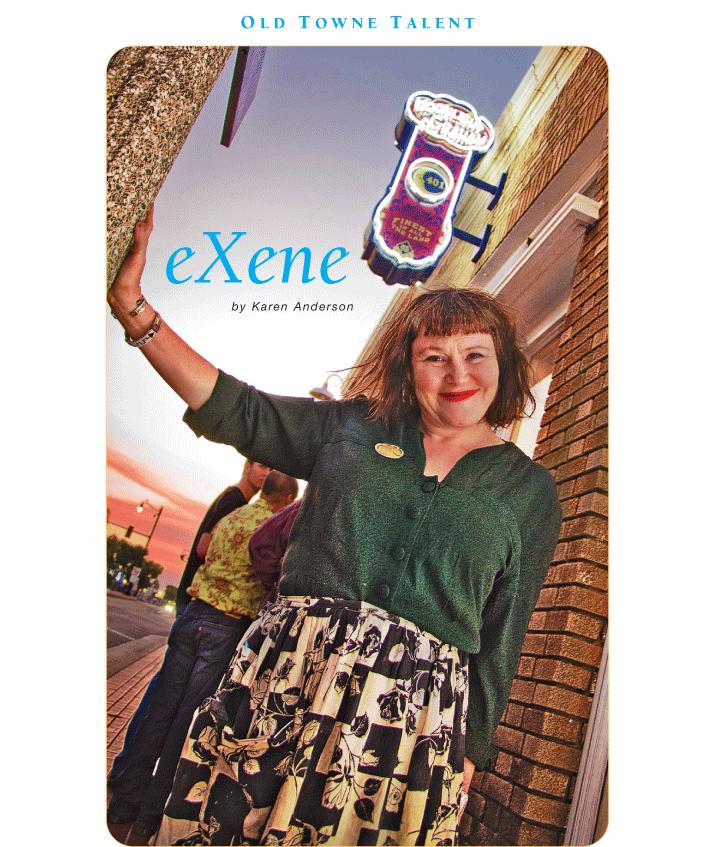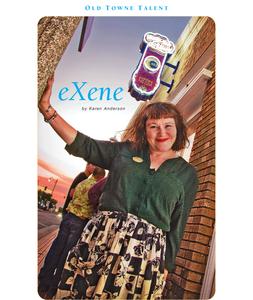 Punk legend,
X
frontwoman and
Old Towne
resident
Exene Cervenka
performs acoustic and spoken word shows once a month at
Moonlight Graham
in
Old Towne
.
Old Towne Orange might seem worlds away from the mosh pits of Los Angeles in the early '80s, but for punk rock legend Exene Cervenka, it's the place she now calls home.
Singer for the band X, Exene is a songwriter, artist, poet and author whose extraordinary creativity spans many genres.
Forging the first wave of American punk beginning in 1977, the band released such classic albums as "Los Angeles" and "Wild Gift," ranked by Rolling Stone magazine as among the greatest albums of all time. Through the years, Exene has branched out with musical side projects including The Knitters and The Original Sinners. She's also issued a series of solo albums, penned many books (Virtual Reality, Just Another War) and creates mixed–media collages featured in exhibitions nationwide.
Her move to Old Towne marks another chapter in her fascinating and eclectic life.
"I was relocating back to Southern California but I didn't want to move back to L.A.," Exene says. "My friend told me about Old Towne, and I liked it. It's like Nebraska with palm trees. I can pretend I live in a small town, and it reminds me of what's good in America."
Since moving here two years ago, Exene met up with the owners of Moonlight Graham, a retro clothing store in Old Towne. Once a month, Exene's Moonlight Hootenanny attracts a loyal following for an evening of music and conversation at the store. Guest artists have included band mate John Doe from X, and Phil Alvin of the Blasters.
Although the gatherings provide an opportunity for Exene to showcase old favorites and new tunes (including songs from her latest release, "The Excitement of Maybe"), the iconic singer is not particularly concerned about self–promotion.
"We've created a venue at the Moonlight Graham store where people can hear music that isn't corporate and share political views. We laugh a lot too, but it's important to talk about what's going on in this country, politically. It's a very serious situation. The Protect IP Act, for example, will shut down a lot of Web information that any third party construes to be a copyright violation. The Defense Authorization Act is even more horrifying. I don't have time to sing love songs right now."
Exene says she'd like to see Chapman University students become more involved in the community.
"We have other plans at Moonlight Graham to expand the presence and make it more community based. We have some important events at the store that the kids should be attending."
With no signs of slowing down, Exene recently completed an international tour with X, opening for Pearl Jam in South America in November. The band also hosted its annual Xmas Rock n Roll Revival at venues throughout California.
"It doesn't wear on me, the lifestyle," she says. "I can do five or six projects at a time and still do other things. I can get by on four hours of sleep."
When she's not touring, working on projects, or burning the midnight oil, Exene enjoys her peaceful life in Old Towne, where she feels at home and part of the community.
"Every town should find its talent and people and come together right now to decide how we're going to move forward into the future and survive."
---
Published in the
Jan / Feb 12
edition of the Old Towne Orange Plaza Review Article Written by Karen Anderson, photos provided by Jeanine Hill
View More Articles