Country Roads Antiques & Gardens - Jan / Feb 13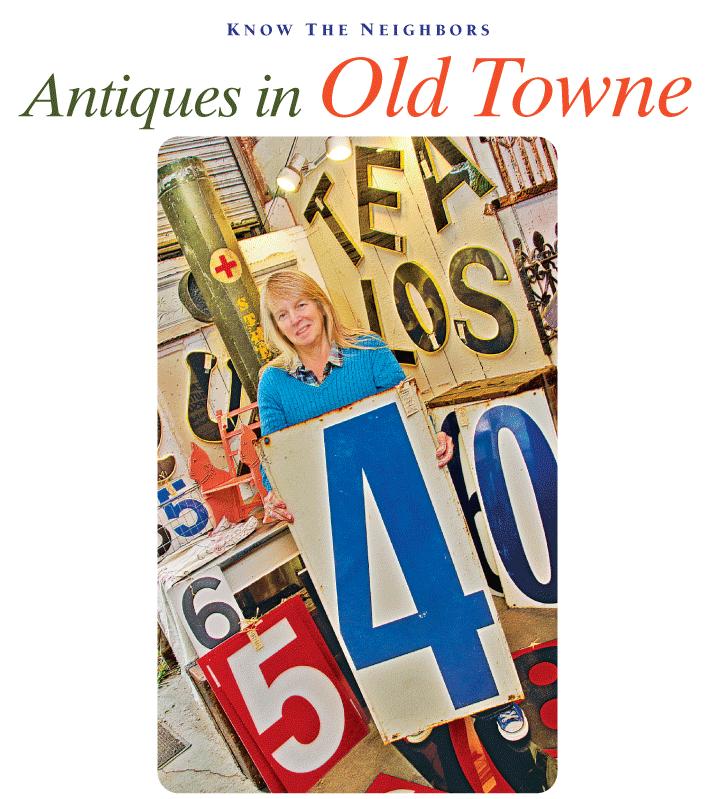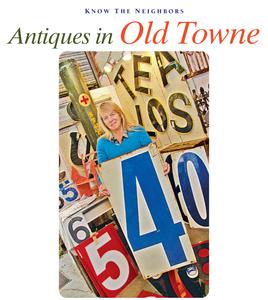 Country Roads owner Sue Jackson shows off a collection of random numbers and letters on display in her landmark antique mall in Old Towne. All three of Sue's grown children work with her at the Chapman Avenue retail destination.
- - - -
Country Roads Antiques & Gardens
Family comes first at Country Roads Antiques & Gardens, where owner Sue Jackson and her three grown children, Katie, Bryce and Brande, are celebrating 20 years in business in Old Towne Orange this year.
Featuring 10,000 square feet of retail space, the family-owned antique mall on Chapman evokes a homey feeling that makes customers feel welcome from the moment they walk in the door. Sue's longtime cherished customers are like family, too – as are the close to 80 individual dealers at the store.
"We really are a family business," says Sue. "It feels good to have the kids involved and to bring them up with a work ethic. Katie is good with numbers, Bryce excels at customer service, and Brande takes care of the garden outside. I've even got grandchildren waiting to help out. For us, home and work are intermingled."
A landmark of sorts among Old Towne's roster of antique dealers, Country Roads began on South Glassell in a small space where the Victoria Company is now located. Originally called the Battered Barn, the business expanded to Chapman Avenue in 1993. With the help of her ex-husband and friends, the space was transformed into a vintage-style destination showcasing hardwood flooring salvaged from the old Laguna Beach boardwalk.
Contributing to the ambience, creative vendor booths are built with novelty siding, old-fashioned tin roofs and church windows.
"Back then, I had no idea we'd have this kind of longevity," says Sue of her success. "I worked hard and hoped for the best. It's nice when I hear people say that we have become a destination. When you are doing something you love, you don't think about failure."
And speaking of space, the store itself encompasses three different addresses, all connected. Built in 1919, the historic building once housed the old Nehi Soda bottling company. Outside, the 4,000-square-foot garden and nursery is named after Sue's mother, Johnny Merle.
Longtime employees Carol and Yesi Castillo are also part of the Country Roads family.
"Yesi grew up in the store and has worked her way up," Sue says. "My role now is to work side by side with the kids at the counter. It keeps me young!"
Country Roads Antiques & Gardens
204 West Chapman Avenue, Old Towne Orange, CA 92866 / 714-532-3041