Assistance League of Orange - Jan / Feb 20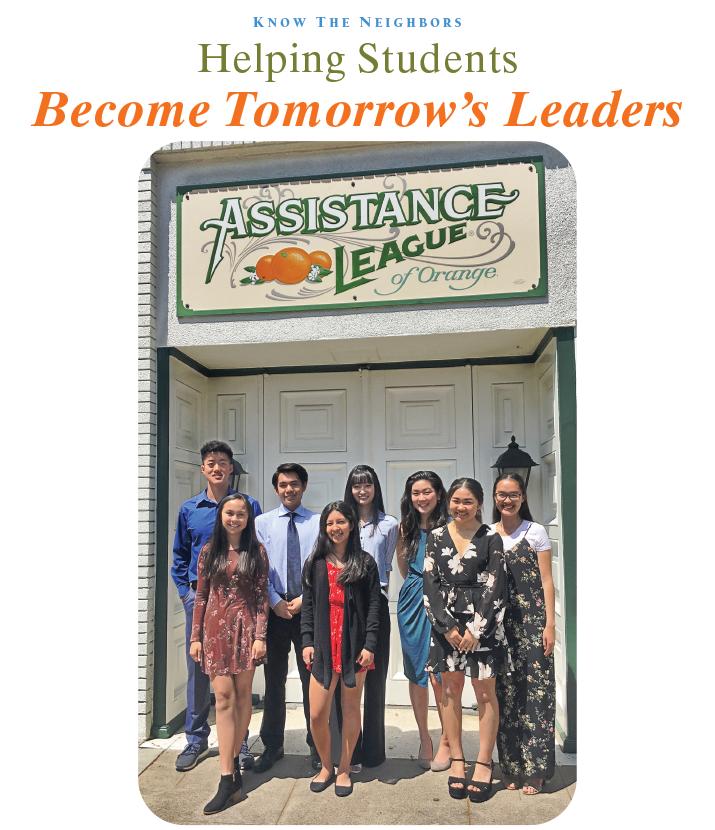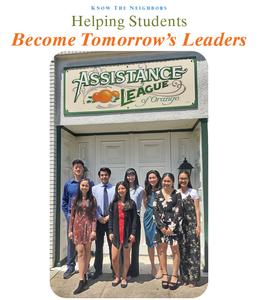 Local high school students pursuing a variety of disciplines received scholarships last year from Assistance League of Orange, including (from left) Vincent Bui, Kaitlyn Real, Ryan Raymundo, Abril Najera, Anh Minh Nguyen, Elianna Peng, Sarah Ando and Michelle Truong. Hailey Fink and Luiz Paz are not shown.
Assistance League of Orange
Purchase a gently used dress, housewares or toys at Now and Again Thrift Shop in the Plaza and help deserving students continue their educations. In short, that's the story behind the scholarship program offered by Assistance League of Orange.
"Many people know about us," says Michele Markel, co-chairwoman of the ALO scholarship committee. "We get some tremendous donations, raise a lot of money and give it back to the community."
This year, $28,000 is budgeted for scholarships, with individual awards ranging from $500 to $3,000.
Applications, available online, need to be turned in by March 28 and should include the grade point average (3.0 minimum), SAT/ACT scores, recommendations and a well-written essay. "From all of these criteria we can get a good idea of their leadership qualities," Markel says.
"We like students to show their community service, because we're a community service organization," she adds. "We also understand that some students need to work, so they can use their part-time jobs as a type of community service."
High school students from throughout the Orange Unified School District are eligible, including those attending Richland, a continuation high school for at-risk teens. For those scholarships, there's less of an emphasis on GPA and SAT scores, while other aspects of performance have greater significance.
"We look at what each student has done since they've been here—their character, worthiness and how they're overcoming aspects of their life," says Midge Knox, a Career Guidance Technician at the school.
Scholarship applicants at Richland write an essay, teachers make nominations, and then Knox and Principal Dr. Briseño-Simonovski evaluate the submissions and pick the top two or three candidates.
"It means a lot to the students," Knox says. "It gives them that extra pat on the back and lets them know that their work is being noticed."
In addition to OUSD students, those living within the district but attending schools outside the district boundaries are also welcome to apply.
The Assistance League of Orange, celebrating its 80th anniversary in 2021, has a scholarship committee with about 25 members who read all the applications. Past winners have attended UCLA, UC Irvine, Cal State Fullerton, Chapman University and many other schools, including ones in the Ivy League.
Says Markel: "Many of the students are impressive—they have tremendous grades, high SAT scores and glowing recommendations.
Application information available on the website at Assistance League of Orange