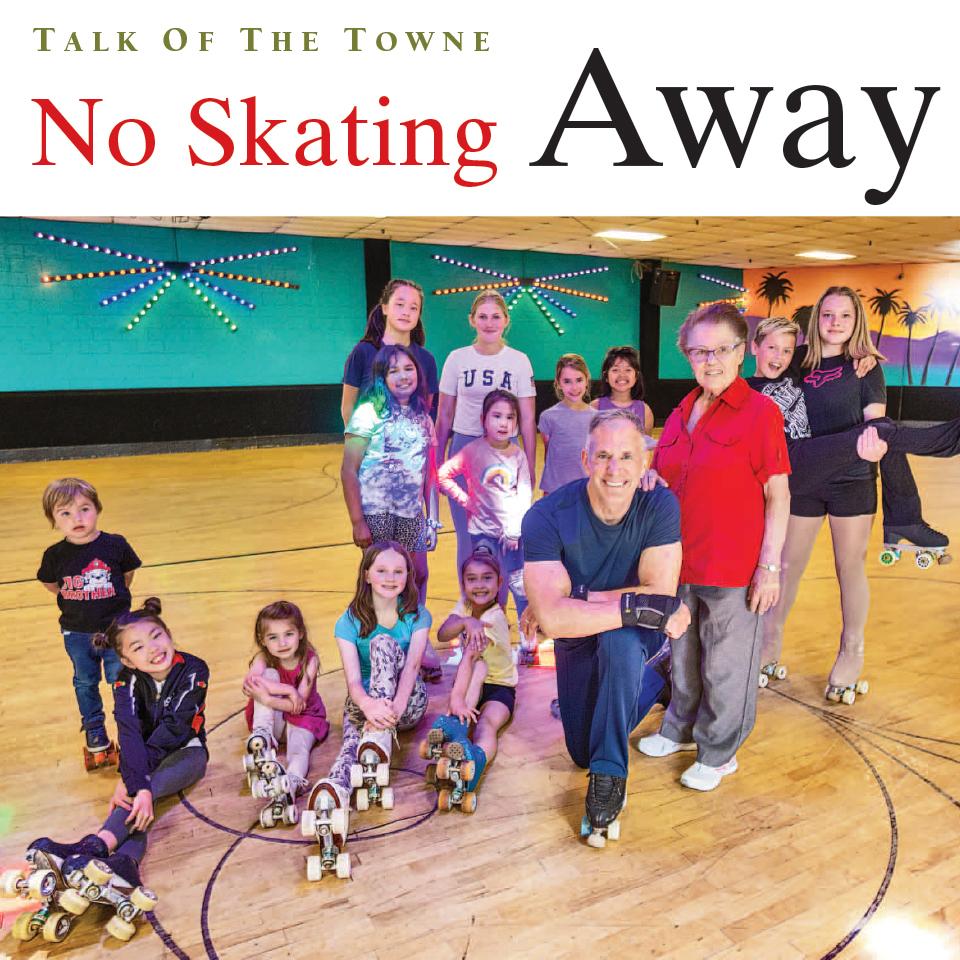 Skaters of all ages enjoy roller skating at Holiday Skate Center. Pictured here on the rink are (front row, from left) Everett, Asahi, Addison, Lucy, Estee, Scott Sackin and Barbara Collins. In the second row are Amelia (left) and Elena, and in the third row are (from left) Lisa, Rozalyn, Chloe, Jossy, Mason and Gianna.
- - - -
Roller skating is a part of the American fabric. The first public skating rink opened in Chicago in 1902, attracting 7,000 people on opening night. In their heyday, there were many roller skating rinks across the country, including Holiday Skate Center in Orange, which opened 50 years ago.
Today, Holiday Skate Center is one of a small number of traditional roller rinks still standing. According to Roller Skating Association International, there are 29 left in California. The Orange facility's lease expires in September, and the future plans of the owners are currently unknown.
"I was part of the small group of competitive skaters first to roll around the Holiday Skate Center floor prior to the grand opening," says Scott Sackin, who is on a mission to keep indoor roller skating alive in the Orange area. He competed at the rink when young, then returned to the sport as an adult five years ago when he rejoined the rink's competitive club and became involved as a volunteer and a board member for the club.
"When I was a kid, Holiday Skate Center felt like a safe, welcoming environment. Once you get inside the walls of the rink, everyone has one thing in common—a love for skating," says Sackin, co-leader of the Sackin-Stone Team at Seven Gables Real Estate, based in North Tustin and Huntington Beach. "The community needs more family fun centers like this."
Ideally, Sackin wants to get "a friendly audience with the current owners" and would appreciate anyone who could help him "invest in the quest to keep this open." Sackin's goal is to find out whether the owners plan to develop the property. "Why not lease it month- to-month to my group until they finalize their future plans?" he suggests. "Let's have communication on a finite end date."
The real estate agent is seeking other options, if necessary, such as an alternate location in Orange or the county itself, where an "existing building could be turned into a skating center, or we find land and build one."
Sackin believes in roller skating as an entity. "In my heart, I can't see another rink close down," he says. "I want to keep Holiday Skate Center alive however I can. If people in commercial real estate, developers, or anyone else could help, that would be awesome." He also wants to make one thing clear: The impetus for this goal has nothing to do with his real estate business.
Sackin describes Holiday Skate Center as a "wonderful place" for schools and organizations to hold private parties or fundraisers. The Center has a "very good mechanism" for raising funds, and a closure would leave a "big gap" for nonprofits. Private figure skating training camps and learn-to-skate classes in three ability levels are also offered at the facility.
Barbara Collins, who will be 89 this June, has coached roller skaters in Southern California for 60 years. "I like to keep busy, and I enjoy teaching roller skating," she says. "I especially like instructing beginners and young skaters in the 5- to 7-year-old category. They are so eager to do their best and please, and their parents tend to be very cooperative."
Collins has taught at various rinks in the Southern California area, most recently instructing in Orange for the last nine years. "I like the Orange rink," she says. "Though members of the skate club compete against one another, they also support each other." To Collins, skating is a sport without barriers to entry. "Roller skating is something that everyone can do at any age," she says. "We'll have adults who are beginners hanging onto the rail, and before long they're making their way around the rink. Roller skating builds camaraderie and is a great social outlet for the whole community.
Holiday Skate Center
175 North Wayfield St., Orange CA 92866 / 714-997-5283
Scott Sackin 949-903-5345