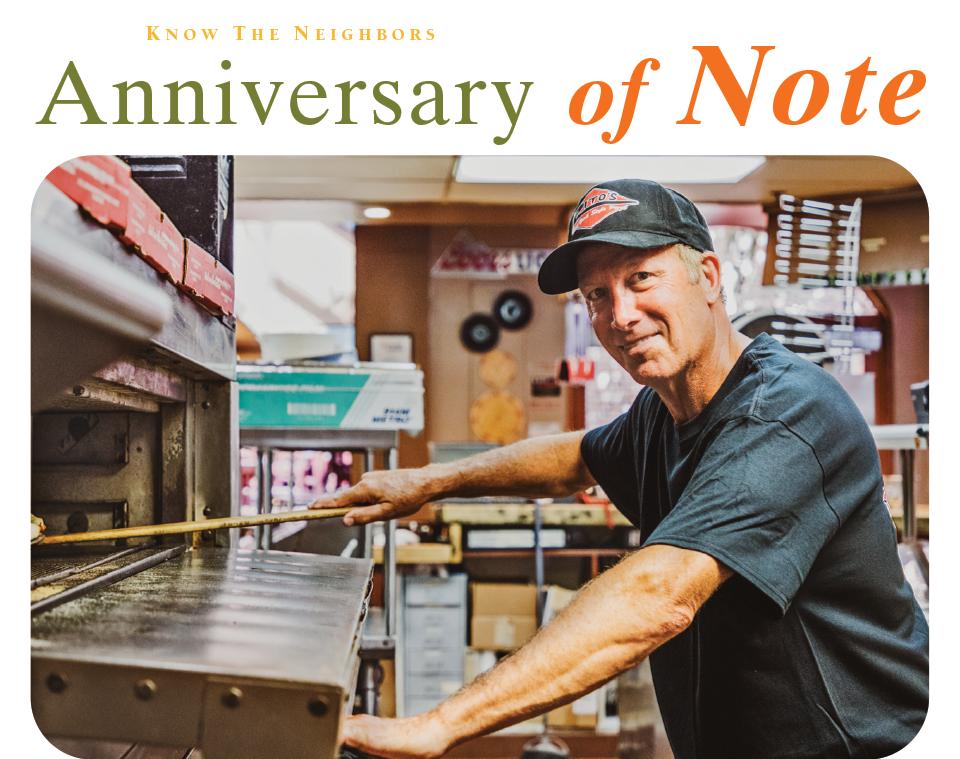 The quality of the food and the friendliness of the employees have been important ingredients to the Zito's experience, says Steve Silverstein, who opened his first Orange pizzeria in the late 1980s. "I've been fortunate to have seen two generations of customers—parents who came in with their kids and those kids who have since grown up and are now coming in with their kids."
- - - -
Zito's New York Style Pizza
More than 50 slices of pepperoni and nearly a pound of fresh mozzarella cheese are two of the ingredients that go into every large pepperoni pizza at Zito's New York Style Pizza.
"With our pizzas, we don't skimp. And we have generous servings of everything," says owner Steve Silverstein, who was inspired to get into the restaurant business by an uncle who in the early 1960s landed a contract to feed the workers at the World's Fair in New York.
And it's not just quantity, the quality is even more important. That means every ingredient that goes into the antipasto salads, hot Italian subs, homemade lasagna, garlic knots, cinnamon dessert knots and, of course, the pizzas.
"We've always focused on the quality of the food, which in turn brings in families and sports teams for the wide variety on the menu," says Steve, who has been comfortable preparing food since a young age. With his mother working as an elementary school teacher and his father not the best at preparing meals, "I had to learn how to cook for myself."
Since 1988, when the first Zito's opened in Orange, the company has made it through several economic downturns.
"We've been fortunate to weather some tough times," Steve says. "If we keep up the food quality, variety and maintain the service, hopefully we can make it through this tough time. We're doing our best thanks to our longtime loyal customers."
Earlier this year, when state and county health safety orders limited restaurants to takeout and delivery, office manager Jennifer Zimmermann says that many diners were still showing up wanting to enjoy as much of the Zito's experience as possible.
"They would order, take the food out to their cars, sit in the parking lot and have a little tail-gating party," she says. "Even without dine-in, they still came and supported us, as we do them."
- - - -
Zito's New York Style Pizza
156 North Glassell St., Old Towne Orange CA 92866 / 714-771-2222
Open Sun-Thu: 11 am - 10 pm / Fri-Sat: 11 am - 11 pm
2036 North Tustin St., Orange CA 92865 / 714-974-6191
1716 Chapman Ave., Orange CA 92868 / 714-939-1111
5572 East Santa Ana Canyon Rd., Anaheim Hills, CA 29807 / 714-998-2000