Brewery 1886 - Mar / Apr 20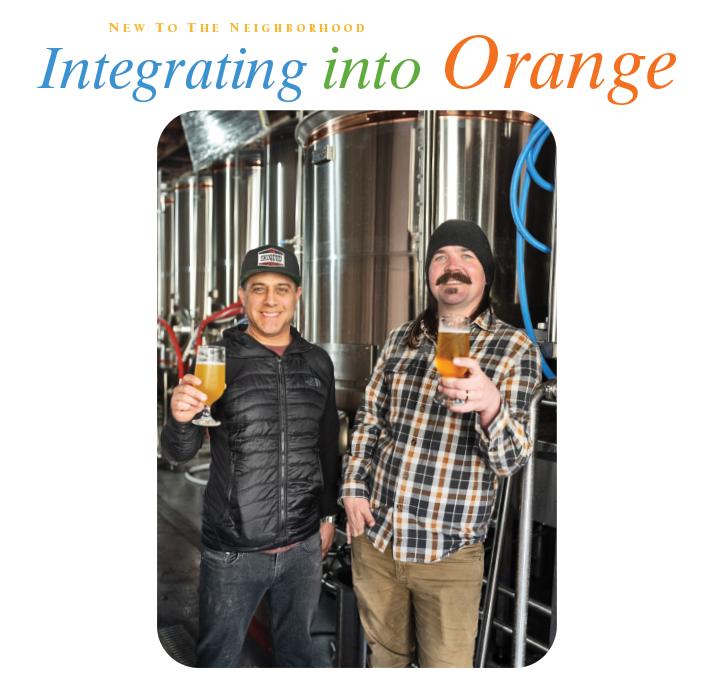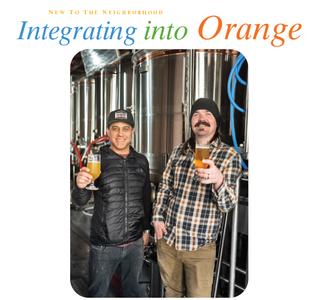 Owner Mike Hernandez (left) and brewer Shaun Morgan toast to Brewery 1886, which opens soon. The menu includes a mix of appetizers and entrees, and will offer IPAs, lagers, stouts, as well as craft cocktails.
Brewery 1886
Something is brewing in the Plaza, and it will soon give Orange residents a place to drink craft beer, share creative appetizers, and watch a game. Brewery 1886 is estimated to open around mid-April, in the building where George II Antiques used to be.
Owner Mike Hernandez, who also co-owns Smoqued California BBQ, wanted to open a brewpub in Orange for years, but hadn't found the right location. When he discovered the building holding George II Antiques available, he met with the owner and soon leased his dream site.
"There are so many specific restaurants in the Plaza, so we wanted to create something that's for everyone," says Hernandez. "The ultimate goal for us is to create an environment where families can hang out, have a great meal and a drink, in an area that doesn't feel like a sports bar."
The site still has an array of widescreen televisions for watching sports, but Hernandez says the focus will be on creating an environment that acts as a city hub. The menu, created by Executive Chef Frank Meranda, recently from Davio's Northern Italian Steakhouse, will have something for everyone, with a variety of appetizers and entrees, craft cocktails, and of course, beers.
"We want beer lovers, foodies, families and everyone to think of Brewery 1886 as their brewery," says Drew Ciora, Hernandez's business partner. "We want it to be a place to enjoy a great beer and fantastic meal with family and friends."
Hernandez and Ciora met in the early 1990s after working together at the Huntington Beach Beer Company and the Laguna Beach Beer Company. The duo opened Smoqued BBQ in 2012, and around two years later Hernandez knew he eventually wanted to open a brewpub.
"I love working in breweries, and I've always felt like the Plaza needed a solid brewpub," says Hernandez. "We need a hub for the city—a great place for people to come before they go to a game, and after the games, too. Our goal is to create that environment."
Hernandez and Ciora have been planning the establishment for years. Now, they're finally getting it set up and building from the ground up, including developing everything from plumbing to menu design.
"Mike and I are doing everything," says Ciora. "I've had the opportunity to open six other brewpubs, so I'm using what I know to help in all aspects of the buildout and operations planning."
Brewery 1886, which gets its name from the year the building was constructed, has already generated excitement with its location on the Plaza's main street. Hernandez says he's excited by the amount of people who walk by every day, and he's looking forward to living up to the expectations of future customers.
"One of our goals is to share that first beer and meal with our guests," says Ciora. "It's always a great reward to see people enjoy something you have put so much effort into bringing to life."
Brewery 1886
114 North Glassell St, Orange CA 92866