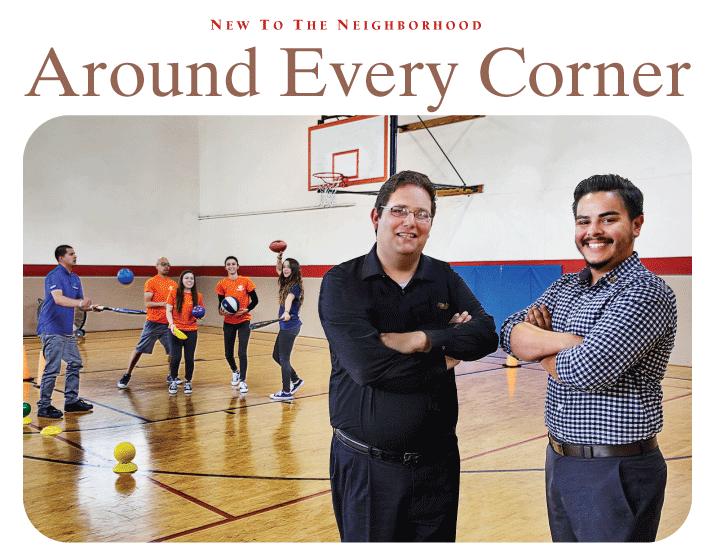 CEO of Old Towne Orange Boys & Girls Club, Tony Tripp (left), helps lead an enthusiastic support team headed by Site Supervisor Edgar Garnica (right). The club's new home at the landmark community center includes a gym, commercial kitchen and two large assembly rooms.
Old Towne Orange Boys & Girls Club
The grand opening of Old Towne Orange Boys & Girls Club at the old community center on Maple and Grand marks the beginning of an exciting, new era for youth enrichment programs in Old Towne.
The vintage building, with its large assembly rooms, two beautiful stone fireplaces, commercial kitchen and a gymnasium, offers the ideal setting for kids to take part in a variety of after-school activities throughout the year, as well as a full schedule of summer programs beginning this June.
"This is the first time there has been a Boys & Girls Club clubhouse open in Orange," says Tony Tripp, chief executive officer of the Old Towne Orange Boys & Girls Club. "Having a physical location available to youth in the community helps to create a culture of academic success, good character, leadership and healthy lifestyle choices. All of our activities are geared toward those goals."
Owned by First Presbyterian Church of Orange, the facility hadn't been heavily utilized since the YWCA departed in 2005. Although the church uses the facility on the weekends, the club is open every weekday after school hours until 6:30 pm. During spring and summer breaks, the club stays open from 7 am to 6 pm and offers a whole host of activities, including field trips to local parks, the library and more.
In partnership with the Boys & Girls Clubs of Tustin, the new club in Old Towne officially opened its doors on April 3. Located next to the church, the facility includes a small playground for which the club is currently seeking donors to help upgrade the bark surface. First Presbyterian will soon install a fountain in the front-entry courtyard, says Tony.
"The church has done a fantastic job revitalizing this building and doing repairs," says Tony. "They take care of all the maintenance and are a true partner. They believe in us. They have been so inviting and supportive of this entire endeavor. People in town remember this facility when they were kids. There are fond memories of this center as a place for youth to gather."
Membership fees to the club are nominal: only $25 per child for the entire school year. Summer fees vary, but average around $120 a week. Scholarships and discounts are also available.
Tony invites parents and kids to drop by anytime for a tour of the club.
"We are considered an open-door program," he says. "We're here whenever the child and parents need us. Kids can participate in our drop-in activities and have fun, but we also strive to shape them for academic and leadership success."
Old Towne Orange Boys & Girls Club
146 North Grand St, Orange CA 92866 / (714) 623-0309