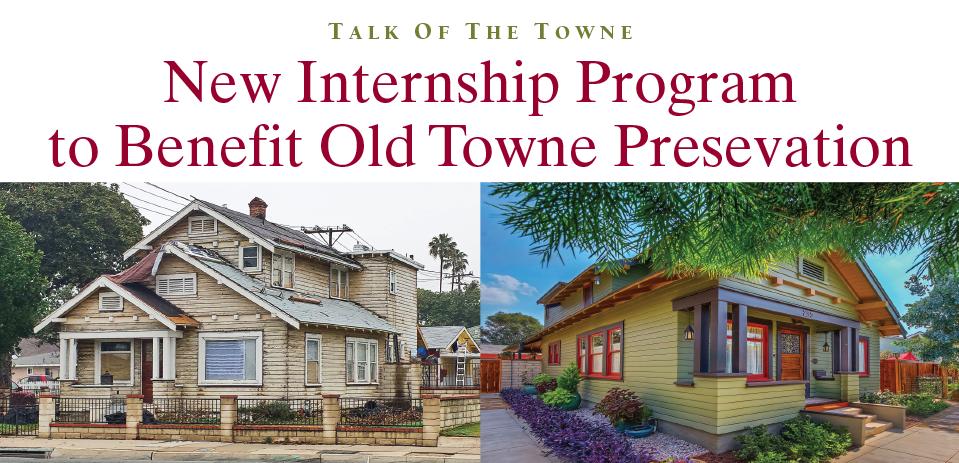 College students interested in history, writing, research and more will soon have an opportunity to apply their skills to paid internships through a new partnership between the City of Orange and the Old Towne Preservation Association.
The association will fund as many as two interns per semester—spring, summer and fall—beginning in spring 2020. Interns will help the Orange Community Development Department on preservation and restoration projects.
"We welcome this unique relationship and thank the Old Towne Preservation Association for offering to fund student talent to help research and illuminate the historic heritage and character of Orange," says Orange Mayor Mark Murphy.
The Old Towne Preservation Association, established in 1986 to protect and enhance Old Towne Orange, previously awarded annual scholarships to students studying preservation at Southern California colleges and universities. In 2019, the association approached the city with the idea to use funds for preservation internships instead.
Sandy Quinn, President of the Old Towne Preservation Association, says the program will benefit the entire city.
"The program will not be limited to Old Towne, since all of Orange is rich in history," he says.
Alexander Bay, Chair of the Department of History at Chapman University, praised the new program, because history majors have many transferable skills, but need professional experience. History students have training that can benefit the city.
"By applying their skills locally, these students can give back to the local community that they enjoy living in," Bay says.
The internships honor the late Anne Siebert, an Old Towne Preservation Association founder and former president. Siebert was a longtime civic leader in Orange, instrumental in Old Towne gaining its designation as a residential historic district. Old Towne is the largest national register district in California, and includes the "Plaza Historic District," which has also been listed in the National Register of Historic Places.
Quinn has a deep dedication to the city and Old Towne, serving on Chapman University's Neighborhood Advisory Committee and the board of the Youth Centers of Orange, in addition to his role with the Old Towne Preservation Association. The association has celebrated many victories since its inception, including working with Chapman to accelerate the creation of on-campus housing, so students living in Old Towne rentals would have the opportunity to move into university-supervised on-campus housing.
Quinn's dedication to preservation hits close to home. He lives in the historic district in a 110-year-old, two-story Craftsman.
"There are 1,400 homes in Old Towne built before 1940, all with distinctive period architectural styles," Quinn says. "Our mission is to preserve, protect and enhance the historic character and unique charm of Old Towne, so we work hard to see that the city's Old Towne historic design standards are followed. That's the way the rich tapestry of the neighborhood's history will be protected and saved."
Marissa Moshier, the city's historic preservation planner, says interns will work about 120 hours per term on specialized projects related to the city's survey of historic resources, public handouts on preservation topics and educational programs such as the "Plaza Walking Tour."
Other duties could include assisting with the Orange Public Library's history center and researching and summarizing historic preservation ordinances.
"Historic preservation has been an important community value in Orange for many years," Moshier says. "Our focus is sharing Orange's heritage with as many people as possible, and the internship program will help us accomplish that.
For more information about the Orange preservation internship program, contact Moshier at [email protected] or 714-744-7243. To learn more about the Old Towne Preservation Association, including how to join, visit www.otpa.org. The organization is open to everyone, particularly residents and businesses in Old Towne. The group holds member meetings and hosts activities throughout the year.