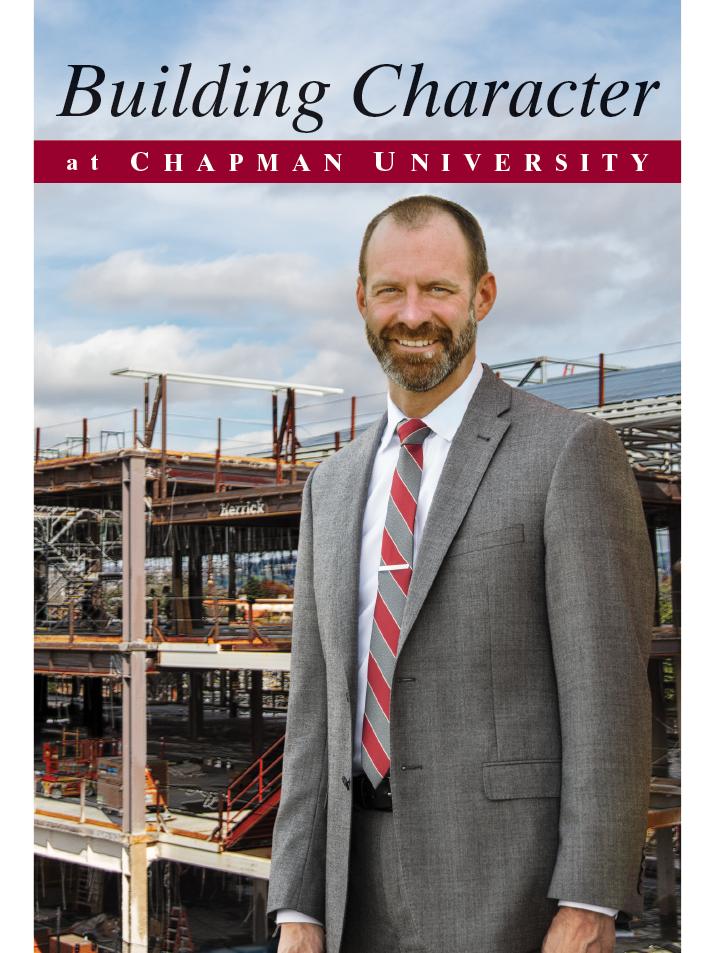 Dr. L. Andrew Lyon
Like many young boys, Andrew Lyon reveled in the wonders of science and the time-honored results of cause and effect.
"I was a typical kid performing the makeshift science experiments out in the backyard," says Chapman University's Dean of the Schmid College of Science and Technology of his New Jersey childhood. "I discovered how much sunlight it took to burn leaves with a magnifying glass and how ants responded to various household products I found in the pantry."
While those childhood experiments and having older siblings with careers in the sciences encouraged a love of science in Lyon, it was a shakeup in the field that profoundly affected his view of the ethical responsibility that scientists have to the public, and most importantly to themselves.
"When I was in college, two scientists at the University of Utah reported the discovery of Cold Fusion that would have been an amazing technological advancement providing a limitless source of inexpensive energy. Their discovery ended up all over the news, heralding this amazing paradigm shift. But then it came out that though not intentional, the discovery was a hoax."
Scientific Ethics
That event proved to be Lyon's first experience of scientists reporting discoveries that weren't verifiable. "Though such occurrences are extraordinarily rare in the field of science, that changed the public perception of science in a profound way," says Lyon, who at the time was studying chemistry at Rutgers University in New Jersey, where he earned his bachelors in the subject in 1992. He went on to earn a masters and Ph.D. in physical chemistry from Northwestern University in 1993 and 1996.
"As an impressionable young researcher, the Cold Fusion event made a huge impact on me. To this day, it informs the way I teach students about the importance of scientific ethics and being self-critical and strident in our approach to ensuring that we're as correct as possible," he says.
Though it's common to teach students to be critical and questioning of other scientists and their work, Lyon also impresses on students the importance of interpreting their own results. "I stress to students that they are potentially biased as to what they want to see. As the late Nobel Prize winning physicist, Richard Feynman, said: 'The first principle is that you must not fool yourself and you are the easiest person to fool.' "
At the same time, Lyon encourages students to branch out and come up with their own theories. "When we're embedded in a particular scientific field, we rely on the work of our predecessors. But if we are expected just to recreate knowledge that came before us, we'd never progress as a society. That being said, it's important to always look for fresh perspectives."
Joining Chapman University
It is a penchant for out-of-the-box thinking that led Lyon to join Chapman University in July 2014 to head up the growing Schmid College of Science and Technology. Prior to joining the university, he served as the Chair of Chemistry and Biochemistry at Georgia Tech.
"I enjoyed my job at Georgia Tech, but I wished to advance in higher education leadership. I wanted to progress in a way that allowed me to maintain meaningful connections with the students, which is hard to do at a large university. I explored universities that seemed to have an inspired approach to undergraduate education while maintaining research and innovative graduate programs. Chapman seemed to be doing a great job with all of that, and the dean's position was open, so I applied," says Lyon, who landed the position and moved to the area with his wife, Alene Lee, and their two children.
Lyon was excited by the challenge of taking Schmid College to the next level. "I could see that Schmid was poised to become nationally recognized, and it was exciting to anticipate the upcoming Center for Science and Technology building."
Scheduled to open in the fall of 2018, the state-of-the-art facility will be the largest and most expensive in the university's history, encompassing two halls within a 2.25 acre complex. There will be 18 teaching and 22 research labs, as well as collaboration areas, research and study suites, conference rooms and faculty offices, a dean's suite, a graduate student lounge and an outdoor amphitheater.
"Andrew has been a real transformative force for the Schmid College," says Daniele Struppa, President of Chapman University. "He is a strong, visionary dean, who has the ability to engage with and respect the ideas of his faculty. He's very well respected and clearly has great leadership qualities. He also has truly innovative ideas, such as the Grand Challenge approach to science education."
The Grand Challenge
The Grand Challenges Initiative to which Struppa refers was inspired by a conference that the White House Office of Science and Technology Policy held in 2012. The conference addressed the "ambitious goals on a national or global scale that capture the imagination and demand advances in innovation and breakthroughs in science and technology."
At Schmid College, the aim is to develop inspired scientists capable of thinking across traditional disciplinary boundaries to help solve today's complex problems. The Grand Challenge program features a series of mentored, team-based experiences that are now mandatory for all incoming science students. They work in small, interdisciplinary teams, engaging in a variety of grand challenges. The challenges can include everything from creating unlimited renewable energy to explaining how the brain functions.
A big advantage of the Grand Challenge is its ability to teach students the value of collaboration between disciplines. "Our hope is to give students the passion for science and the ability to see on an immediate basis what it means to do impactful work and how that work intersects with other disciplines," says Lyon. "In the early days, like many budding scientists, I was fascinated by the world around me. Now that I've evolved and matured as a scientist, I've become more focused on trying to make discoveries that are impactful."
Lyon's research focuses on regenerative medicine, which allows the body to heal itself. He has worked with the development of polymer beads smaller than human cells that deliver drug therapies directly to particular diseases or wounds—such as to cells affected by ovarian cancer.
"The research with ovarian cancer was exciting, because it allowed for working on a very critical health issue. The project involved collaboration between a broad range of fields, including oncology, chemistry and bioengineering," says Lyon. "My recent research focuses on using a certain type of polymer to create artificial platelets to stop bleeding. This project required collaborating with bioengineers, hematologists, physicists and a wide range of other clinicians."
With the groundbreaking work he's doing, Lyon is heartened to see that universities and companies are embracing the idea of working across disciplinary lines. "I'm excited to be a part of today's interdisciplinary way of working, and I look forward to helping make possible a more rapid and powerful impact on some of our grand challenges."