At Home with Dan Slater - Apr/May 10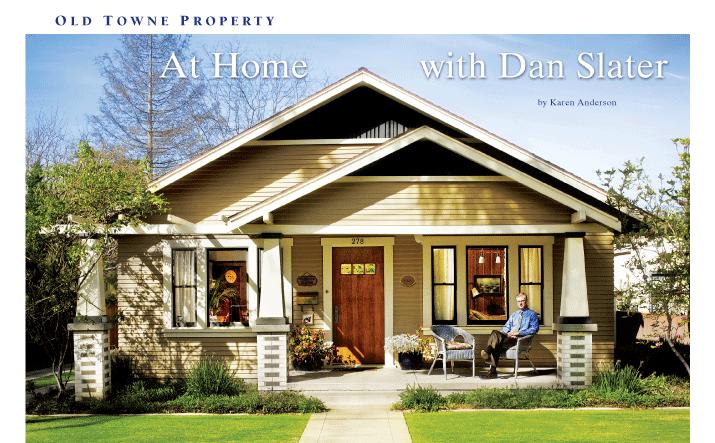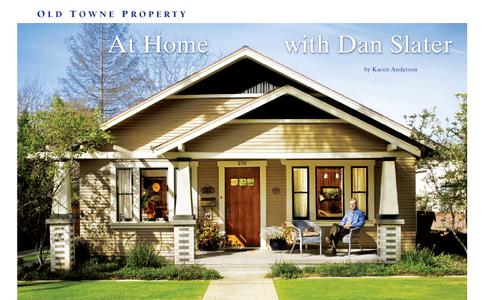 Dan Slater
's historic 1923 bungalow on Pine Street previously belonged to Dan's teacher from
Immanuel Lutheran School
. When Dan purchased it in 1989, the home still retained most all of its original elements, including hardwood oak floors and a clawfoot tub.
Given to Dan by one of his clients, this antique upright piano is one of two pianos in his home. "Harold and Marilyn Friedemann were longtime members of the choir at St. John's," Dan said. "It was their family piano." Turn–of–the–century photos above the piano came from It's About Time Antiques Market in Old Towne.
A native of Old Towne Orange, Dan says his family roots in town date from the late 1800s. His grandparents once lived on Cambridge Street across from Pitcher Park.
Showcasing the original cabinetry, tile and sink, Dan's kitchen also includes old–style double–hung windows original to the home. Foregoing built–in appliances like a dishwasher and garbage disposal, Dan decided not to remodel the kitchen so as to retain its historic charm.
Dan's artfully appointed home includes designer wallpaper, plush furnishing and mood lighting. The antique Art Deco lamp is from an antique show in San Diego. The stenciled cowhide shade was added to create an arts and crafts feel.
Longtime realtor Dan Slater knows a good thing when he sees it. So when his seventh and eighth grade teacher from Immanuel Lutheran School in Old Towne decided to sell his vintage California Bungalow at 278 N. Pine Street in 1989, Dan purchased it on the spot.
"Mr. Pingel was the same person who taught my father when the school was a one–room schoolhouse," said Dan, owner of the oldest and most prominent real estate office in Orange, established in 1949.
"When he called me and told me he wanted to sell his house, I told him I'd like to buy it for my personal residence. He was highly respected in our church, and the home took on an extra special meaning because it had been his home. I also liked the fact that it had been so well cared for over the many years. Mr. Pingel lived a very humble, simple life. I enjoy the simple things in life too."
The home, which was built in 1923, had undergone very few upgrades since Dan's teacher acquired it in 1931. Because it had never been remodeled, the home retained most all of its original elements.
Showcasing original, hardwood oak flooring throughout, Dan's house includes the original light fixtures, windows, chandelier and kitchen tile, as well as the bathroom sink, toilet and clawfoot tub. In the kitchen, Dan decided to keep all existing cabinetry rather than add new appliances.
"The kitchen was so original, I didn't want to alter the cabinets or the sink," Dan said. "To this day, I have no dishwasher or garbage disposal."
Adding central air–conditioning and heating, Dan had the entire house re–wired and re–plumbed (two of the three bedrooms had no electrical outlets). Because the bathroom floor had sustained some water damage, he decided to install old–fashioned tile to match the original fixtures.
Working with local interior designer Diane VonGerichten, Dan added decorative wallpaper to some of the walls of the three–bedroom, one–bath home. She helped him create a traditional look with Western and American Indian accents, as well as restore and re–upholster a large, plush chair left by the previous owner.
During the initial rehab process, Dan lived in the one–room guesthouse in the back. When the recession hit in the early 1990s, he continued to live in the back while the house sat empty. Between his work commitments and getting elected to city council in 1994, Dan didn't move into the main house for another eight years. Many people inquired about buying the home, but for Dan, it was never a consideration.
Dan says his neighborhood is one of the best in Old Towne Orange, thanks to his close–knit neighbors and an enthusiastic sense of community spirit. In keeping with the home's history, Dan's neighbor to the north, Nancy Paul, was his high school teacher at Lutheran High School.
"It's a real good 'people' street," said Dan, who participates in the street's annual Fourth of July party and yearly Christmas decorating contest.
"We've won 'best block' every year for the last 10 years," he said. "Bus tours actually come by to look at the lights."
Prominent in community affairs, Dan served on the Orange City Council from 1994 to 2002. He was also the president of the Orange Chamber of Commerce in 2008, and was also very active in the Old Towne Preservation Association (OTPA), serving as president in 1992.
"When I first started selling real estate in 1985, OTPA was just coming into existence," recalled Dan. "I got involved right away. At the time, there was no political support for historic preservation, so everything was a big battle. Back then, there were no design standards in Old Towne, and you could build whatever you wanted. There are some regrettable examples of that era."
Dan recalls the early days of the preservation struggle in Old Towne: "Even when OTPA applied to have the area listed on the National Register of Historic Places in 1997, a majority of the city council voted in opposition because they thought it was a violation of property rights. Fortunately the city council didn't have a say in the matter and the national board went ahead and approved it anyway."
Growing up just north of Old Towne, Dan maintains deep roots in the area. Dan says his relatives were established in Orange around the late 1800s. His grandparents moved here from Florida during the Great Depression with only a mattress on their car and no money. His grandfather, who passed away in 1961, lived in an old house on Cambridge across from Pitcher Park, which was eventually torn down. "My grandparents were very good friends with Lawrence and Alice Pitcher," said Dan, who was on the committee that planned Pitcher Park.
A gardening enthusiast, Dan spends much of his spare time in the yard. He is particularly proud of his summer vegetable garden and his trellises laden with olallieberry vines.
He also enjoys working out, hiking, backpacking, camping and freshwater fishing. A rigorous exercise regimen and healthy diet helps him stay fit.
Additionally, Dan's world travels have taken him across the globe, from Australia and New Zealand to the Middle East, Egypt, Israel and almost every country in Europe.
But for this native son, home is where the heart is. "I wouldn't live anywhere else but here in Old Towne Orange. I'll be on Pine Street for the rest of my life."
With the help of local interior designer Diane VonGerichten, Dan styled his home with traditional Craftsman furniture and accents that blend Arts and Crafts influences with an Old West flair. Left by the previous owner, the plush white chair has been restored and re–upholstered. The chandelier is original to the home, as is the hardwood oak flooring throughout. Created by a local artist, faux finish walls resemble burnished leather.